Whether you're a current financial aid director or just preparing for the leading role, "You're the Director: A Guide to Leadership in Student Financial Aid" (third edition) can help. In this anthology — written by and for financial aid professionals — you'll find guidance on leadership, budgeting, strategic planning, crisis management, and so much more. In addition to 10 fully updated chapters from the first two editions, the third edition also covers four brand-new topics and six completely reenvisioned chapters. This book is a must-have for new and aspiring financial aid professionals, as well as for seasoned financial aid directors seeking to improve their leadership skills.
Price: $24.99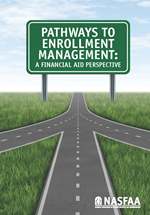 Enrollment management (EM) is a growing trend in higher education, and the unique perspectives of the financial aid office are vital to keeping the needs of students at the forefront. Pathways to Enrollment Management: A Financial Aid Perspective delivers the knowledge and tools you need to fully engage in EM discussions and decision making at your institution. Developed from presentations at the Enrollment Management Pathway of NASFAA's Leadership & Legislative Conference & Expo, this anthology addresses these critical issues and more:
Enrollment management fundamentals
Where financial aid and other departments fit into enrollment management
The enrollment management pyramid
Fiscal realities and tuition discounting
Efficiently and effectively collecting, analyzing, and using data
Responding to ethical dilemmas
Claiming your seat at the enrollment management table
Whether you seek a leadership role in EM or simply want to make your views heard, Pathways to Enrollment Management will provide you with the key concepts and background you need to engage in EM discussions at every level.
Price: $24.99

Order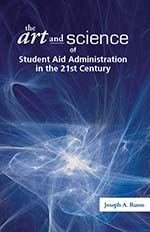 Who should pay for college? Who should be helped? How long should assistance last? Published in 2010, this book by student aid veteran Joseph A. Russo explores these and many other fundamental questions in financing American postsecondary education. Each chapter takes on an important topic and reviews and highlights various aspects of student aid, such as its history, the concept of need, tax policies, special challenges, future issues, and much more.
About the Author
Joseph A. Russo, former director of student financial strategies at the University of Notre Dame, is the author or coauthor of three books and dozens of professional articles, and has testified before the U.S. Congress on major student aid public policy issues. He served as editor of NASFAA's Journal of Student Financial Aid for 21 years.
Get your copy as a gift when you make a contribution of $50 or more to the Dallas Martin Endowment for Public Policy and Student Aid.
Or, place a bulk order.
Price: $20.00 per book