NASFAA maintains a commitment to advocate for public policies and programs that increase student access to and success in postsecondary education.
Most often, NASFAA advocates in two separate arenas: in the context of reauthorization of the Higher Education Act and in the budget and appropriations process.
Our advocacy efforts center around these major policy areas:
Increasing access to higher education, including early awareness and outreach
Simplifying student aid systems
Encouraging college persistence & completion
College savings and financial education
Minimizing student indebtedness and emphasizing grant and work aid
Supporting the primacy of need-based aid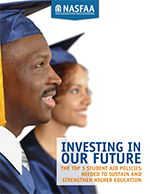 For a look at NASFAA's recommendations for actions the Biden administration and new Congress should take to refocus, reinvest in, and recalibrate our country's policies around postsecondary education, view our Investing in Our Future document. (November 2020)
For an overview of NASFAA's Higher Education Act Reauthorization policy positions, see Making Financial Aid Work for All.
Use the links below to jump directly to specific recommendations.