Higher Education Experts Analyze Election Results on a National, State Level
By Joelle Fredman, NASFAA Staff Reporter
As results from last week's elections continue to roll in, conversations have begun to arise around the implications that a potentially Democratic majority in the House could have on the reauthorization of the Higher Education Act (HEA) and other regulatory efforts by Education Secretary Betsy DeVos, as well as how policies championed by politicians-elect across the states around funding for higher education will affect college affordability.
During a panel discussion Friday hosted by the Education Writers Association (EWA), Terry Hartle, vice president of the American Council on Education (ACE), said that the two biggest issues he imagines that the sixteenth Congress will focus on are the decline in the number of foreign students coming to study in the U.S. and the rising costs of college and increasing student loan debt. He also projected that with regards to DeVos and her efforts to delay Obama-era regulations, such as gainful employment and borrower defense to repayment, "the Democrats will look very carefully at many of the things she has done."
As it is likely that Democrats will take control of the House, Lanae Erickson Hatalsky, vice president for social policy and politics for Third Way, argued during a post-election event last week that reauthorization "is actually one of the things that could get done in this scenario," while Jason Delisle, a resident fellow at the American Enterprise Institute (AEI), said he was not confident that Democrats would pass a bill any time soon.
At the EWA panel, Hartle argued that the House Republicans' reauthorization bill, the PROSPER Act, was "too conservative" to make it to the floor for a vote, and that "Democrats coming into Congress could have the opposite problem," as the bill House Democrats proposed, the Aim Higher Act (AHA), was too expensive. While it hasn't yet been officially scored by Congressional Budget Office (CBO), he argued that it likely will not get the votes it needs from the Democratic caucus to pass.
"It'll be interesting to see how Democrats wrestle with that in the coming term," he said.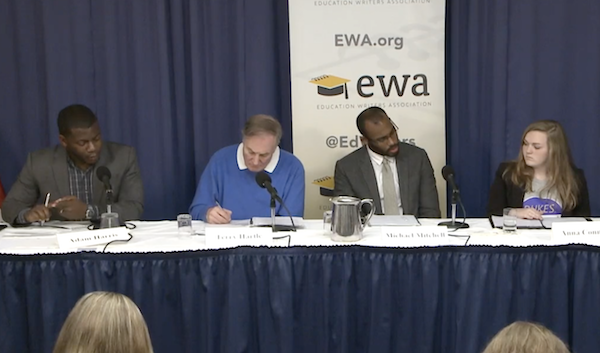 Hartle did add that this Congress may see increased funding for Historically Black Colleges and Universities (HCBUs) as they have typically experienced bipartisan and bicameral support, however he predicted that increases would not be large.
During the EWA panel, experts also discussed the implications of "free college" on state spending on higher education, which governors across the U.S. running for office championed as way to address college affordability. Michael Mitchell, senior policy analyst at the Center on Budget and Policy Priorities, warned, however, that it's important to look at what strings are attached to different policies in varying states, such as requirements to work in state—the case for recipients in New York under Gov. Andrew Cuomo and in Connecticut under Gov. Ned Lamont, who both won last week. Other free college policies included requirements related to what field students must enter into—for instance, in Arizona, tuition is only waived if students agree to become teachers. While Mitchell said that the narrative of 'if a student graduates from high school they could go to college' is promising, he warned that "the devil is in the details."
Hartle argued that the concept of free college would not make higher education more affordable, rather it would just shift the burden of paying for school from students to "broader society," and that the policy could "create massive political problems for states" that host many private colleges and universities. He added that this with proposal "we're going in the wrong direction."
Mitchell also said it's important to closely watch how other new policies implemented in states after the election that are not as obviously related to colleges and universities will make it harder to restore state funding for higher education. Florida, for example, handed a victory over to Republicans in the House last week and passed a supermajority requirement for tax increases. Such new fiscal policies that limit states' ability to increase spending easily, Mitchell argued, play "huge roles in what happens in higher education."
"Constraints at the state level… continue to create issues to funding higher education," he said.
Publication Date: 11/13/2018
---