Murray Outlines Priorities for Higher Education Act Reauthorization
By Allie Arcese, Director of Communications
By Allie Bidwell, NASFAA Senior Reporter
Sen. Patty Murray (D-WA), the ranking member on the Senate education committee, on Thursday laid out her goals for a Higher Education Act (HEA) reauthorization bill. The committee's chairman, Sen. Lamar Alexander (R-TN) also recently put forth his policy proposals for a reauthorization bill.
The two senators have a history of bipartisan cooperation, and have both said they hope to continue that trend in updating the nation's sweeping higher education legislation. Murray, who was speaking at an event hosted by the Center for American Progress, said Congress needs to write a law "that strengthens federal investments in our students, supports and incentivizes states to re-invest in higher education, and ensures students have access to an education of value, and graduate with high quality certificates and degrees that help them succeed in today's workforce and society."
"The opportunity to reauthorize our nation's landmark higher education law doesn't come around very often," she said. "It is very clear we cannot waste this opportunity to reauthorize the Higher Education Act by only addressing the simple issues, or easier issues, and picking up just a few bipartisan bills and leaving all the hard stuff on the table."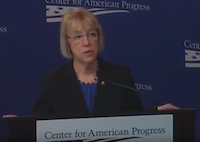 Murray said the four priorities lawmakers must address in the reauthorization bill to address issues with equity and success are "improving college affordability, holding schools accountable for student success, expanding access to higher education, and increasing campus safety and protecting students' civil rights."
While the idea of tuition-free or debt-free college has gained traction among some in the Democratic party—particularly those entering the 2020 presidential election—Murray said that those proposals "while worthy of consideration" might not be possible to achieve in a bipartisan reauthorization bill, as many Republicans are opposed to the idea.
Rather, she focused her solutions to improve college affordability on investing more in need-based aid, restoring the purchasing power of the Pell Grant, simplifying the FAFSA, and developing a state-federal partnership.
"We cannot turn into a society where the rich go to college while working families are funneled into low-quality programs or shut out of college altogether," she said.
Murray also said that in addition to simplifying the repayment process for student loan borrowers, lawmakers should also fix the path to forgiveness for students who have been defrauded by their schools, and for those who work in public service positions.
While Republican lawmakers and the Trump administration have looked for ways to significantly alter, if not entirely eliminate, the gainful employment rule, Murray alluded that doing so could hinder accountability and student success.
"We can create a system that lifts up expectations and supports less-resourced schools while putting an end to predatory practices that leave students worse off and in financial ruin," she said. "We can't turn a blind eye on these institutions, and we must reject the path Secretary [Betsy] DeVos has taken to allow predatory actors to run rampant, and to put their supporters, and in many cases their former executives, in charge of overseeing this industry."
She emphasized the need for institutions to do more to support students while they're in school through counseling, mentoring, and guidance through financial aid, as well as supporting students struggling with hunger and homelessness.
According to POLITICO, Alexander reiterated that the committee's goal is to produce a bipartisan bill for the full Senate to consider by the summer.
"We have a good history of working together to find areas of agreement, and I expect that we will be able to do the same this year," he said.
Publication Date: 3/1/2019
---