Senate Education Committee Chairman Outlines Reauthorization Proposals
By Allie Arcese, Director of Communications
By Allie Bidwell, NASFAA Senior Reporter
While Congress may still be focused on preventing a second government shutdown in less than two weeks, at least one lawmaker has his eyes turned toward higher education.
Sen. Lamar Alexander (R-TN), who chairs the Senate Health, Education, Labor, and Pensions (HELP) committee, on Monday outlined his policy priorities for a bill to reauthorize the Higher Education Act (HEA)—which he hopes to have ready to send to President Donald Trump's desk by Christmas. During an event at the American Enterprise Institute (AEI), Alexander said he has three main proposals for the HEA reauthorization bill: simplifying the FAFSA, streamlining student loan repayment, and creating a new accountability system for institutions based primarily on loan repayment.
"The cumbersome FAFSA is the major impediment to low-income students going to college in the United States today," Alexander said. "They and their parents are intimidated by the complexity, are wary of the government form, and don't see why they should have to give the Department of Education information they've already given to the Internal Revenue Service."
The specifics of those proposals are drawn from a number of bipartisan bills the Senate HELP committee has introduced over the last several years, including the recent FAFSA Act, which would allow for data sharing between the Department of Education (ED) and the IRS. With regard to student loans, Alexander proposed scaling back the number of repayment options to just two: the standard 10-year repayment plan and an income-driven repayment plan that would cap monthly payments at 10 percent of the borrower's discretionary income. One difference from current repayment plan options is that, in Alexander's proposal, payments would be directly taken from a borrower's paycheck each month under both plans.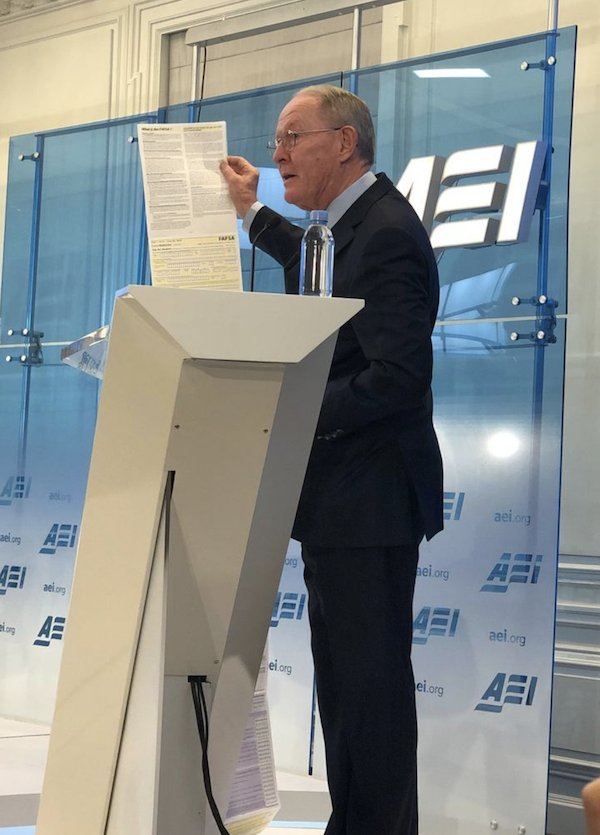 The senator previously detailed his vision for higher education accountability in a white paper that suggested eliminating the gainful employment rule. On Monday, he framed the new proposed accountability measure—program-level loan repayment rates—as an expansion of the gainful employment rule to all institutions and all programs. The details of how the repayment rate would be calculated were not shared.
"All three of these proposals should help students afford college and make sure the degree they earn is worth the time and money they pay for it," Alexander said.
Alexander, in recounting the bills the committee has introduced with regard to HEA reauthorization, also hinted that other priorities could include flexibility for competency-based education, more uniform language in financial aid award notifications, greater flexibility for loan counseling, and allowing Pell Grants to be used in different ways—by lifting the ban for incarcerated individuals, or allowing students to use their grants for shorter-term programs, for example.
With regard to timing, Alexander said he met with Ranking Member Sen. Patty Murray (D-WA) to discuss compiling the bipartisan ideas into a single bill to report out of the committee by the spring, with the goal of allowing the full Senate to consider it in the summer.
During a panel discussion following Alexander's remarks, however, some higher education thought leaders questioned whether the proposals would address the true issues related to college affordability, accountability, and student loan debt.
"If you think about his piecemeal proposals taken together, he also suggested more robust and simplified income-based repayment. If you count those outcomes … as positive repayment, then you actually end up with no accountability," said Lanae Erickson, senior vice president for the social policy and politics programs at Third Way. "You're not going to have anybody who's not repaying their loans, even if they're not actually paying down a dollar of their principal balance. The devil's in the details with this particular piece. We've got big problems within our higher education system and kind of stapling together existing bills that might have bipartisan support just isn't going to be sufficient to handle them."
Michelle Asha Cooper, president of the Institute for Higher Education Policy, also said a reauthorization bill should focus more on "what we can do at the front end" to address college cost and tuition prices, rather than focusing on changes to the "back end" with student loan debt and repayment.
Cooper added that "the greatest gift" Alexander could give to students through this bill would be related to Pell Grants—indexing the grants to inflation, lifting the ban on incarcerated individuals, restoring the purchasing power of the grant, and investing more money in the program.
Erickson said the bill should be focused primarily on equity.
The greatest gift, she said, would be "making sure that any changes we're making are actually focused on equity and focused on helping low-income students and students of color because … that was the reason for the Higher Education Act in the first place."
Publication Date: 2/5/2019
---