NASFAA Celebrates the Past, Welcomes the Future on Day Three of the 2015 Conference

See below for summaries of selected sessions. Also, be sure to check out NASFAA's Facebook for pictures of the conference and Twitter, using #NASFAA2015, to see what attendees have been tweeting. Reminder: If you're looking for announcements and conference updates, our official Twitter account is @nasfaa.
The Big Idea
Attendees were treated to an all-new interactive session format with The Big Idea: NASFAA's Policy Challenge. The Monday morning interest session, moderated by NASFAA President Justin Draeger, invited financial aid administrators, researchers, and other interested stakeholders to present their innovative policy ideas to reform and improve federal student aid.
A panel of judges including National Chair Eileen O'Leary, Sarah Bauder of the Bill & Melinda Gates Foundation, and Jacob P. K. Gross, assistant professor of higher education at the University of Louisville, judged the three contestants to determine which one had the policy idea with the greatest potential.
The winner— Mark Szymanoski, for his Student Aid Modernization Initiative (SAMI) —was announced on Tuesday, and will have the opportunity to work with NASFAA staff and leading higher education researchers to develop his idea and have it published in a white paper.
Contestants included:
Mark Szymanoski, manager, training and communications, regulatory affairs, DeVry Education Group. His proposal aims to improve the way federal student aid is awarded, making it simpler, more precise, and more flexible by awarding financial aid based on a student's actual educational progress. SAMI awards financial aid based on a student's actual consumption of education. Each student will have a lifetime potential award eligibility in grants and loans, adjusted for program level and financial need. Awards are then prorated to the number of units (credits, hours, competencies, etc.) he or she attempts over a given period of time, and distributed accordingly.
Carly Eichhorst, director of student financial services at Augsburg College in Minneapolis, MN. Her idea proposed eliminating the Stafford, Perkins and Graduate PLUS loan programs and combining them into a national student loan program held in trust and allocated to each higher education institution, and managed by each institution. Students could receive a federal grant or scholarships in excess of direct charges, to assist with living expenses. The repayment timeframe and amount would be based on the amount borrowed and would be capped at a modest percentage of student's annual income. The funds would be directly removed from their paycheck in the way FICA is removed so the student couldn't enter into a default situation. The timeframe of repayment would be based on the amount borrowed. The institution would manage the loan trust. Eichhorst also proposed that annual contributions to the trust would result in a dollar-for-dollar reduction of Adjusted Gross Income, to allow the loan fund to have a source of income other than payroll deduction.
Mark Kantrowitz, senior vice president and publisher of Edvisors.com. His idea would provide free tuition, fees and textbooks – without increasing federal spending – to students. To pay these costs, the federal government would provide $6,500 per student to the institution of enrollment. The proposal would also provide a $10,000 "bounty" to schools for each low-income student they graduate, for a total estimated program cost of $59 billion. To afford these costs without federal student aid budget increases, Kantrowitz proposed eliminating all existing major need-based aid programs (including Pell, FSEOG, and subsidized federal loans), major state grant programs, and education tax benefits, leaving a single unsubsidized loan program.
Evaluating and Reporting Effectiveness of Online Communication with Students
In a packed Tuesday morning session, Michigan State University's Chandra Owen, Colorado State University's Joseph Donlay, University of Colorado Boulder's Ofelia Morales, and Liz Gross of Great Lakes Higher Education shared with attendees the various strategies their institutions utilize to connect with students using a variety of online platforms.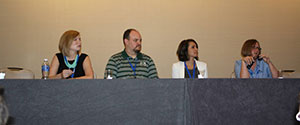 Panelists discuss strategies to improve communication
Instructional videos have been a key tool at Michigan State, Owen explained, as has engaging with students on Twitter. In addition, "we've done a lot of work on trying to cut down the content of our emails so we can be effective and get [students] to read them," Owen said.
"Some of the lessons we learned through the process were to keep it simple and try to limit the jargon as much as possible," Owen told attendees. Other tips for effective online communication with students include:
Provide links to fine print to minimize text;
Target populations rather than mass e-mail to all;
Keep notifications to a minimum;
Use different media/visuals when appropriate (although think about accessibility and how it may load on other devices); and
Use campus branding throughout your communications.
It's also important to think about where you are in your processing year and what students need to be doing at the moment. Ask yourself "what deadlines are approaching on campus?... Where are your bottlenecks?" Donlay said. These are all things you should be cognizant of when sending out communications to students "so that you can stave off some issues that are likely to pop up," recommended Donlay, whose office is in the process of developing a communications coordinator position to spearhead future communications efforts.
"We all want to know if what we're doing is successful… I think we all just want to do what works," said Gross, who gave attendees a short "bootcamp" on how to set measurable goals.
Goals must be quantifiable in order to be measured Gross told the audience. Actions/behaviors are easiest to measure and most relevant, so for example, setting a goal of getting a certain number of attendees at an event or a particular target number of application received. Whenever possible, translate abstract goals into an action. Attitudes and other social constructs are hardest to measure, "so start with something easier," Gross recommended.
Simplifying R2T4: Findings From NASFAA's Task Force
The final report from NASFAA's Return of Title IV (R2T4) Task Force was presented during a morning session. The Task Force was appointed in November 2014 and presented their final report and recommendations to the Board of Directors in June 2015. The Board reviewed and accepted the report during its meeting last week.
The Task Force was convened with the intention of expanding on the R2T4 recommendations included in the Reauthorization Task Force's 2012 report. The R2T4 report features three approaches to addressing the program, which the members agreed has some significant challenges and flaws.
The first approach would be to eliminate the return of funds altogether, instead relying on other regulations of Title IV aid like satisfactory academic progress (SAP). While this idea got a loud applause from the session audience, the presenters acknowledged that the Department of Education (ED) is not likely to embrace it.
The second approach, which they said has slightly better odds of being embraced by ED, would be to do away with R2T4 in its current form and devise a completely new set of rules to address the return of funds. The final recommended approach would be to retain the current rules but try to fix them through a dedicated negotiated rulemaking session.
NASFAA Policy Analyst Karen McCarthy told the audience that the task force's full report would be available on NASFAA's website in the coming weeks.
Improving the Campus-Based Aid Allocation Formula
"The purpose of the task force was to try and more accurately reflect comparative need of student populations," Campus-Based Aid Allocation Formula Task Force Chair Pat Hurley of Glendale Community College said in a session yesterday morning. "The allocation formula hasn't changed in many, many years although the face and scope of education has changed, and some institutions feel the allocations have not kept up with those changes," she added. The group was also tasked with evaluating the efficacy of current reallocation rules, providing new schools a fair chance for funding, and assessing shifts in funding.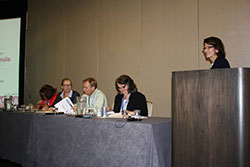 NASFAA's Karen McCarthy and
panelists discuss task force findings
"The task force reviewed recommendations from prior Reauthorizations that NASFAA had made," Hurley said, and also examined recommendations from Reauthorization listening sessions, the Department of Education's (ED) 1979 "Panel of Experts" report, and a 2005 Congressional Research Study.
In addition, "Dan Madzelan, who is retired from the Department of Ed, was fortunately on our committee and had access to a lot of the Department of Ed data, so we literally had pages and pages of data," and were able to run 22 sets of simulations and review 86,497 KB of data, Hurley said.
Hurley and her fellow presenters – University of Michigan's Pam Fowler, Loyola University Maryland's Mark Lindenmeyer, and Boston University's Christine McGuire – explained that after reviewing and thoroughly discussing all the available information, the task force came up with four recommendations:
Reconstruct the income bands used to determine institutional need by collapsing the lower income levels and expanding the higher ones. Annually compare the income grid to actual FAFSA data.
Eliminate the Base Guarantee. Include phase‐ in protection so that no institution has a decrease or increase of more than 10 percent per year.
Restructure the Federal Supplemental Educational Opportunity Grant (FSEOG) formula to be based on the amount of Pell funding received by the institution, including phase‐in provision whereby no institution has a decrease or increase of more than 10 percent per year.
Increase the percent of self‐help assumed in the undergraduate institutional need calculation of the Federal Work‐Study and Perkins Loan formulas to 35 percent self‐help, including a phase‐in provision whereby no institution has a decrease or increase of more than 10 percent per year.
It's Not Just About Equity Anymore!
The rise in enrollment management on U.S. campuses has changed the role the financial aid office plays in admissions and retention, making it "a whole different ballgame now than it used to be," Mary Sommers of the University of Nebraska-Kearney said during a session on financial aid packaging in the world of retention and recruitment concerns.
Though her school has traditionally done packaging on a "first-come, first-served" basis, Sommers said her office decided to shift gears to a way of packaging that would better serve the neediest students, which she said helps achieve the retention and completion goals on her campus. Her reasoning, she said, is that financial aid administrators "need to be front and center" in the discussion of enrollment management and retention "because we have to advocate for needy students."
Her co-presenter, Lisa Blazer of the University of Texas San Antonio, said her campus also stopped packaging awards on the first-come, first-served basis by adopting a new model based on residual need.
NASFAA Membership Updated on the State of the Association During Business Meeting
NASFAA held its annual business meeting during Tuesday's luncheon, during which members were updated on the state of the association's finances welcomed a new National Chair.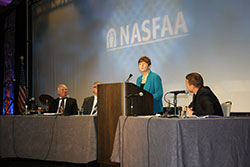 Outgoing National Chair Eileen
O'Leary addresses luncheon attendees
Following the presentation of several other awards, NASFAA Treasurer Lori Vedder or the University of Michigan Flint delivered her report to the membership, highlighting the financnial stability of the association. According to Vedder, NASFAA is projecting a June 30 fiscal year-end operating surplus of well over $625,000, which is 8 percent of the total operating budget. The Board of Directors recently approved a 2015-16 NASFAA operating budget totaling just over $7.6 million. NASFAA also received a clean independent audit from the McGladrey Pullen accounting firm. For the fourth year in a row the audit was concluded without any findings.
Kennesaw State University's Ron Day delivered his update from the Association Governance Committee, which he chairs. He told the membership that NASFAA currently has 2,839 members and a 96 percent retention rate. He also introduced Jim Brooks, who will serve as the inaugural Diversity Officer on the Board.
"This position was created to ensure that as an organization we're fulfilling our commitment to promoting diversity throughout the organization's activities," Brooks said, adding, "I look forward to working in this new role and capacity and welcome each of you to reach out … on how we can continue to make NASFAA the most inclusive association it can be."
Outgoing National Chair Eileen O'Leary also addressed the audience, highlighting NASFAA's accomplishments of the past year before passing on the gavel to the 2015-16 National Chair, Dan Mann of the University of Illinois Urbana-Champaign.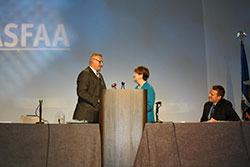 2014-15 National Chair Eileen O'Leary
passes the gavel to 2015-16 National
Chair Dan Mann
"I am very grateful for the opportunity to have served our profession in the past year" and "have experienced again that financial aid people are very special … and committed to student success," O'Leary said.
FAFSA Simplification: Finding The Right Way
Conference attendees were also given an update on a FAFSA simplification working group convened in the recent months by NASFAA.
The working group is proposing to simplify the FAFSA by redesigning it to include three distinct pathways based on tax filing status. All of the pathways utilize prior-prior year (PPY) tax filings and an expanded use of the IRS Data Retrieval Tool (DRT). According to the working group, the current number of questions on the FAFSA for a dependent student is 136.
The first path would be for recipients of SNAP/SSI and non-tax filers and would reduce the number of questions they need to answer to between 6 and 30 questions. The second path would be for "simple" tax filers (those who fill out any of the following: 1040A, 1040EZ, 1040 Without Forms or Schedules) and would use the expanded DRT to help avoid the need for verification. This pathway would reduce the number of questions to between 24 and 35 questions.
The third and final pathway would be for tax filers with forms or schedules and would involve 26 to 37 questions.
"We can make this easier for students and maintain program integrity, NASFAA President Justin Draeger said during the session, adding that this redesign makes filing the FAFSA easier for all students, but especially for the neediest students.
NASFAA will release the final paper from the working group in the coming weeks.
Leading Up, Down, and All Around
Anne Walker of Rice University and Angeles Fuentes of Cal State Monterey Bay kicked off this afternoon session by imparting to attendees the importance of understanding your boss's personality. It's important, too, to understand how your boss likes to be updated and when, Walker said. For example, is an email summary enough, or does your boss prefer meeting in person to be informed of any bad or good updates? Understanding these small things can make a huge difference in your communication with your boss, the presenters explained.
"Be honest and do not hide bad news," Fuentes advised. Being clear about problems and situations, and being proactive about preventing them will be a win-win for you and your boss, she added.
From time to time there are situations in the office when you're not sure whether or not you should get your boss involved. The presenters recommended letting your boss know of your needs, but providing evidence.
"You can't expect your boss to give you anything unless you have concrete evidence as to why you need it," Walker said.
Other recommendations for "leading up" included:
Conduct and share annual reports;
Create cheat sheets with frequently asked data stats that your boss easily refer to when asked questions;
Be self sufficient when you can;
Anticipate problems and offer solutions;
Ask your boss what it is s/he wants to hear from you;
If they trust your judgment, then trust your own judgment as well; and
Don't waste your boss's time on small matters– learn when to involve your boss and when not to.
Cristi Millard, of Salt Lake Community College, and Barbara Miller, of Stevenson University, then discussed "leading downward," covering how to communicate with your staff and get everyone on the same page.
"One of the biggest complaints that staff have is... 'we don't know what's going on,'" said Millard.
Millard stressed that when communicating with staff, it's important to take into consideration the different levels of staff you have in your office, whether you need different levels or whether everyone should know everything, and how is information disseminated to the different groups.
Millard and Miller then posed a series of questions to attendees about disseminating information, conducting training for staff, and strategies and tactics for communicating effectively with parents and students, opening up discussion among session participants about the successes and failures they've experienced in their individual offices.
Responsible Borrowing Initiatives
Financial aid administrators from Western Governor's University (WGU) shared two initiatives the school has implemented to change the borrowing behavior of their students.
The entirely online, not-for-profit school in July of 2013 decided to develop a modified version of the Consumer Financial Protection Bureau's (CFPB) Financial Aid Shopping Sheet to help its students make better decisions about borrowing. Up to that point, the school's Janie Leddy said, WGU would offer students the full amount of aid they were eligible for, which most students would accept regardless of what their actual need was.
The modified shopping sheet that the school now uses is broken into three sections, she said. The first is the direct and indirect costs the student faces, followed by what financial aid they are eligible for, and finally the amount WGU recommends they borrow. The students are then given the option to take all of the recommended amount of aid, decline all loans, or request more or less aid than the recommended amount. Leddy said the financial aid office then creates a customized award based on the student's decision.
Since this version of a shopping sheet was implemented, borrowing behavior among WGU students has changed, with about 75 percent of students accepting the recommended award amount. Leddy said. Borrowing per student has also decreased by $2,500 per year, with an overall decline of about $1.25 million.
WGU also is a participant in ED's Experimental Sites Initiative for limiting unsubsidized loans. Under the criteria for the experiment, undergraduate students with an outstanding principle balance of $30,000 or more are limited to $6,500 per academic year. Graduates with an outstanding principle balance of $40,000 or more are limited to $7,500 per academic year.
According to WGU's Devan Aschenbrener, there are currently over 5,000 students participating in the experiment and early results show a decline in the amount of loans taken out, as well as student defaults.
Graduate and Professional Issues Sessions
NASFAA Managing Director of Policy & Federal Relations Megan McClean provided a legislative update to financial aid administrators from the graduate and professional sector, highlighting the current political climate in Washington, D.C., and providing an update on programs that benefit graduate students.
McClean briefed the audience on the upcoming expiration of the Perkins Loan Program and proposals from the Obama administration and ED to expand the Pay As You Earn (PAYE) repayment program. She also highlighted the importance role the budget process plays in legislating higher education programs, telling that audience that "so many changes that have happened to the higher education programs have happened through the budget process."
During a separate graduate and professional town hall session Tuesday morning, attendees heard from NASFAA staff and board members, including 2014-15 National Chair Eileen O'Leary and NASFAA President and CEO Justin Draeger.
Draeger told attendees that early this fall, NASFAA will host a Hill Day for for those who serve graduate and professional students, and acknowledged the "lack of attention" to those students when it comes to providing consumer information on the Department of Education's website. Draeger said NASFAA applied for and received a grant to specifically address the issue, and encouraged members to get involved through task forces.
"We should be vocal, and none of this happens without your participation and help," Draeger said.
Several attendees also had questions about the transition from committees to task forces.
O'Leary said this past year was an experimental one when it came to restructuring committees. She said NASFAA looked very closely at the committees it had, and found that using the committee structure sometimes became "very artificial for work to be created for the committees."
"It seemed to be coming from the wrong place – we started the committees and then came up with things for them to do," O'Leary said. "What we learned from there was in this day and age people have less time to do volunteer work. With a task force structure, it seemed to fit in more with today's workforce and willingness to volunteer."
By using the task force structure, members can start their work "with the issue at hand," rather than convening a group of people and later finding a task to address.
"The task force model allows us to be very nimble," O'Leary said.
Joining Forces to Deliver Student Opportunity
Representatives from the College Board and different universities held a session to explain how partnerships between companies and colleges can increase opportunity for more students to gain access to higher education.
The College Board discussed different initiatives it has recently developed to open more doors for students, including its partnership with Khan Academy to offer SAT preparation materials and financial aid courses, and fee waivers to take the SAT, send score results and apply for financial aid through the CSS/Financial Aid Profile.
Eric Johnson, who works in communications at the University of North Carolina at Chapel Hill, also explained the different resources available to students through the College Board's "Big Future" website, including a searchable database of colleges based on factors ranging from location and housing to sports and diversity. The website also gives students information on paying for college and staying on track with applications.
"One of the things that we know is important is that there's no end to the need for great information," said Jill Oakley-Jeppe, educational manager for the College Board. "We also know that you can put all the information out there in the world, but until you have a navigator or a translator or someone who's available to help make sense of what that information means... just continuing to put out more and more information is not the answer."
Improving Student Solutions from Federal Policy Change
Representatives from NASFAA, the National College Access Network (NCAN) and The Education Trust hosted a discussion to update members on proposals the consortium – along with the Urban Institute – to devise student-centered solutions for barriers in the financial aid process.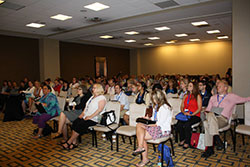 Interest session attendees
Carrie Warick of NCAN said the group came up with several topics to focus on expanding students' access to financial aid, including: boosting early awareness of the availability of financial aid to students and families; simplifying the FAFSA application, including the use of prior-prior year income data; Satisfactory Academic Progress, "with a particular lens for the role that [it] plays in equity;" and Pell Grant recipient graduation rates by institution.
Each partner, Warick said, was focusing on a different area. NCAN focused on early awareness (with the Urban Institute) and Satisfactory Academic Progress, she said, while NASFAA focused on FAFSA simplification, and The Education Trust worked on collecting data on Pell Grant recipient graduation rates.
It's important to reach students early about financial aid, Warick said, because many high school students "have already missed the boat" on college preparedness because they didn't make the right decisions with course choices. Many students didn't think college was a financially feasible option, she said, and either didn't pay attention in school or didn't take the necessary courses to be prepared.
"How do we help families understand that financial aid is available – and they'll likely qualify for it – at a much earlier age, when students can still make good choices.?" Warick said.
Warick explained several options to identify and reach out to certain students with information about financial aid. Students could be identified, she said, by their participation in the Supplemental Nutrition Assistance Program. Those students are also automatically enrolled in the free and reduced-price lunch program. Warick also said it could be valuable to pursue several paths for identifying students and families through taxes to create a "safety net" so families hear the message more than once.
Meredith Welch of The Education Trust explained the organization's data collection process on the outcomes of Pell Grant recipients compared to their peers at other institutions and to students who do not receive Pell Grants. The group has collected graduation rate data from 2011, 2012 and 2013 from a variety of hundreds of public and private non-profit institutions across the country, and plans to release the results this fall.
Megan McClean, NASFAA's managing director of policy & federal relations, described the details of simplifying the FAFSA application and the benefits of using prior-prior year income data. In doing so, students could apply for financial aid sooner and know the outcome of their applications in the fall of their senior year, rather than the spring, just a short amount of time before selecting and enrolling in a school.
"NASFAA is not alone in evolving support for prior-prior year," McClean said. "We've seen generally there is a great amount of support."
Still, there have been concerns, McClean said, including one that making the change could result in increased Pell Grant spending. McClean said that although spending would increase in aggregate, it would mean more students are attending college.
"We believe that is an appropriate and meaningful investment," she said.
Inside the Beltway: NASFAA Federal Update
It's a lot of hurry up and wait in the nation's capital.
NASFAA President Justin Draeger and NASFAA Managing Director of Policy & Federal Relations Megan McClean gave members and update on federal action related to student aid. In the midst of several percolating budget proposals and the reauthorization of the Higher Education Act looming, the political environment in Washington is "dysfunctional," Draeger said.
"Politicking makes it difficult to differentiate when … talking points come out what's real, what has a possibility of becoming law, and what is just politicking," Draeger said. "We're going to try to sort some of that out."
At the same time, the public's opinion of Congress is dipping – just 17 percent of those surveyed in a recent Gallup poll approve of the job Congress is doing, compared with 20 percent at the same time five years ago.
"We have a public that's dissatisfied, and a Congress that just doesn't seem too responsive to that dissatisfaction," Draeger said.
As a result, policies around higher education and student aid are getting caught in the crossfire.
While there is some reason to be optimistic about the possibility of a bipartisan reauthorization bill for the Higher Education Act, Draeger and McClean said the budgeting process is a bit more complex.
"In this environment, we've come to consider level funding as a victory," McClean said.
Both the Senate and the House have proposed budget bills that would cut billions of dollars from student aid programs. The Senate bill, McClean said, is "slightly less painful," cutting $124 billion from student aid over 10 years. Both chambers' budget proposals also seek to limit the Department of Education by blocking its gainful employment regulations.
On the reauthorization side, if the Senate's actions in updating the Elementary and Secondary Education Act – also known as No Child Left Behind – are any indication, there may still be hope for a bipartisan draft of a bill to surface in the next year, Draeger said. Still, it's unlikely there will be much bipartisanship in the House.
The broader themes in reauthorizing the Higher Education Act – based on Congressional hearings thus far and meetings on the Hill – include simplification, affordability, accountability and transparency.
Draeger said NASFAA members have already had an influence on shaping the proposals being put forth during the reauthorization process. The White House's Student Aid Bill of Rights, for example, echoes the recommendations from NASFAA's Servicing Issues task force, he said.
More specific proposals supported by NASFAA – such as using prior-prior year income data in the FAFSA application process, reinstituting the year-round Pell Grant and giving institutions the authority to limit loan amounts and improve loan counseling – have also shown up in legislative proposals.
"We are showing up and testifying in Congress," Draeger said. "We are having an influence."
Draeger and McClean also answered questions from members, including concerns about proposals for institutional risk-sharing in the HEA reauthorization process, and their thoughts on the administration's plan for tuition-free community college.
Institutional risk-sharing "is not something we disagree with," Draeger said. "The real conversation isn't whether we should have skin in the game. It is an examination of what is a qualified student. That is a debate nobody really appears to want to have."
Draeger also said that it was "a huge moment for higher education" to have a president who proposed making the first two years of community college tuition-free for some students, and to have presidential candidates who followed up with their own support and ideas.
"This is the beginning of something, but we're nowhere near the end of some sort of action," Draeger said.
Publication Date: 7/22/2015
---