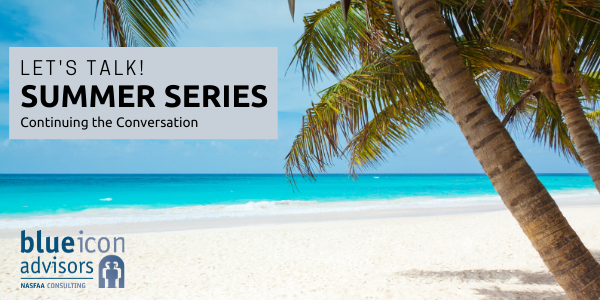 This Summer, in lieu of an in-person national conference, NASFAA is hosting a weekly Summer Training Series, which offers participants a live webinar every Wednesday from June 10 through July 29.
Each Thursday, the day after the live webinar, Blue Icon will host Let's Talk sessions to give you the chance to talk about the webinar content with your peers. This is your opportunity to learn from each other, share information, and discuss best practices!
The maximum capacity for each event is 75, so please limit registration to one (1) individual from your school and do not share the link with others.
If you cannot attend, please cancel your registration so someone from the waitlist can attend in your place.
Registration is open to institutions only.
There is no cost to attend, but registration is required.
Sessions will be recorded and distributed ONLY to those in attendance.
Upon registration, you will receive a Zoom link for the session. To participate, you will need a webcam and either a phone or a computer microphone and speakers.
For the best conversation, we request everyone turn on their webcam!
Let's talk! Join the discussion today.
Thursday, June 11: What's Next?
NASFAA's webinar this week focuses on current trends, issues, and debate around higher education and student aid. Join this Let's Talk session to discuss what you heard or questions sparked during the webinar.
| | | |
| --- | --- | --- |
| Public 4-Year Schools | 11:00 a.m. EDT | Register |
| Private, Non-Profit Schools | 11:00 a.m. EDT | Register |
| Community Colleges | 12:30 p.m. EDT | Register |
| For-Profit Schools | 12:30 p.m. EDT | Register |
| Graduate/Professional Schools | 2:00 p.m. EDT | Register |
| Clock Hour Schools | 2:00 p.m. EDT | Register |
Save these dates for upcoming Let's Talk sessions!
Thursday, June 18: Going Back to Campus
Thursday, June 25: Ensuring Your P&Ps Keep Pace with Changing Needs
Thursday, July 2: TBD
Thursday, July 9: Innovation Doesn't Only Happen During a Crisis
Thursday, July 16: What's Next?
Thursday, July 23: Who Provides the Data Used in Enrollment Decisions?
Thursday, July 30: Responding to New Regulations: The Role of the Financial Aid Director