Opening Session Keynote Speaker: David Epstein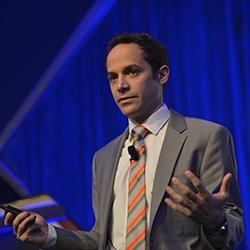 Author and science writer David Epstein has made it his mission to uncover the keys to achieving high performance in any domain, and to debunk popular myths along the way. His New York Times best-seller, "The Sports Gene," took readers inside the surprising science of extraordinary athletic performance. In his latest book, "Range: Why Generalists Triumph in a Specialized World," — which made the New York Times' top 10 bestsellers list and was named one of Amazon's best business books of 2019, as well as one of Inc.'s 2019 "Must-Read Books for Entrepreneurs" — Epstein examines the world's top performers, from professional athletes to artists, scientists, entrepreneurs, and Nobel laureates.
Epstein brings bold new insights on the best approach to career development. His conclusion: In most fields, especially those that are complex, unpredictable, and difficult to automate, generalists, not specialists, are primed to excel. Epstein has spoken on the science of high performance and novel uses (and misuses) of data on five continents, to organizations from NASA to the Pat Tillman Foundation and at a diverse array of events, from the World Knowledge Forum in Seoul to the open-source software community's Hadoop Summit. In 2014, his main stage TED Talk was one of the 20 most viewed of the year and has since been viewed over 12 million times. It was recently touted by Bill Gates.
Epstein's writing has appeared in numerous national and international publications, from The New York Times and The Atlantic to National Geographic. He was previously an investigative reporter at ProPublica, where his work ranged from an investigation into the DEA's complicated pursuit of Chapo Guzman's rivals, to a This American Life episode about a woman with muscular dystrophy who discovered that she shares a mutated gene with an Olympic medalist.
A former Sports Illustrated senior writer, Epstein authored or co-authored several of their most high-profile investigative pieces, including the 2009 revelation of Yankees third baseman Alex Rodriguez's steroid use. He has master's degrees in environmental science and journalism from Columbia University, and was twice NCAA All-East as an 800-meter runner.
Merging stories from the worlds of sports, business, medicine, and education, Epstein sheds light on the paths to peak performance. From how to best prepare for our specialized world to how to optimally incorporate AI into our workplaces, Epstein unpacks the science of success — leaving audiences with actionable takeaways to improve how they live, work, and prepare for the future.