Influence the Future of the Student Financial Aid Community
NASFAA invites you to add to the conversation and engage with your community as a conference presenter at the NASFAA 2024 National Conference in Milwaukee, Wisconsin. Thousands of student aid professionals from across the nation attend the NASFAA national conference each year to teach, learn, network, and share best practices.
Joining us as a conference presenter is an opportunity to advance the profession of financial aid administration, expand your network through an audience of peers, and raise the visibility of your institution or company. Sessions focus on the field of financial aid administration and enrollment management, provide ideas, and offer solutions participants can apply at their own institutions.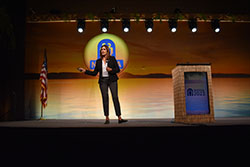 Selected sessions will be presented in person June 16-19, 2024 in Milwaukee, Wisconsin, or online July 8-12, 2024 for the separate NASFAA 2024 Virtual Conference.
Who Should Submit?
Financial aid administrators in leadership positions
Diversity and inclusion leadership/subject matter experts
Higher education institution leaders and policymakers
Suggested Topics by Track
Compliance

Policies & Procedures
Professional Judgment
Enrollment compliance
Preparing for a federal program review
Compliance at different size institutions

Enrollment & Retention

Cooperation and collaboration between financial aid and enrollment offices
Financial aid and advising
Financial literacy and wellness for your students
Communicating effectively with Gen Z
Financial aid for study abroad programs
Peer financial education programs
Leveraging technology

Graduate & Professional Issues

Graduate/professional cost of attendance
Informed borrowing and financial literacy for graduate students
Strengthening campus partnerships
Future of graduate and professional funding

Leadership/Management

Diversity, Equity, and Inclusion
Engaging and retaining staff
Transitioning to different types of institutions
Advancing the profession
Succession planning

Regulatory Implementation

Prison education programs/Incarcerated students
Pell Grant restoration
Second Chance Pell
Return of Title IV Funds
Academic calendars
Student Aid Index
FAFSA Simplification

Research & Data Analysis

Impact of FAFSA simplification
Student loan repayment
Satisfactory Academic Progress
Data security
How Do I Submit a Proposal?
The proposal includes three parts:
A basic form including track, session type, school sector, credit type, and target audience.
Session title and brief summary: Encapsulate the session and its takeaways and persuasively present it to the selection committee. If the session is chosen, this will be its description in the conference program.
Speaker information.
While the selection process is competitive, you can strengthen your proposal in the following ways:
Clearly state the value of your session to conference participants.
Include key learning outcomes or takeaways.
Provide additional details on your target audience.
Include a succinct, bulleted outline of your presentation.
Provide applicable links that you may use or reference in your session.
Tell us whether you've presented at this or similar conferences before.
How Are Proposals Selected?
Proposals are peer-reviewed and selected by the 2024 National Conference Program Task Force with a primary responsibility to curate high-quality content. The task force places a strong emphasis on ensuring that the slate of selected proposals and presenters represent the diversity of higher education across our nation. Submissions by speakers from historically underrepresented groups are highly encouraged, as are presentation topics covering diversity, equity, and inclusion initiatives within higher education.
The committee evaluates the quality of submissions based on the following criteria:
Relevant to current needs and interests of attendees, including evolving societal challenges affecting higher education

Potential for audience engagement

Practical application of material

Content encompasses broad audience appeal
Speaker credentials and command of topic
Speakers who reflect the rich diversity represented in higher education
Vendor sales pitches are not acceptable session content. Vendor-only proposals have a very low acceptance rate, but will be considered if they share proven methods across a number of successful clients or industry landscapes. To increase chances of selection, vendors should invite a higher education institution to co-present. If vendors do not wish to go through the proposal process and would like to present alone, they are encouraged to utilize the Business Solutions session option to present on their products and services. For more information, contact Dana Kelly.
Important Dates
Call for proposal submission deadline: October 27, 2023
Decisions sent: January 2024
Session handouts due: May 31, 2024
National Conference: June 16-19, 2024
Virtual Conference: July 8-12, 2024
Questions?
If you have any questions, please email Dana Kelly, vice president of professional development & institutional compliance.
Additional Materials