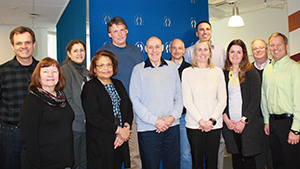 NASFAA's Standards of Excellence peer reviewers are experienced financial aid professionals from across the country who are qualified to evaluate every aspect of your operations to assess compliance and recommend best practices.
Peer reviewers are experienced student financial aid managers, subject matter experts, technical experts, and more, with up to 35 years of experience. Our reviewers have served in schools both large and small -- from 1,000 students to more than 50,000 -- with both undergraduate and graduate experience. Some reviewers specialize in the unique needs of institutions of a certain type, while others have more varied experience, including public, private, graduate schools, proprietary, and more. All of our Standards of Excellence consultants have received special training from NASFAA, and many have received additional training to conduct reviews at Historically Black Colleges and Universities.
Team Leaders are experienced peer reviewers who receive additional training to oversee the full SOE reviews, including the on-site review process.
Assessment Leaders are peer reviewers with the corresponding NASFAA Credential to perform the assessment.
Peer Reviewers must have at least eight years of financial aid experience and be selected by NASFAA through an interview and vetting process.
NASFAA congratulates Pam Fowler and Doug Levy on their retirements from the SOE program and thanks them for their years of service!
Become a Peer Reviewer
If you have at least eight years of experience in financial aid, you may qualify to become a Standards of Excellence Peer Reviewer.