NASFAA's Standards of Excellence (SOE) Review Program offers objective, confidential, peer reviews that assess your institution's delivery of student financial aid. Customized reviews are designed to highlight strengths, identify compliance exceptions, and recommend improvements.
The full SOE Review Program looks at all aspects of Title IV program administration, including: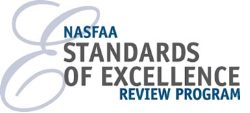 Systems, automation, and technology utilization
Program compliance, operations, and delivery
Customer service and satisfaction
Institutional eligibility
Administrative capability
Human resources and facilities
Other relevant areas
Coming in Spring 2017, the SOE Consumer Information Assessment will focus on compliance with CI disclosure and reporting requirements in the following areas:

Gainful employment
Financial assistance information
Third-party servicers
Campus security and fire safety
Institutional information
Graduation, completion, and placement rates
Drug and alcohol awareness
Family Education Rights and Privacy Act (FERPA)
Athletics
Teacher preparation
Voter registration
Contact NASFAA's SOE Administrator by email at excellence@nasfaa.org or by phone at (202) 785-6953 if you are interested in this review.