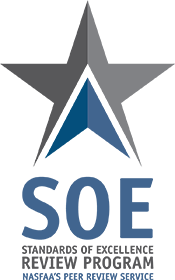 NASFAA's Standards of Excellence (SOE) Review Program, administered by Blue Icon Advisors, offers objective, confidential, peer reviews that assess your institution's delivery of student financial aid. Customized reviews are designed to highlight strengths, identify compliance exceptions, and recommend improvements.
Due to the COVID-19 pandemic, we are temporarily offering a remote option of the full SOE review.
The full SOE Review Program looks at all aspects of Title IV program administration, including:
Systems, automation, and technology utilization
Program compliance, operations, and delivery
Customer service and satisfaction
Institutional eligibility
Administrative capability
Human resources
Facilities (not available for remote reviews)
Consumer information
If you need a targeted, smaller scope review, Blue Icon Advisors also offers reviews focused on compliance, operations, and additional topics of financial aid administration.
Resources