Blue Icon Advisors is here to help you, your financial aid office, your school, and ultimately your students. Below are a few testimonials from some of our satisfied clients who have already seen a positive impact from their work with Blue Icon.
Policies & Procedures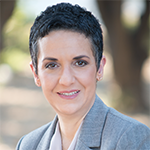 "The consultants are so knowledgeable about federal regulations, that I have great confidence in their work product. I've worked with other consultants in other contexts and I have not always had this degree of confidence."
- Dr. Christina Tangalakis, Associate Dean of Financial Aid, Certified Financial Aid Administrator®, Glendale Community College
Consulting
"Blue Icon worked with us to determine how to best meet our needs by listening to our challenges and what we were trying to achieve. Once the staff understood our needs, they provided a range of options to meet our timeline, desired outcomes, and budget. Our Blue Icon consultant and staff executed the project plan as planned and always strived to go above and beyond expectations. We would not hesitate to work with them again!"
- Robin Randall, Vice President for Enrollment Management, Mount Holyoke College
"I feel that the atmosphere of the office has improved since implementing our onboarding process [developed with Blue Icon Advisors] because it is not only helpful for new staff, but seasoned staff feels as if we are working to better equip everyone and take into consideration their ideas as well."
- Lisa Namken, Assistant Director, Sam Houston State University
"We wanted assistance evaluating our PharmD awarding practices to ensure they were compliant and how they compared to other PharmD programs. Blue Icon Advisors provided a consultant who not only had experience awarding PharmD students programs, but also researched practices at other institutions. The project affirmed that our awarding practices were in line with federal regulations and provided considerations for changing our model while continuing to remain in compliance."
- Elizabeth Goreham, Director of Student Financial Services, Massachusetts College of Pharmacy and Health Sciences
"I'm pleased with Blue Icon Advisors' review of our student employment operations. We were able to use the results of the evaluation to advocate for necessary resources."
- Anthony Gallonio, Assistant Vice President for Enrollment Service
"With our consultant's help the University was able to see their options for calendars. It is now understood there must be buy-in from the faculty because the length of classes will have to change to provide a module calendar that allows for cross enrollment."
-A Satisfied Blue Icon client
Aspiring Director Group Coaching

"My goal is to prepare the next wave of future directors as much as possible. Aspiring Directors Group Coaching will only increase my staff's talent portfolio."
- Elizabeth M. Riquez, MBA/MIS, Director of Financial Aid Services, Baruch College
New Director Group Coaching
"Blue Icon Advisors New Director Group Coaching was a great support group in my first year as a director. The weekly discussions and materials touched on key topics that will help me be successful. The consultants provided positive feedback and had their own experiences that they could add to the conversation."
- Marie Fico, Director of Student Financial Services, St. John Fisher College

"I thought the group coaching was amazing. In my opinion, all new directors should enroll. The weekly homework assignment was challenging due to everything going on with COVID-19, but the assignments were necessary and gave us a hands-on opportunity to create a model for our own institution. The instructors were knowledgeable and willing to help at all times. The group coaching was exactly what I needed to guide me to the next level of office professionalism."
- Sharon R. Griffin, Interim Director of Financial Aid, Saint Augustine's University

"Participating in this course helped me to see the importance of mentorship as it pertains to financial aid leadership. It also helped me to realize that while I was on the right track with our team, some areas needed a little more fine tuning. There were a few things that I was able to add to my departmental plans that I had not thought of and I really appreciate the fact that we were all able to add our own perspectives by completing the assigned tasks."
- Tiffany Williams, Assistant Director of Financial Aid, South Louisiana Community College

"Everyone was so helpful I felt like I gained a new circle of colleagues. All the coaches were great, however, I truly appreciated my one-on-one time with Tammy Harrison."
- Tammy Easter, Director of Financial Aid, Moody Bible Institute
"My goal was to learn from you all as well as my peers. I was hoping to find more innovative ways to solve problems, as well as have some insight into other offices. I thought the group collaboration was great, and I enjoyed the instructive leadership. The class was all I expected and more."
- Megan Speth, Director of Financial Aid, Mary Baldwin University
"I spent time focusing on important topics that will make a huge impact on my team. These topics are really the basis of where we will start building our foundation and ideals that will be ever-evolving. It was such a good group and a good experience to learn from the others in class. Everyone approached every assignment differently. And it was neat to pick up on things to add to the calendar and get ideas for professional development."
- Andrea Puckett, Director of Financial Aid, Illinois Eastern Community Colleges
"[After three months] I'm still loving my operational calendar and making ongoing updates with new projects. I sent it to our registrar office because they were looking for a framework to do the same thing."
- Zachery Gries, Director of Financial Aid, Loras College
"This experience forced me to move out of the theoretical and into the practical. I need both but the latter is typically when it all comes together for me."
- Donald Gordon, Director of Financial Aid, Scholarships & Veteran Services, Rio Hondo College
"I wanted a foundation for what I need to know in this new role that I didn't need to know when I was working with my specific program areas."
- Jacquelyn Copeland, Interim Associate Provost and Director, University of North Carolina at Chapel Hill
"The small group sessions were really good networking opportunities because there were fewer of us in the group and it was easier to engage with one another."
- Jacquelyn Copeland, Interim Associate Provost and Director, University of North Carolina at Chapel Hill
"I learned so much from the coaches, who were always accessible, and from my colleagues in this group."
- Kimberley Willis, Financial Aid Director, SUNY Brockport
"I made connections in the class and it helped reorient my focus to other things."
- Sarah Loepker, Associate Director, Portland Community College
"Every session was informative and engaging. It was the right amount of time and work to really accomplish something without feeling too overwhelmed"
- Sarah Loepker, Associate Director, Portland Community College
"Since I took on this role, the entire job has been a blur. Participating in the group coaching taught me the specific tools I need to create to meet my goals."
- William West, Director of Financial Aid, Presbyterian Theological Seminary
"NASFAA coaching helped me fine-tune my messaging and thought process on presenting to leadership."
-Emily Haynam, Executive Director of Financial Aid, University of Missouri
Program Review Response Team
"I cannot say enough good things about Blue Icon's Program Review Response Team. They were extremely knowledgeable, while being friendly and professional throughout the process. I highly recommend schools use Blue Icon to prepare for their program review."
-Scott McFarland, Director of Financial Aid, Central Wyoming College
Let's Talk
"I'm thankful for the Let's Talk events as they allow me to connect with financial aid professionals from across the nation, especially during these unprecedented times brought on by COVID-19 ."
- Sheila A. Thomas, Director of Financial Aid, Wiregrass Georgia Technical College
"It helps to hear others share their ideas and how they are handling different situations."
- A Let's Talk participant
"I cannot express how helpful this was. We were a small but mighty clock-hour group, but we all learned from each other."
- A Let's Talk participant

"It's vitally important yet rare to engage in a nationwide forum with community college peers by which to share common concerns and creative solutions."
- Anne M. Moore, Director of Student Financial Services, Berkshire Community College
"A one hour Zoom meeting is far easier to attend than traveling to a conference or sector meeting."
- Mary Ellen Duffy, V.P. of Financial Aid and Compliance, Mildred Elley
Blue Icon Advisors can help you succeed and reach your institutional goals too! Get started by filling out the no-obligation information request form today.