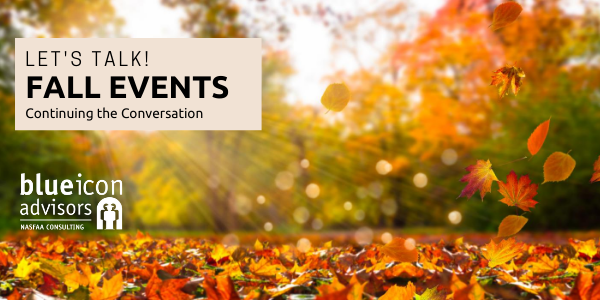 Blue Icon hosts Let's Talk events to give you the opportunity to engage with peers, learn from presenters and each other, share information, and discuss best practices.
October 2020 Let's Talk sessions use the NASFAA registration system. You will receive a Zoom Link and Access Code in your confirmation email. Please save this email. You will not receive a reminder message.
The maximum capacity for each event is limited, so register one (1) individual from your school and do not share the link with others.
If you cannot attend, please cancel your registration so someone from the waitlist can participate in your place.
Registration is open to institutions only.
There is no cost to attend, but registration is required.
A NASFAA account is required to register; you will prompted to log in to proceed.
To participate, you will need a webcam and a phone or a microphone and speakers.
For the best conversation, we request everyone turn on their webcam.
Let's talk! Join the discussion today.
Date

Topic

Time

Sector(s)

Registration

10/22/20

2021-22 is Coming!
11:00 a.m. EDT
4-year Publics
Register

11:00 a.m. EDT
Private Nonprofits
Register

12:30 p.m. EDT
Community Colleges
Register

12:30 p.m. EDT
For-profits
Register

2:00 p.m. EDT
Graduate/Professional
Register

2:00 p.m. EDT
Clock Hour Schools
Register

11/19/2020

Financial Literacy
1:00 p.m. EDT

Community Colleges
For- profits
Clock Hour Schools

Register
In Case You Missed It
Blue Icon kicked off the fall Let's Talk series with Financial Literacy During COVID-19