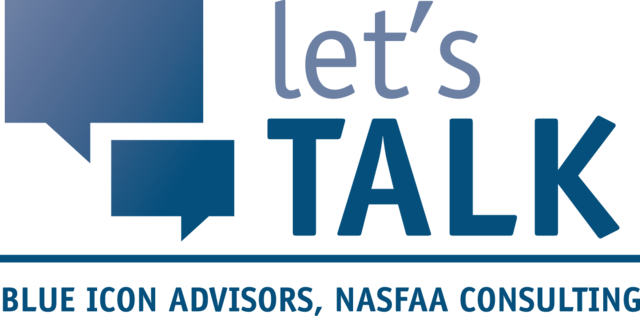 Blue Icon hosts Let's Talk events to give you the opportunity to engage with peers, learn from presenters and each other, share information, and discuss best practices.
Let's Talk is the opposite of a webinar — we want to hear from YOU. When you attend, be prepared to join the discussion via video, voice, and chat!
The maximum capacity for each event is limited, so register one (1) individual from your school and do not share the link with others. Learn more >>
If you cannot attend, please cancel your registration so someone from the waitlist can participate in your place.
Registration is open to institutions only.
There is no cost to attend, but registration is required.
A NASFAA.org account is required to register; you will be prompted to log in to proceed.
To participate, you will need a webcam and a phone or a microphone and speakers.
For the best conversation, we request everyone turn on their webcam.
You will receive a Zoom Link and Access Code in your confirmation email. Please save this email.
Let's talk! Join the discussion today.
Thursday, April 20, 2023
Topic: Preparing Student Borrowers for Repayment
*Please note, the topic of this session was updated in March 2023*



Let's talk about how we inform and counsel student borrowers to begin or resume responsible repayment of their student loans.
Thursday, May 18, 2023
Topic: Preparing for an Announced Federal Program Review
Let's talk about how to prepare when you get the call for a federal program review.
Thursday, June 15, 2023
Topic: Leading Change Effectively: Insights From Your Peers
In our quickly evolving world of FAFSA changes, SAI, staff turnover, and new administrations, let's talk about how we can be effective in leading as change continues.