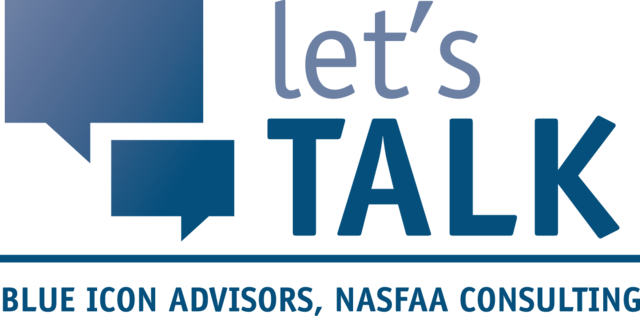 Blue Icon hosts Let's Talk events to give you the opportunity to engage with peers, learn from presenters and each other, share information, and discuss best practices.
Let's Talk is the opposite of a webinar — we want to hear from YOU. When you attend, be prepared to join the discussion via video, voice, and chat!
The maximum capacity for each event is limited, so register one (1) individual from your school and do not share the link with others. Learn more >>
If you cannot attend, please cancel your registration so someone from the waitlist can participate in your place.
Registration is open to institutions only.
There is no cost to attend, but registration is required.
A NASFAA.org account is required to register; you will be prompted to log in to proceed.
To participate, you will need a webcam and a phone or a microphone and speakers.
For the best conversation, we request everyone turn on their webcam.
You will receive a Zoom Link and Access Code in your confirmation email. Please save this email.
Let's talk! Join the discussion today.
Thursday, October 21, 2021
Topic: R2T4 and Modules
Trust us, you have modules. October is the perfect time to discuss what schools should be applying with R2T4s for modular enrollments.
Thursday, November 18, 2021
Topic: Recognizing Bias in the Financial Aid Office
To make significant change for your students, you and your staff need to recognize your own subconscious biases. Join Let's Talk for what we hope will be an insightful conversation on recognizing bias in the financial aid office.
Tuesday, December 7, 2021
Topic: FSA Debrief and Unwind
With virtual conferences, there is often no chance to network or discuss what you heard during sessions. Join your colleagues the week following the Virtual Federal Student Aid Conference to talk about what you heard during the conference.
Thursday, January 20, 2022
Topic: Financial Aid Awareness
Next month is Financial Aid Awareness month. Join Let's Talk to share ideas in preparation for next month's celebration!
Thursday, February 17, 2022
Topic: Financial Aid and Retention Initiatives
Join Let's Talk to hear from colleagues on retention initiatives happening at institutions across the country.
Thursday, March 17, 2022
Topic: Policies and Procedures Check-up
Written policies and procedures are not an option. Join Let's Talk to discuss strategies on getting started with the development of your policies and procedures and, once written, how to keep them updated.
Thursday, April 21, 2022
Topic: Data Security
Financial aid administrators must be good stewards of their data. Join Let's Talk to share best practices on managing data requests and ensuring data is only available to those with a right to the information.
Thursday, May 19, 2022
Topic: Program Review Preparation
Join Let's Talk to share ideas and experiences on preparing for and navigating a program review.