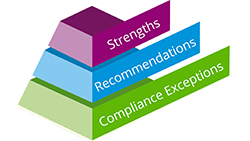 By Mandy Sponholtz, Blue Icon Advisors Director of Operations
The NASFAA Standards of Excellence (SOE) Review, administered by Blue Icon Advisors, performs a comprehensive, holistic evaluation of a school's Title IV federal student aid operations, which requires a three-tiered approach that not only points out compliance exceptions, but also highlights strengths and offers peer review recommendations. Let's look at why an SOE review includes all three in our evaluation of your operations.
Compliance Exceptions
Your school focuses a great deal of time and energy on ensuring you adhere to Title IV rules and regulations. As a result, any evaluation of your financial aid operations should include a compliance review as its foundation, and the SOE program fulfills that need. An SOE review has been touted as mirroring a federal program review with respect to the structure of the review, the depth and breadth of topics we examine, and the fact that observations provided in the report are supported with cited laws, regulations, or published guidance from the U.S. Department of Education.
The SOE review looks at a school's compliance in all aspects of Title IV aid, such as:
Administrative capability
Verification
Return of Title IV funds
Cash management
Student eligibility
Cost of attendance
Consumer information
Peer Reviewer Recommendations
While the primary purpose of an SOE review is ensuring your school remains in compliance with Title IV rules, you also receive the benefit of our peer reviewers' experience as currently practicing financial aid administrators. Schools often report that the peer reviewer recommendations made during an SOE review are the most valuable part of the evaluation. Our peer reviewers have an understanding of what it means to work in the financial aid office, which allows them to suggest ways to improve current practices, enhance service to students, and use technology more efficiently. The peer review team members customize recommendations for your school based on their own experience, coupled with what the team observes while conducting your review.
These proposals are non-regulatory guidance offered to enhance financial aid delivery. However, recommendations may also point out instances where your school may drift into noncompliance if you do not make the proposed changes.
Each recommendation will describe the proposed change your school should make, followed by an explanation of the current practice and the rationale for making the change. Common areas where peer review teams will provide recommendations include:
Implementing automated processes to replace manual ones.
Involving the financial aid office in campus-wide initiatives.
Methods to maximize the use of your financial aid/student information system.
Improving customer service to students, families, and other departments at your school.
Creating or eliminating forms or processes.
Establishing formalized training plans for staff.
Making organizational, navigation-related, and/or wording changes to your website.
Strengths
Every financial aid office has positive features, but those points may not receive the attention deserved during an evaluation. Usually, strengths enhance student service and/or the overall Title IV federal student aid program operations at an institution. The SOE review highlights these traits to ensure your school continues these practices, and other similar initiatives, to achieve excellence in financial aid administration and customer service.
During reviews, our peer review teams see strengths in these areas:
Effective use of technology and/or automation.
Strong relationships with other departments, such as information technology, registrar, admissions, and business office.
Comfortable and secure physical office space.
Clearly worded and organized documents provided to students.
Strong system security practices.
To learn more about our holistic approach to evaluating your school's operations, request information about having an SOE review at your school.