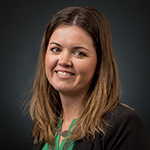 By Sarah Everitt
Independent Consultant, Blue Icon Advisors
Director of Financial Aid Operations and Doctoral Student, Gonzaga University
The mentor/coach archetype is easily recognizable in pop culture — think Yoda, Professor Dumbledore, or Mr. Miyagi. In academic life, mentorship or coaching is often built into academic programs to give students a taste of their chosen career path. In the workplace, mentorship takes the form of executive coaching. For those who are new or well-established in their careers, executive coaching is an opportunity to gain new skills or adapt to the shifting landscape of their occupation.
This past summer, I had the opportunity to explore the role of executive coaching in higher education as part of a Leadership Ph.D. course. I had a vague familiarity with executive coaching, but no direct experience with the practice. In the past few years, I became more aware of the coaching opportunities for higher education professionals, including those offered by Blue Icon Advisors, NASFAA Consulting. I was curious to study coaching's potential for the financial aid community.
Executive coaching is a short-term engagement between a coach and an individual or group of individuals. Managers or those in leadership roles seek out executive coaching to improve leadership effectiveness. The practice of coaching focuses on improving self-awareness, learning and development, and sustainable behavior change.
Financial aid administrators seem especially primed to benefit from coaching. First, aid directors have a wide variety of complex responsibilities. The career path to financial aid is as varied as the responsibilities. Although the role of aid directors exists on every college campus, the job description is not standardized, meaning the skills and leadership required for the job are different at each institution. Coaching provides an individual approach to learning that has been shown to improve a wide array of skills that would be an asset in any role, including negotiating and goal prioritization.
Financial aid directors spend most of their time in management-related tasks, according to a recent study of directors at large, public universities. Coaching seems to be an especially helpful tool for this type of work. In research comparing various types of professional development methods, executive coaching was proven to be the most effective technique for improving management-related competencies. Coaching ranked ahead of mentoring, job rotation, and training courses. The authors theorized that direct and personal approach of coaching distinguished it from other learning activities.
Group coaching seems similarly beneficial. In one study, the benefits of group coaching included higher work engagement, opportunities for reflection and perspective-taking, and increased self-awareness. Participants also appreciated the opportunities to collaborate with colleagues with similar experience in a safe and confidential setting.
Individual and group coaching is an effective tool for professional development at all levels, but especially for financial aid leaders. As a consultant with Blue Icon Advisors, I am pleased that we offer executive coaching as an opportunity for aid professionals and to experience the impact it has on our professional community.
Blue Icon offers both group and individual executive coaching for financial aid and enrollment management professionals. Since Blue Icon's launch in 2019, we have provided individual or group coaching to more than 150 industry professionals. Here's what some of our clients say about coaching:
"I thought the group coaching was amazing. In my opinion, all new directors should enroll. The instructors were knowledgeable and willing to help at all times. The group coaching was exactly what I needed to guide me to the next level of office professionalism."
- Sharon R. Griffin, Interim Director of Financial Aid, Saint Augustine's University
"The executive coaching provided me with the optimism I needed to be successful and gave me the confidence to accept the 'greyness' that financial aid directors deal with every day."
- Zachary Gries, Director of Financial Aid, Loras College
Blue Icon Advisors can help you succeed, too! Get started by completing our no-obligation information request form today.
Resources