Blue Icon Kicks Off Fall 'Let's Talk' Series With Financial Literacy During COVID-19
By Mandy Sponholtz, Blue Icon Advisors Director of Operations
Financial literacy efforts at institutions are not one-size-fits-all. Schools may choose to host workshops, participate in informational fairs on campus, or conduct one-on-one counseling. Most of these activities are done in person, so once the COVID-19 pandemic shut down campuses across the country, schools had to get creative with financial literacy engagement.
Blue Icon Advisors, NASFAA Consulting, tackled this topic during its first "Let's Talk" session of the fall series. Over 60 participants from four-year public, four-year private, and graduate/professional schools across the country attended to share their own financial literacy programs and learn from their peers. Of the attendees during the "Let's Talk" session, 75% have a financial literacy program with an even split of those programs being in place for one to two years, three to five years, or over five years. The scope of programs offered varied as well: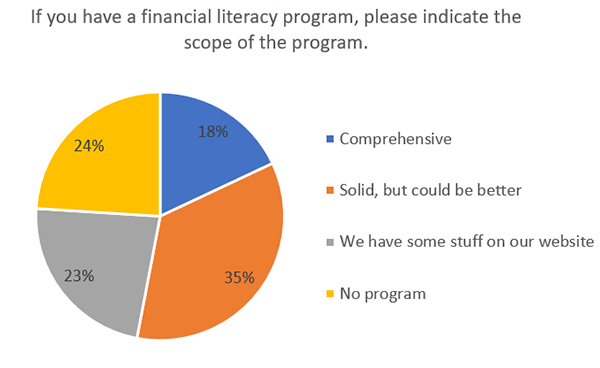 Here are eight key takeaways from the discussion:
1. Engage All Students, Including Prospects. David Sheridan, director of financial aid in the School of International and Public Affairs at Columbia University, shared that Columbia had developed a comprehensive, multi-campus financial literacy program. When COVID-19 happened, many students elected to defer their enrollment to the spring or fall of 2021. "The School of International and Public Affairs recognized the importance of keeping this future population of students engaged was the responsibility of more than the admissions office," Sheridan said. "One way we could do that is by introducing financial wellness topics to this population in a virtual setting."
2. Use Existing Platforms. "We were challenged to use Zoom as an office because each account was tied to an individual user, so we started a Blackboard organization to have virtual drop-in hours for students," said one participant. "We're also doing presentations and meeting with students online."
3. Gather Feedback From Other Groups. Another school had a program in place for high school students that was quickly shifted to online in the spring. The financial literacy coordinator was hired during COVID-19. "We focused on switching content to our website and got feedback from the [high school] students after going all online," another participant said. "We're also having conversations with the financial aid staff to discuss the new direction of financial literacy."
4. Be Specific. Putting a generic "financial literacy" presentation out there may not get the results you want. Another participant started hosting virtual events on specific subjects through Eventbrite. "We had a better turnout than what we had on campus," the school's financial aid director said. "Presenting specific topics and letting students pick what was impacting them the most helped draw and engage the students."
5. Involve the Students. Anya Ilkys is the co-founder of the Center for Financial Independence at Northeastern University. Developing the center was a two-year endeavor that resulted in a flipped model, with the students running the center and a staff director serving in an advisory and administrative capacity. "It's a lot more difficult to build something from scratch, but the payoff is worth it," Ilkys said. "If [students] want to learn something, they want to be involved. They didn't want to be fed information."
Another participant created a financial literacy program from the ground up at her former institution, and is working strengthening financial literacy efforts at her new institution. "Students engaging their peers is key and hasn't changed over time," she said.
6. Do the Work. Brad Barnett, financial aid director at James Madison University, encountered challenges getting a financial literacy program started on campus. Eventually, he developed a class that he could teach and pitched it across campus to gain buy-in. Once the course was offered, the demand became bigger through organic grassroots efforts. Now Barnett teaches the course once each in the fall, spring, and summer semesters, as well as the winter intersession, and always has a wait list.
One school originally used content from a third party, but the institution's financial specialist thought their students needed a customized approach, so she took it upon herself to become a certified financial coach and applied her knowledge to the financial literacy efforts on campus.
7. Look for Partners. Several attendees discovered that financial literacy efforts were already occurring on campus. "We found pockets of things in other parts of campus, but that opened opportunities to partner across campus," Barnett said.
Another participant learned that her campus had peer financial mentors in its business school. "We were going to collaborate on some things, then COVID happened," she said, noting she looks forward to finding other ways to work together in the current environment.
Schools can also look for outside funding to get their financial literacy efforts up and running — another participant said their school received financial support from a local credit union to fund its financial literacy programming.
Tammy Harrison, senior consultant with Blue Icon, is currently serving as an interim director of financial aid. In her school's financial literacy efforts, they rely on community partnerships and alumni. "Those experiences shared by others can be very impactful to students," she said.
8. Go Social. Schools are starting to explore using social media as a delivery method, rather than just to promote events. For example, one school in the northeast is in the planning stages of using TikTok to share tips and information with its students.
Blue Icon will host another financial literacy "Let's Talk" session for community colleges, for-profit schools, and schools with clock hour programs on November 19 at 1:00 p.m. ET. Participating in the discussion is free, but you must register in advance.
What creative solutions have you implemented for your financial literacy efforts during COVID-19? If you need assistance evaluating your current program, contact Blue Icon Advisors.
***
About "Let's Talk"
"Let's Talk" — hosted and sponsored by Blue Icon Advisors — provides financial aid and enrollment management professionals with the opportunity to network and exchange ideas in a safe, remote environment. Since March 2020, over 800 individuals at more than 700 schools have participated in "Let's Talk" virtual peer-to-peer conversations.
Publication Date: 9/1/2020
---