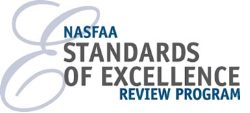 Air Date: May 17, 2017
Duration: 60 minutes
Available Until: May 16, 2018
Price: Free for NASFAA Members and non-members, but users must register in advance.
You may have heard about the benefits of a peer review—reduced risk for audit and program review findings, increased operational efficiency, and improved customer service—but you may still have lingering questions.
What happens before, during, and after a peer review?
Will I have time for a peer review?
What will I learn from a peer review?
Presenter
Mandy Sponholtz, Standards of Excellence Administrator, NASFAA
Panelists
Jaimie Borisch, Assistant Director of Training and Development, Herzing University
Sarah Everitt, Director of Financial Aid Operations, Gonzaga University
Alison Rabil, Assistant Vice Provost and Director of Financial Aid, Duke University
Moderator
Margot O'Meara, Technical Support Specialist, NASFAA
Objectives
Hear about the benefits of NASFAA's peer review services
Acquire strategies for obtaining buy-in for a peer review
Find out the time required to have a peer review
Learn how to obtain a cost estimate