Andrea Velazquez, Illinois Institute of Technology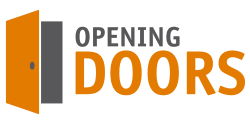 Opening Doors is a new Today's News series that profiles students who are succeeding in college with the help of financial aid, and the financial aid professionals that help them. Have a student and FAA to nominate? Let us know at news@nasfaa.org. 
By Katy Hopkins, Communications Staff 
These days, undocumented students are increasingly accessing higher education, thanks to new state laws that allow qualifying students without citizenship to pay in-state tuition rates at public institutions, and, in some cases, to be eligible for state financial aid funds. 
But back when Andrea Velazquez was applying to college, the path forward was murkier. Deferred Action for Childhood Arrivals (DACA) had not yet passed, and she was hard-pressed to find clear information on ways to help fund college without the ability to file a Free Application for Federal Student Aid (FAFSA). 
"It was a scary situation because there wasn't a lot of information," says Andrea, who was born in Mexico and raised in Illinois. "I hadn't spoken to anyone in the financial aid office, simply because I didn't think I had any reason for going." 
Luckily for Andrea, after applying to the Illinois Institute of Technology (IIT), she was contacted by the school's vice provost for undergraduate enrollment and financial aid, Jerry Doyle. She was paired with financial aid counselor Leticia Moreno, and was told the office would try to find alternate ways to help her fund her studies. 
"I really didn't know of anyone else in my situation, and there wasn't any process established for people in my situation," Andrea says. "Leticia became my anchor. It makes you feel calm that you're in the hands of someone that's going to fight for you as if you were fighting for yourself." 
At IIT, all students, including those who are undocumented, are evaluated for institutional merit-based aid, says Aesha Wlliams, assistant director of IIT's financial team. Students who inquire about additional funds may be reviewed for additional need-based aid, she added. 
As a telecommunications major with a minor in psychology, Andrea was awarded a STEM scholarship from IIT. When her father lost his job, she appealed for additional aid, and she's worked throughout college, at times juggling full- and part-time jobs, to pay as much as $5,000 a semester out of pocket. 
As her financial aid administrator, Leticia supported Andrea through her successes and struggles in college. When Andrea was having trouble balancing bills, work, and her studies, Leticia helped her to make the tough decision to take a semester off to save off money for her degree.
DACA's passage proved to be a lifeline for Andrea. Instead of commuting to a far-away, full-time job as the manager of a retail store, she was suddenly eligible for jobs on campus. Though she had planned to become a web designer, Andrea was thrilled to see an opening for a student worker in IIT's financial aid office, which she supplanted by working in a local coffee shop, too.
"That really, really helped manage my schoolwork better, and my grades really improved," Andrea said. Plus, she was working alongside Leticia, introducing other struggling students to resources that could help them in the same way she had been helped. 
Over the years since, Andrea has watched her institution establish procedures for undocumented students like herself. 
"There's more of a presence, and more support so students won't feel like we're not getting any help or no one knows how to help us," she said. 
Her financial aid office's efforts recently got an additional boost, as Andrea, who's completing her last semester of college, has been hired to work full-time as a financial aid counselor. Other financial aid offices can enhance their guidance to students like her through open communication and dedicated resources, she says.
"I think it all starts from having knowledge," she says. "I think if schools were a little more open about the kind of help they can provide, and having a point of contact who is specifically dedicating themselves to this type of student, students will feel safe, and they'll feel like they have an anchor, too. They'll be more inspired to speak up, or to go to school." 
NASFAA has resources for members who want to improve their outreach as well. Use these tips for advising undocumented students, get up to speed on DACA, and share your best practices for helping this group of students in the comments section below. 
Publication Date: 8/29/2014
---