Featured Resource: Webinars
NASFAA brings continuing education to you via livestreamed webinars and recorded sessions that can be viewed on demand. Our live webinars bring you the latest information on a variety of important topics and provide an opportunity to actively engage with NASFAA staff and featured presenters from the government, partner organizations, and fellow aid offices, while our on demand webinars allow you to participate in a professional development event when it is most convenient for you.
Head to the Webinars page to see what's coming up and what's available to watch any time you want.
Already familiar with our Webinars? Use #NASFAAFeaturedResource on social media to tell us why these are a valuable part of your NASFAA membership.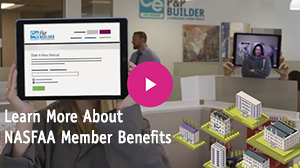 Listed below are some of the products and services NASFAA offers members.
Compliance and Training Resources
News and Management Tools
Advocacy and Research