Featured Resource: Policy Task Force Reports
NASFAA regularly brings together task forces made up of NASFAA members who volunteer to dive into legislative and policy proposals and prepare easy-to-digest reports on complicated topics. Some of the issues our task forces have reviewed include campus-based aid, financial aid simplification, loans, repayment, and student indebtedness.
Head to the Policy Task Forces & Reports page to dig into the reports these task forces have published.
Already familiar with our task force reports? Use #NASFAAFeaturedResource on social media to tell us why these reports are a valuable part of your NASFAA membership.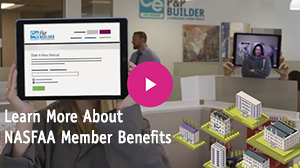 Listed below are some of the products and services NASFAA offers members.
Compliance and Training Resources
News and Management Tools
Advocacy and Research