Last updated: June 2015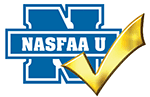 Congratulations to the all of the individuals who have successfully earned one (or more) of the NASFAA professional credentials. Each person had to demonstrate knowledge in the subject area and pass the respective test. Join your peers on this list- get started!
To date, there have been 1,252 credentials earned by 636 people across 14 subjects. There are still credential opportunities to come, so be sure to check the NASFAA Testing Center for more information.