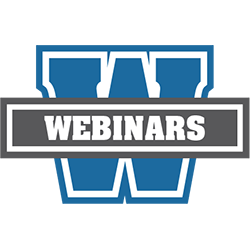 Members are encouraged to check out the NASFAA Webinar Package, an optional membership add-on that includes all fee-based webinars offered in 2020-21. Please note, the Value Plus Membership Package includes the Webinar Package.
NASFAA's Webinar Package provides an easy and convenient way to receive training on student aid requirements that directly impact your aid office. Each webinar is presented by NASFAA staff and experienced student aid professionals who understand the challenges you face every day in the trenches. Each webinar features a live Q&A session to answer your specific questions and discuss common problems with colleagues.
Webinar Package Terms and Conditions
The Webinar Package is only available to NASFAA members and cannot be prorated.
Cost: $499 for all webinars – a huge savings!
Number of webinars: Includes 12 fee-based webinars
Webinar dates: July 1, 2020 through June 30, 2021
Unlimited site licenses: Everyone at your institution/organization with a myNASFAA account can participate from their own computer.
Since each live webinar is recorded and available for up to one year, allowing ample time to view each webinar, refunds are not provided for individual webinars. Archived webinars may be removed from the website at any time if the content becomes out-of-date due to regulatory changes.
All NASFAA members will continue to receive free, live webinars throughout the year on critical, timely legislative and regulatory issues, including updates on COVID-19 guidance.
To add the Webinar Package to your membership, please visit nasfaa.org/mydues or contact Membership Services.
2020-2021 NASFAA Webinars Tentative Schedule
September 16, 2020 - 2021-22 Verification Basics
September 23, 2020 - Foundations of Academic Calendars
October 7, 2020 - FAFSA Update - 2021-22
October 28, 2020 - Developing Your Talents as a Financial Aid Professional
November 10, 2020 - NASFAA Business Services: Compliance Concerns? Your Options for Remote Solutions
November 18, 2020 - Don't Be Alarmed By Clock Hours!
December 9, 2020 - Economics of Financial Aid
December 15, 2020 - NASFAA Policy Update
January 20, 2021 - Verification - Challenging Questions and Scenarios - Extended Edition
February 2, 2020 - NASFAA Business Services
February 24, 2021 - Just Keep Swimming: An Aid Professional's Experience with Mental Health Issues
March 9, 2021 - Graduate and Professional School Town Hall 2020-21
March 24, 2021 - Panel Discussion - Data Sharing and Security
April 6, 2021 - NASFAA Compliance Products Webinar: Utilizing Your Member Benefits
April 21, 2021 - NASFAA Quiz Show - Test Your Financial Aid Knowledge
May 19, 2021 - Consortium Agreements, Written Arrangements & Study Abroad
May 25, 2021 - NASFAA Policy Update
June 9, 2021 - Student Eligibility Spotlight
Please note that dates and topics are subject to change. Please visit nasfaa.org/webinars for the most up-to-date schedule, to register for upcoming live webinars, and to access on demand webinars.