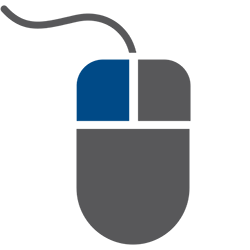 We're pleased to introduce online facilitated courses as part of NASFAA University! Continuing into the next year, the following courses are scheduled for the 2015-16 year. Each class includes 4 weeks classes and 2 weeks testing, unless otherwise noted. These collaborative learning sessions bring minds and ideas together despite distances. Online courses help you become more proficient, more knowledgeable, and more valuable to your organization, and offer you the option to work towards earning a professional credential from NASFAA.
NASFAA training staff will guide you through the course and answer questions. Each course:
Includes a live facilitator
Offers video-enhanced lectures, live chat, and meaningful online discussions and resources
Includes quizzes and homework assignments
Qualifies learners to take a credential test in the subject area
The single course pricing is being offered for members and non-members at $199 for non-credential courses and $299-$499 for credential courses. Seating for most courses is limited to 35 attendees; Overview of Financial Aid Programs is limited to 70 participants. Seating for our online courses is limited to ensure that we provide an effective, collaborative learning environment where participants receive the attention they need. See what your colleagues have to say, and register now to secure your spot!
Course Name

Begin Date
End Date
Fee
9/8/15
10/5/15
$299

SOLD OUT

10/5/15
11/1/15
$299

SOLD OUT

Return of Title IV Funds
Extra time for test due to holidays

10/27/15
11/24/15
$299

SOLD OUT

11/2/15
12/6/15
$299

SOLD OUT

Overview of the Financial Aid Programs
3-week course – no test

2/1/16
2/22/16
$199
Register
2/22/16
3/20/16
$299
Register

Direct Loans: Eligibility and Frequency, Repayment, and Counseling
8 weeks of classes

3/15/16
5/9/16
$499
Register
4/4/16
5/1/16
$299
Register
5/2/16
5/29/16
$299
Register
5/17/16
6/14/16
$299
Register

Cancellation Policy

We limit our online class size to ensure that we provide an effective, collaborative learning environment where participants receive experience and attention they need. Requests to cancel must be sent to nasfaa-u@nasfaa.org.

By submitting your registration, you agree to the cancellation schedules within each respective course. Medical emergencies will be re-scheduled to another available course with a doctor's note.