NASFAA's Diversity Leadership Program (DLP) provides selectees from a wide range of diverse backgrounds with a robust portfolio of benefits, mentorship, and guidance on how to develop as a financial aid association leader at the state, regional, and national level. Applications are reviewed annually and six institutional members of NASFAA, one from each region, are selected by a group of their colleagues.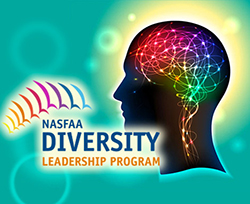 The program, unveiled in 2018, was developed through extensive conversations with NASFAA's Diversity Officer, the NASFAA Board of Directors, and regional association leaders.
Meet this year's DLP class, and hear about what last year's group gained from the program during their term.
Goals
The Diversity Leadership Program aligns with NASFAA's commitment to diversity and inclusion, and seeks to:
Advance the careers of program participants and provide them with important professional development.
Help NASFAA and the six regional associations develop a "deep bench" of talented, motivated leaders from diverse backgrounds.
Provide individuals from identified under-represented groups in the association community (i.e., people of color, lesbian/gay/bisexual/transgender people, people with disabilities) with support, access, and opportunities for leadership.
Benefits
If accepted, DLP participants would receive the following benefits:
Complimentary registration to the NASFAA Annual Conference and reimbursement for hotel, meals, travel (included is an invitation to come early and observe at the NASFAA Summer Board Meeting);
Complimentary registration to the NASFAA Leadership Conference and reimbursement for hotel, meals, travel (included is a crash-course in legislative advocacy, via the Hill Visits program);
One free online NASFAA U course, plus the associated credential test, to ideally be used within the DLP program year;
Assigned a mentor who has previously served on NASFAA's Board of Directors; this will involve regular mentorship calls; and
Hold a place on one committee, working group or task force for each participant, to ensure volunteer experience.
Selection
One program participant per region will be selected each program year, for a total of six selectees annually.
Applications will be reviewed annually during the selection period, typically September.
All elections will be made by a selection committee, chaired by NASFAA's Diversity Officer, with members appointed on an annual basis by the National Chair and Diversity Officer.
Eligibility
To be considered for the DLP, a candidate must:
Be employed by a current NASFAA institutional member.
Be a member of a racial or ethnic minority group, lesbian/gay/bisexual/transgender/non-binary, or a person with a disability.
Have been working in financial aid for a minimum of three years (no maximum).
Be currently employed at a college or university, with preference given to those in positions with supervisory or program managerial oversight.
Have demonstrated professional or civic/community leadership experience.
Be committed to fully engage in all DLP scholarship benefits as outlined above.
Secure in writing supervisor/institutional support for the individual's participation and time away from the office to participate in DLP.