The Lifetime Achievement Award (formerly known as the Lifetime Membership Award) is the highest award that NASFAA can bestow on one of its members or an individual who is affiliated with a member organization. To be eligible to receive this award, the individual must first be employed or have been employed by a member institution, be an associate member, or be employed by an associate member organization.
This award is the highest that NASFAA can bestow on a member; therefore, the achievements and contributions of the individual must truly be outstanding and significant. Normally, the individual will have made these contributions and achievements over a sustained period of time. This award is not typically made for a one-time achievement or effort, but for work over a sustained period of time for the Association and the profession in important capacities, and contributing significantly to NASFAA's success in meeting its goals.
The NASFAA Awards Nomination process is now closed. Winners will be announced this summer at the NASFAA National Conference.
2019 Lifetime Achievement Award Winner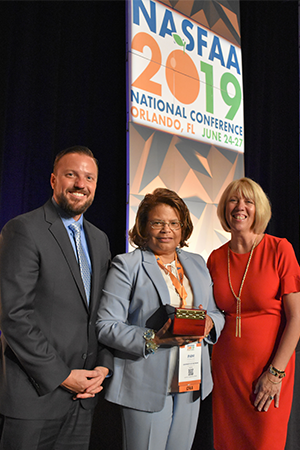 Pam Fowler, director of student financial aid at the University of Michigan.
Pam Fowler was the Executive Director of Financial Aid at the University of Michigan – Ann Arbor, and was the NASFAA National Chair for 2011-2012. Pam has enjoyed a long and distinguished career in financial aid administration, having also served in senior financial aid management at Eastern Michigan University, the University of Missouri – St. Louis, and Ivy Tech State College. She has been active at the state, regional, and national levels in a wide range of advocacy roles, and has published several articles in the NASFAA Student Aid Transcript. Pam has for many years played a pivotal role in the furtherance of NASFAA's Standards of Excellence peer review program.
A former MASFAA president, her Midwest Region recognitions include having been honored with the Purdy Distinguished Service Award and the Meritorious Service Award. NASFAA recognized Pam's service with their Regional Leadership Award, Meritorious Achievement and Distinguished Service Awards. She has also been an active member of the College Board, the National Direct Student Loan Coalition, former national chair of the Coalition of State University Aid Administrators, and has served as a trainer and a negotiator for the U.S. Department of Education.