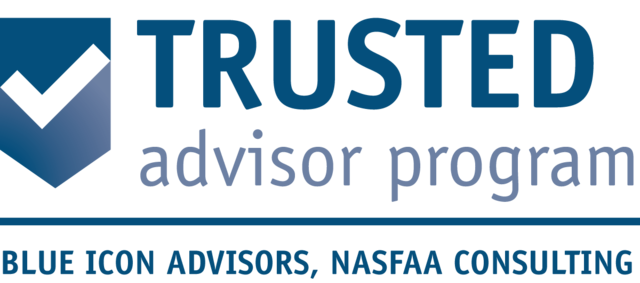 Partner with Blue Icon to stretch and manage your school's budget for virtual training, coaching, consulting, and operational assistance.*
Affordable pricing
Predictable billing
Priority scheduling with a trusted advisor
Regularly scheduled meetings and/or ad-hoc assistance
Peace of mind with access to experts and results
*This program does not include interim staffing or leadership staffing services. Instead, please complete the online request form.
Is there a minimum time commitment?
The Trusted Advisor Program begins with a three-month agreement, but you can choose to extend your agreement at any time, depending on your needs and budget. We currently have engagements ranging from three to 12 months.
How much does the Trusted Advisor Program cost?
Our starting plan is $1,500 per month for 10 hours of consulting each month. You can increase your monthly commitment (and monthly hours) at any time.
What if I don't need 10 hours every month?
Time not used in one month will roll over to the next.
Keep in mind, the amount of time needed each month may vary depending on your needs. For example, with coaching engagements, time is used in one- to four-hour increments each week, which includes the time your consultant spends meeting with you, researching your questions, and preparing for your session. You may want more than 10 hours a month if you need more time with your advisor.
Can I save up my hours?
Yes, you can save up time for bigger projects.
What if I go over my hours one month?
If you do not have saved time from previous months, any additional time spent during one month will be billed at the same hourly rate ($150/hour) and added to your next monthly invoice.
Does the time expire?
All accumulated time must be used by the end of your engagement period. If you extend your agreement for one month or more, accumulated hours will continue to roll over.
For example, if you have five hours saved, you can extend for one month, pay the $1,500 for that month, and then have 15 hours for your use.
Do you require a large down payment to begin?
No. For us to begin, only the first monthly payment must be made and an agreement for the engagement must be signed.
How quickly we can begin providing services to you will depend on how long it takes your school to approve and sign the agreement.
Will you raise your hourly rates?
Not during the term of your contract. However, our rates may go up over time and we cannot guarantee that the monthly rate for a new contract will be the same as a previous contract.
How do I get started?
In the NASFAA store, select and purchase the Blue Icon Trusted Advisor Program. Only the starting program of $1,500 per month for three months is available in the store. Once you make the purchase, a Blue Icon staff member will contact you to schedule an intake meeting so we can develop the Scope of Work and finalize the agreement. All future monthly invoices will be sent directly to you by email. Our work together will begin once the agreement has been signed.
If you have an account credit with NASFAA, you can apply that credit to your payment!
If you are not ready to move forward and need more information, complete the online request form. We will conduct a brief intake call to get a solid understanding of your needs and budget, and then email you a draft Scope of Work (SOW) based on our conversation. The SOW is your chance to ensure we have accurately stated your goals. When a contract is signed, we will provide an invoice for payment. Our work together will begin once the agreement has been signed.
If you have a budget cap, please provide that information up front so we can develop a plan to fit your budget.
What if I want to cancel the agreement?
You can terminate the agreement for any reason with 30 days advance written notice.
Disclaimer
If we do not have the exact resources required for your specific needs or project and a contract is not signed, we will refund your NASFAA store purchase.