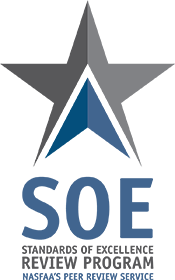 Member institutions who have gone through Standards of Excellence (SOE) Review Program applaud the comprehensive evaluation of their federal financial aid operations. But they also had to justify their request for having one. We developed the following resources to help you explain the importance of having an SOE review.
Want more information about the SOE Review Program?
Complete the information request form or contact NASFAA's SOE Administrator by email at [email protected] or by phone at (202) 785-6953.