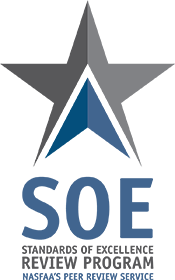 You've determined that your school needs either a Standards of Excellence (SOE) or Consumer Information (CI) Assessment peer review. Let's take a minute to go behind the scenes so you can learn what a NASFAA peer review entails.
Before the Review
In the weeks prior to the review, your school will have several tasks to complete:
Desk Audit: The review leader will send your school a list of items to provide for the reviewers so they can familiarize themselves with your school. These items include policies and procedures, consumer information disclosures, and information from across the institution that relates to financial aid administration.
Logistics: The review leader will ask the primary contact at your school to coordinate interviews with various parties that will occur during the review, as well as secure necessary meeting space and system access.
Staff Evaluation: When conducting a full SOE review, the leader will ask the entire staff of your financial aid office to complete an online assessment that will address physical office space, successes and challenges, and interoffice relationships. The evaluation also includes a Title IV knowledge assessment that is "open book, open note, but not open neighbor."
Student Survey: Schools participating in a full SOE review also have the option to administer a student satisfaction survey before the review. The leader will send the survey to your financial aid office to send to applicable students.
During the Review
The review itself will last approximately four days, usually starting on a Monday and ending on a Thursday. The first activity will be an entrance interview with applicable stakeholders across campus to introduce the reviewer(s) and discuss the purpose of the review. The reviewer(s) will spend the remainder of the week conducting interviews with various staff members in the financial aid office and other relevant parties involved in administering financial aid at your school, as well as looking over documents applicable to the scope of the review. On the last day of the review, the reviewer(s) will conduct an exit interview, usually with the same group included in the entrance meeting, to review the initial observations and answer any questions.
After the Review
The review leader will finalize the report and send it to NASFAA for review. After completing the editing and formatting process, your school will receive the report no later than 40 business days after the review. Schools participating in a full SOE review have the opportunity to comment on a draft report first, while schools having a Consumer Information Assessment will receive a final report only. After NASFAA issues the final report, we will contact your school to conduct an evaluation of the review process to gather feedback to help us make improvements to the peer review program.
Now that you know more about how the review will work, complete a no-obligation request for information to having a SOE or CI Assessment review at your school.