Published in September 2015 for the 2015-16 program year.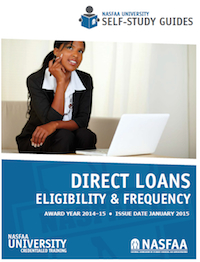 This guide covers the fundamentals of the Federal Direct Student Loan (Direct Loan) programs, including loan types, loan features, and borrower eligibility. With this foundation, learners will then gain an understanding of the calculation of loan amounts, including frequency of borrowing, annual and aggregate loan amounts, application of the 150 percent limitation on borrowing Direct Subsidized Loans, and proration. Individuals who complete this self-study guide must also complete the self-study guide, Direct Loans: Counseling Requirements and Repayment, to qualify to take a credentialing test on Direct Loans.
Available as a PDF only.
Learning Objectives
Lesson 1: Introduction to Direct Loans
Identify the different loan programs and characteristics of each;
Understand the purpose of origination fees;
Understand the loan application process; and
Understand how financial aid administrators may utilize professional judgment in the Direct Loan application process.
Lesson 2: Factors for Calculating Loan Amounts
Identify the factors in calculating loan amounts;
Understand how the loan period is identified in standard, nonstandard, and nonterm programs; and
Understand the role of the expected family contribution and estimated financial assistance in the calculation of loan amounts.
Lesson 3: Direct Loan Amounts and Limits
Know the annual and aggregate Direct Loan limits and how they are applied to the various student and parent borrowers;
Understand student enrollment patterns and the rules regarding the frequency with which students may borrow annual loan limits for Direct Loans; and
Understand the rules for Direct Loan proration and when they are applied.
Lesson 4: Calculating Direct Loan Eligibility
Know how to calculate a student's or parent's Direct Loan eligibility;
Understand the frequency of annual borrowing limits; and
Know how to prorate a student's loan eligibility.