NASFAA's newest award, the Gold Star Award, recognizes innovative ideas in the financial aid arena at any level, targeted toward any constituency. This award is open to individuals working at NASFAA member institutions; member institutions; regional associations; and state associations. The Gold Star Award honors up to three ideas each year.
The NASFAA Awards Nomination process is now closed. Winners will be announced this summer at the NASFAA National Conference.
2017 Gold Star Award
Winners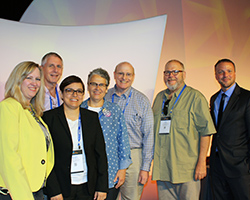 The California Community College Chancellor's Office for "California Community Chancellor's Office Financial Literacy Initiative."
The project works on life skills students need to succeed through financial literacy knowledge, and financial wellness. The five-year plan included a multi-pronged approach, including partnering on a "train the trainer" curriculum.
California State University, Sacramento for "Financial Aid Meter for Students."
CSUS's Financial Aid Meter provides students and financial aid advisors a way to quickly determine how many semesters of eligibility the student has remaining in financial aid programs, so they can match their academic plan to their remaining financial aid eligibility.