The Robert P. Huff Golden Quill Award may be presented each year to an individual or individuals chosen for their contributions to the literature on student financial aid.
The award is named in honor of Bob Huff, former director of financial aid at Stanford University and himself an outstanding contributor to the scholarly literature on student aid. Bob received the first Golden Quill Award in 1984.
Nominees for the award are judged on the basis of published work which exemplifies the highest quality of research methodology, analysis, or topical writing on the subject of student financial aid or its administration.
The NASFAA Awards Nomination process is now open for member nominations until February 14, 2020. Winners will be announced this summer at the NASFAA National Conference.
2019 Robert P. Huff Golden Quill Award Winners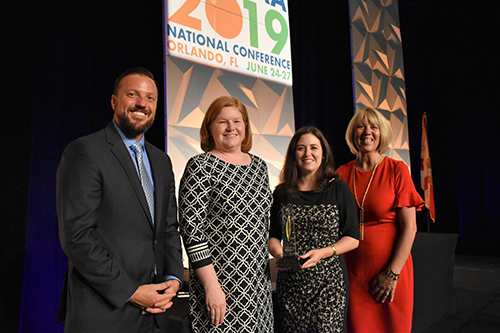 National College Access Network (NCAN)
NCAN was nominated for their overall body of work which greatly enhances the lives of students and families including their "Form Your Future" FAFSA Completion Campaign project (formyourfuture.org), the annual "Thankful4Pell Campaign" they run which saw more than 1,700 tweets and re-tweets in 2018.
Also, highlighting two reports from 2018: (1) A report which analyzed the relationship between school district poverty and FAFSA completion. The report describes how school district FAFSA completion rates are related to district-level poverty rates across and within the state. NCAN found in most states, districts with higher rates of poverty have lower FAFSA completion rates; the report proposed policy solutions to target these districts. (2) Second report focused on the affordability of four-year public institutions for a Pell Grant recipient who received the average amount of grant aid; takes out the average amount of federal loans and collects reasonable work wages to contribute to their education.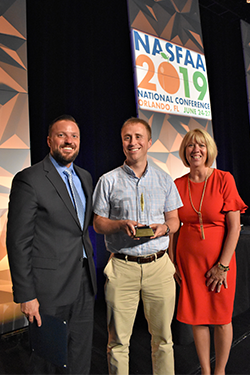 Dr. Robert Kelchen, assistant professor of higher education at Seton Hall University.
Dr. Kelchen is being nominated for his recently published book "Higher Education Accountability" which contributed heavily to the literature on higher education, but also for his numerous studies on student aid. He is frequently quoted in the media, including The Washington Post, National Public Radio, The Wall Street Journal, The New York Times, Inside Higher Ed, and Politico. Selected as one of the 15 most indispensable academics on Twitter by The Chronicle of Higher Education, he was ranked #54 in the annual Edu-Scholar Public Influence Rankings of education faculty who are influential in policy discussions and was the top-ranked Assistant Professor on the list. Dr. Kelchen has also worked with NASFAA on previous publications including "Financial Need and Aid Volatility among Students with Zero Expected Family Contribution" published in JSFA in 2015, and he has been a member of the JSFA editorial board for several years.