Staffing and Salary Benchmarks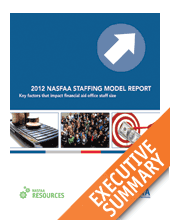 Get objective, data-driven support for assessing appropriate staff size and compensation with our benchmarking tools.
2012 NASFAA Staffing Model Report: Key Factors That Impact Financial Aid Office Staff Size, based on the results of our recent member survey, describes the variables that impact staff size among NASFAA member institutions across the country. NASFAA members receive free access to the report. If you are not a NASFAA member, you can purchase the full report.
NASFAA members also get exclusive access to following premium content:
2012 Staffing Predictor Model allows you to enter a number of variables that are important in determining staff size in Financial Aid Offices, and generates a custom report that measures your institution's staffing level against other institutions operating in similar circumstances.
The State of Salary Compensation for Financial Aid Administrators and Staff: A Report on the NASFAA Survey
Salary Projection Calculator predicts salary based on job role, student body size, region of the country, degree of urbanization, and other variables
Find the Right Candidate
When you need to fill a financial aid position, NASFAA is the only source that offers direct access to more than 18,000 financial aid professionals across the country. Every ad posted on the NASFAA Career Center receives five types of exposure for one price:
The full text of your ad is posted on the NASFAA Career Center for viewing by members and non-members, 24 hours a day, 7 days a week.
New listings appear on the NASFAA home page every day.
Your ad is automatically redistributed to additional job boards in the Higher Ed Job Board Network.
With Personal Job Alerts, your open position is sent directly to financial aid professionals whenever their job search criteria matches your job.
Your position is announced in our daily edition of Today's News, which is sent to more than 18,000 individuals, and available through an RSS feed to thousands more.