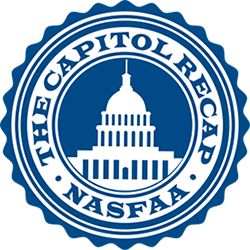 With reauthorization of the Higher Education Act due for action, members of Congress unveil new proposals for the future of higher education on a continuous basis. NASFAA's series, The Capitol Recap, provides a monthly update on new pieces of legislation introduced in both the House of Representatives and the Senate to provide aid administrators with the most up-to-date information for their offices and their own administration. Bills listed here, unless otherwise noted, have been referred to committee and are awaiting action or consideration.
For a complete list of legislation introduced in this session of Congress, visit the NASFAA Legislative Tracker.
July and August 2017
HR 3199, Improving Access to Higher Education Act: This bill would require institutions to disclose in the Integrated Postsecondary Education Data System (IPEDS) data regarding students with disabilities, including total number of students with disabilities enrolled, number of students accessing or receiving accommodations, percentage of students with disabilities of all undergraduate students, and the total number of undergraduate certificates or degrees awarded to students with disabilities. The bill also includes provisions intended to improve higher education for students with disabilities through competitive grant programs. Rep. DeSaulnier (D-CA) introduced this piece of legislation with 13 Democratic co-sponsors.
S. 1628, Know Before You Owe Federal Student Loan Act: This piece of legislation, introduced by Sen. Grassley (R-IA), would require annual counseling for every newly disbursed loan. In this "pre-loan counseling," institutions would be required to estimate a borrower's debt-to-income ratio and share statements informing the borrower that she does not have to accept the full amount of loans for which she is eligible, among other requirements. Borrowers would be required to manually enter the exact dollar amount they intend to borrow, either in writing or through electronic means, after completing pre-loan counseling, but before certification and disbursement. In addition, students would receive regular statements about their loan balance from their servicer while in a period of deferment or forbearance, including while in school.
HR 3516, Reduce Barriers to College Act: This bill, covered by NASFAA in Today's News, aims to make the process of obtaining a verification of non-filing (VONF) letter easier by allowing students and parents to upload documents such as household utility bills, student transcripts, and bank account statements as a way to authenticate and complete the online VONF request process. The IRS would also be required to respond to all VONF requests within 10 business days. Rep. Veasey (D-TX) introduced this bill.
HR 3591, American Hope Act: This comprehensive immigration bill, led by Rep. Gutierrez (D-IL) with 126 Democratic co-sponsors, would allow DACA beneficiaries and other immigrant youth to apply for "conditional permanent resident" (CPR) status. An individual with CPR status would then be eligible for federal student aid. If a CPR-status individual remains in compliance with the law for three years, the individual would be eligible to become a "lawful permanent resident" (LPR). The bill also creates a five-year path to citizenship, where time spent in CPR or LPR status would count toward the five-year requirement. The bill also repeals section 505 of the Illegal Immigration Reform and Immigrant Responsibility Act of 1996 (IIRIRA), which prohibits institutions from offering in-state tuition to undocumented students without also offering in-state tuition to students from other states.
HR 3218/S. 1598, Harry W. Colmery Veterans Educational Assistance Act: This measure makes a number of changes to enhance veterans educational benefits, the most significant of which is to provide lifetime access to benefits, instead of the current expiration of benefits after 15 years for individuals who first become entitled to them on or after Jan. 1, 2013. Rep. Roe (R-TN) and Sen. Isakson (R-GA) sponsored the bill which passed the House and Senate overwhelmingly before being signed into law by President Trump on August 16. For more information on the bill, see NASFAA's analysis of the legislation.
H.Con.Res. 71, FY 2018 Budget Resolution: The fiscal year (FY) 2018 budget resolution, covered in Today's News, provides a high-level overview of budget and funding priorities for FY 2018, which affects award year 2018-19. The resolution, led by Rep. Black (R-TN), cleared the House Budget Committee on July 21.
HR 3358, FY 2018 Appropriations for the Departments of Labor, Health and Human Services, and Education, and related agencies: The fiscal year (FY) 2018 Labor-HHS-Education Appropriations Bill, the bill that sets the funding levels for several large domestic government agencies, provides all funding for federal student aid programs for award year 2018-19. The bill, covered in Today's News, would rescind $3.3 billion from the Pell Grant Program reserve. The bill calls for level funding for FSEOG and also for the Federal Work-Study (FWS) Program. It also includes increases to programs such as TRIO and Gear Up – at $60 million and $10 million, respectively. Rep. Cole (R-OK) sponsored this bill, which passed out of committee on July 21.
For additional updates on some of these topics, be sure to select related items in the Suggested Content area; you can also sign up to receive email notifications weekly when content has been updated.