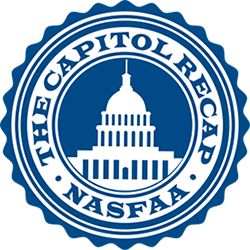 With reauthorization of the Higher Education Act due for action, members of Congress unveil new proposals for the future of higher education on a continuous basis. NASFAA's series, The Capitol Recap, provides a monthly update on new pieces of legislation introduced in both the House of Representatives and the Senate to provide aid administrators with the most up-to-date information for their offices and their own administration. Bills listed here, unless otherwise noted, have been referred to committee and are awaiting action or consideration.
For a complete list of legislation introduced in this session of Congress, visit the NASFAA Legislative Tracker.
January 2020
S.3219 — The Respect Graduate Student Workers Act introduced by Sen. Sanders [D-VT], would include graduate student works in the definition of an employee under the National Labor Relations Act, granting them all the rights and responsibility that the Act provides.
H.R.3621— The Comprehensive CREDIT Act of 2020 introduced by Rep. Pressly [D-MA] is a series of bills related to consumer credit reporting. The package includes legislation that would provide new benefits and protections to private student loan borrowers who fall behind on their payments. Included in the CREDIT Act is the Student Borrower Credit Improvement Act which would allow private student loan borrowers to rehabilitate their defaulted or delinquent loan by making nine on-time monthly payments and would also require credit reporting agencies to remove any adverse marks on a borrower's credit history after he or she completes the rehabilitation. Under the bill, the Consumer Financial Protection Bureau (CFPB) would be responsible for promulgating regulations to carry out the rehabilitation program.
S.3243 — The Simplifying Access to Student Loan Information Act of 2020 introduced by Sen. Shaheen would require private educational loan lenders to submit to the National Student Loan Data System (NSLDS) information regarding each private loan made to a student. The data to be made available would include the interest rate of the loan, the outstanding interest and principal, any available deferment or forbearance information attached to the loan, and information about the lender as well as the servicer if different parties. The bill would also allow co-signers of private education loans to access NSLDS as a separate account.
S.3149/H.R.5620 — The TRUE EQUITY Act introduced bicameraly by Sen. Cardin [D-MD] and Rep. Trone [D-MD] aims to strengthen federal, state and local educational partnerships. To address college and career readiness, the bill would fund and create a new grant up to $50 million which would improve upon preexisting state and local efforts to ensure that students have access to college and career pathways by tenth grade. The bill also addresses early childhood education and support for additional teacher training.
For additional updates on some of these topics, be sure to select related items in the Suggested Content area; you can also sign up to receive email notifications weekly when content has been updated.