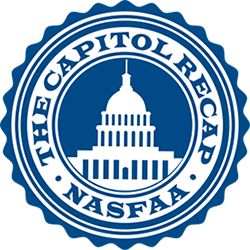 With reauthorization of the Higher Education Act due for action, members of Congress unveil new proposals for the future of higher education on a continuous basis. NASFAA's series, The Capitol Recap, provides a monthly update on new pieces of legislation introduced in both the House of Representatives and the Senate to provide aid administrators with the most up-to-date information for their offices and their own administration. Bills listed here, unless otherwise noted, have been referred to committee and are awaiting action or consideration.
For a complete list of legislation introduced in this session of Congress, visit the NASFAA Legislative Tracker.
August, September, and October 2018
HR 6972, Consumers First Act: This bill, introduced by Rep. Waters (D-CA), would create an 'Office of Students and Young Consumers' within the Offices of the Consumer Financial Protection Bureau (CFPB) that would provide services to students, young people, and their families to help them make informed financial decisions regarding paying and saving for college. The office would also help to educate about financial products and services, including private education loans, and the rights and responsibilities borrowers have if they choose to take them.
S. 3353, Simplifying Financial Aid for Students Act: This FAFSA simplification bill would send FAFSA applicants down one of three pathways based on their predicted financial strength, which mirrors many of the recommendations from NASFAA's FAFSA Working Group. In addition, the bill removes both the drug conviction and selective service registration student eligibility provisions. The bill, summarized in Today's News, was introduced by Sen. Cory Booker (D-NJ) and is co-sponsored by 6 other Democrats.
S. 3435, Beyond the Box for Higher Education Act: This bill, sponsored by Sen. Schatz (D-HI), would direct the Secretary of Education to issue guidance and recommendations for institutions of higher education on removing criminal and juvenile justice questions from their application for admissions process. If an institution feels it is necessary to collect criminal history from it's applicants, they are instructed to wait to collect such information until after an admissions decision has been made. This bill would also amend the HEA of 1965 by removing the question on the FAFSA application about the conviction of an applicant for the possession or sale of illegal drugs.
S. 3584, Affordable Loans for Any Student Act: The bill, covered in Today's News, tackles several issues related to student loan affordability, complexity, and consumer information. The bill would end federal loan origination fees and the practice of interest capitalization as well as reduce the number of repayment plans to two: an income-based repayment plan, which would now be available to Parent PLUS borrowers, and a fixed 10-year plan. The Affordable Loans for Any Student Act, sponsored by Sen. Merkley (D-OR), would also simplify the process to enroll in either repayment plan.
S. 3423, PASS Act: This bill, the Promoting Academic Success Sustainably Act, would modify the calculation of the maximum Pell Grant award for award year 2019-20 and beyond. Sen. Scott (R-SC) sponsored this bill.
HR 6935, Access to PELL Act: This bill, the Access to Professional Education and Lifelong Learning Act, would award job training Federal Pell Grants to students in job training programs. Eligible students for the job training Pell grant would need to meet the same eligibility requirements as the Federal Pell grant. The maximum job training Federal Pell grant would be capped at 50 percent of the maximum Federal Pell Grant awarded that academic year. Eligible job training programs would be defined as a career and technical education program that provides training aligned with the requirements of employers in the State the applicant is attending the program as well as provides the student a recognized post secondary credential. Rep. Bera (D-CA) introduced this piece of legislation.
S. 3371, Protecting Students from Worthless Degrees Act: This bill would require programs offered by an institution designed to lead to a recognized occupation or profession that requires licensing or other requirements to meet any federal or state accreditation and licensing requirements. The bill also adds additional certification requirements for gainful employment (GE) programs, including ensuring the GE program is approved by a recognized accrediting agency (either institutionally or programmatically depending on if programmatic accreditation is required by a Federal or state entity) and prohibiting a GE program that is substantially similar to a program that in any of the three years prior became ineligible (or was failing or in the zone) due to the debt to earning rates at the same institution. Sen. Merkley (D-OR) sponsored this bill, and Rep. Krishnamoorthi (D-IL) introduced the House companion in December 2017.
HR 6947, College Affordability and Innovation Act: This bill would create a pilot program to promote innovation in higher education through innovative program design at the postsecondary and graduate levels. The goal of these programs would be to decrease the cost and time required for students to complete postsecondary or graduate certificate or degree programs while receiving a quality education. This bill would allow ED to award 5-year grants to up to 15 institutions of higher education. The bill also allows ED to waive certain provisions of the HEA if they would inhibit these institutions from operating their innovative education programs. Rep. Himes (D-CT) sponsored this bill.
HR 6921, Students and Families Empowerment Act: This bill, introduced by Rep. Rice (D-NY), would amend the IRS Tax Code to increase the deduction allowed for student loan interest. The Students and Families Empowerment Act would also exclude the discharge of any student loan debt from the result of completing the maximum payment time frame required under any income contingent or income-based repayment programs, from a borrower's gross income. The bill would also extend the grace period of student loan borrowers, currently 6 months, to 12 months. During those months, this bill would also prohibit interest from accruing on all Federal loan types.
For additional updates on some of these topics, be sure to select related items in the Suggested Content area; you can also sign up to receive email notifications weekly when content has been updated.