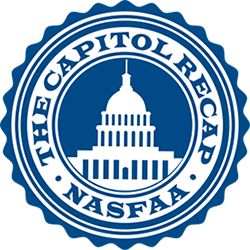 With reauthorization of the Higher Education Act due for action, members of Congress unveil new proposals for the future of higher education on a continuous basis. NASFAA's series, The Capitol Recap, provides a monthly update on new pieces of legislation introduced in both the House of Representatives and the Senate to provide aid administrators with the most up-to-date information for their offices and their own administration. Bills listed here, unless otherwise noted, have been referred to committee and are awaiting action or consideration.
For a complete list of legislation introduced in this session of Congress, visit the NASFAA Legislative Tracker.
January 2021
The COVID–19 Student Loan Relief Extension Act, introduced by Rep. Courtney [D-CT], would expand the current COVID-19 borrower relief provisions to all student loan borrowers, including Perkins loans, FFEL loans held by private companies as well as Health Professions and Nursing loans. The current relief includes payment and interest suspension. The bill would also lengthen the period of relief until 30 days after the end of the national health emergency.
The Public Service Appreciation Through Loan Forgiveness Act, introduced by Rep. Krishnamoorthi [D-IL], would allow borrowers eligible for and enrolled in the Public Service Loan Forgiveness program to have a portion of their loans forgiven at different intervals dependent on the amount of eligible monthly payments they've made. The first forgiveness of 10% of the borrowers balance would come after 48 monthly payments, 20% after 72 monthly payments, and 50% after 96 monthly payments. The borrower would have to be actively employed in the PSLF eligible job when receiving the forgiveness, and be employed at an eligible PSLF job when the payments had been made. Borrowers who take advantage of these allowances would still be eligible to have their loans fully forgiven under the PSLF program as it stands after 10 years.
The Skills Investment Act of 2021, introduced by Sen. Klobuchar [D-MN], would update the name of Coverdell Education Savings Accounts to Coverdell Lifelong Learning Accounts, which would be retroactive for accounts already in existence. The bill would also add "qualified educational or skill development expenses" to the list of qualified uses of the funds kept in a Coverdell account, allowing owners of these accounts to use their funds towards, training services, career and technical education activities, youth workforce investment activities, adult education and literacy activities, expenses for transportation required for or provided by any of these services or activities, as well as expenses for testing necessary for enrollment in, or certification in connection with these services or activities.
For additional updates on some of these topics, be sure to select related items in the Suggested Content area; you can also sign up to receive email notifications weekly when content has been updated.