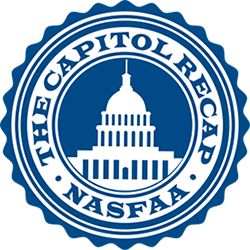 With reauthorization of the Higher Education Act due for action, members of Congress unveil new proposals for the future of higher education on a continuous basis. NASFAA's series, The Capitol Recap, provides a monthly update on new pieces of legislation introduced in both the House of Representatives and the Senate to provide aid administrators with the most up-to-date information for their offices and their own administration. Bills listed here, unless otherwise noted, have been referred to committee and are awaiting action or consideration.
For a complete list of legislation introduced in this session of Congress, visit the NASFAA Legislative Tracker.
July 2018
HR 6543, Aim Higher Act: The Aim Higher Act is a comprehensive Higher Education Act (HEA) reauthorization bill with notable changes to the federal student aid programs. For complete coverage of the House Democrats' HEA bill, see NASFAA's Aim Higher Act page. Rep. Scott (D-VA) introduced the bill which now has 57 Democratic co-sponsors.
HR 6352/S. 3205, Know Before You Owe Private Education Loan Act: This piece of legislation would amend both the Higher Education Act and the Truth in Lending Act to require full institutional certification of all private student loans. The bills would require private lenders to obtain students' cost of attendance and outstanding need information directly from institutions — schools would then certify that the student applicant is enrolled or is scheduled to enroll at their institutions. In turn, institutions would provide borrowers with disclosures about their Title IV eligibility, information about the advantages of federal student loans and their terms, the impact of a private education loan, and the borrower's right to accept or reject private education loans. The bills would direct the CFPB and ED to report jointly to Congress on (1) compliance by both institutions and lenders, and (2) the degree to which specific institutions utilize certifications to effectively encourage the exhaustion of federal student loan eligibility and lower student private education loan debt. Finally, the bills would amend the Truth in Lending Act to exclude federal loans under Titles VII and VIII of the Public Health Service Act from the definition of a private education loan. Sen. Durbin and Rep. Polis sponsored this measure.
HR 6473, Transparency in Student Loan Consultation Act: The bill, sponsored by Rep. DeLauro (D-CT), would require institutions and third-party servicers to include, in any repayment-related information provided to borrowers, an explanation of all available options due to the borrower's circumstances. In cases where borrowers have past-due payments or are requesting default prevention, aversion, or debt management counseling, institutions and third-party servicers would be required to provide information about the borrower's repayment status and schedule, as well as all options for making, scheduling, postponing, or reducing loan payments (including loan forgiveness, cancellation, deferment, and forbearance).
HR 6349, Improving Middle Class Access to Higher Education Act: This bill, introduced by Rep. Kinzinger (R-IL), would increase the income limit to qualify for the Simplified Needs Test from $50,000 to $100,000. The bill aims to align the simplified needs test with IRS thresholds.
HR 6525, Higher Education Dream Act: This bill would prohibit admission and tuition pricing discrimination on the basis of immigration status at institutions receiving federal funds. The bill would prohibit institutions from using furnished immigration information to arrest, detain, or initiate removal proceedings against students. Schools would also be prohibited from publishing or sharing said information. Rep. Lewis (D-GA) sponsored this bill.
HR 6579, Recent Grads in Start-Ups and Innovation Act: Under this bill introduced by Rep. Aguilar (D-CA), borrowers owning small businesses (as defined in the Small Business Act) would be eligible for deferment on their Federal Direct Loans for up to four years. To be eligible, borrowers must verify they have at least one employee and that their business is located in a qualified "opportunity zone" (defined as an economically-distressed community certified by the Treasury Department and IRS). The bill would require ED and the Small Business Administration to submit a report to Congress on program outcomes one year after the first granted deferment.
For additional updates on some of these topics, be sure to select related items in the Suggested Content area; you can also sign up to receive email notifications weekly when content has been updated.