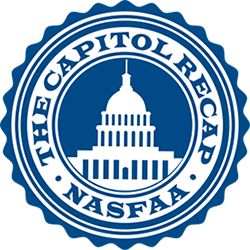 With reauthorization of the Higher Education Act due for action, members of Congress unveil new proposals for the future of higher education on a continuous basis. NASFAA's series, The Capitol Recap, provides a monthly update on new pieces of legislation introduced in both the House of Representatives and the Senate to provide aid administrators with the most up-to-date information for their offices and their own administration. Bills listed here, unless otherwise noted, have been referred to committee and are awaiting action or consideration.
For a complete list of legislation introduced in this session of Congress, visit the NASFAA Legislative Tracker.
April & May 2020


H.R.6756 - The End Pandemic Hunger for College Students Act of 2020, introduced by Rep. Fudge [D-OH], would modify the eligibility standards applicable to low-income college students under the Food and Nutrition Act of 2008 during COVID–19 public health emergency.
S.3745 - The Coronavirus Emergency Borrower Defense Act of 2020, introduced by Sen. Durbin [D-IL], would provide relief to borrowers of student loans who have been misrepresented by institutions. An eligible borrower, or parent borrower who took out an eligible loan on behalf of an eligible borrower, shall be entitled to loan relief as well.
H.R.6651 / S.3589 - The Use Your Endowment Act a bicameral bill introduced by Rep. Cline [R-VA] in the House and Sen. Hawley [R-MO] in the Senate would deem certain institutions of higher education (IHEs) ineligible to receive certain emergency relief funds to address the coronavirus (i.e., the virus that causes COVID-19). Specifically, an IHE with an endowment greater than $10 billion in 2019 is generally ineligible to receive such funds and must return any funds it received to the Department of Education (ED). However, such an IHE may receive and keep these funds if it provides documentation to ED that it expended 1,000% of the amount of the funds on emergency relief.
H.R.6814 / S.3701 - The Supporting Connectivity for Higher Education Students in Need Act, introduced by Rep. Eshoo [D-CA], would require the Assistant Secretary of Commerce for Communications and Information, in consultation with the Secretary of Education, to promulgate regulations to provide support to institutions of higher education for the provision of certain equipment and services to students of those institutions. This bill prioritizes support for HBCUs, HSIs, MSIs, TCUs, and RSI students who are eligible to receive a Federal Pell Grant, need based financial aid, low-income, and first generation. Eligible equipment consists of a laptop, tablet computer, modem, router, device that combines a modem and a router, and a wifi hotspot. Eligible service means broadband internet access service and video conferencing systems used for distance learning.
For additional updates on some of these topics, be sure to select related items in the Suggested Content area; you can also sign up to receive email notifications weekly when content has been updated.