10 Questions With NASFAA's New National Chair, Billie Jo Hamilton
By Brittany Hackett, Communications Staff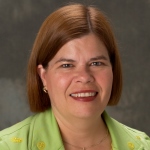 Meet Billie Jo Hamilton, NASFAA's 2017-18 National Chair!
Billie Jo is the associate vice president for enrollment planning and management at the University of South Florida. She supervises the offices of Admissions, Registrar, and University Scholarships & Financial Aid Services. Her career has spanned 36 years and five states. "I started as a student worker at Pittsburg State University (KS)," Billie Jo said. "The director's wife was a high school friend of my mother, and the office manager was from my hometown, so I guess these were my first 'connections' into the work world."
Over the years, Billie Jo has held directorships at the University of Kansas Medical Center, the University of Tennessee-Memphis, Missouri State University, and Southern Illinois University–Carbondale. She is a past state president (Kansas) and has held numerous elected and appointed positions in RMASFAA, SASFAA, and MASFAA. She has served as NASFAA conference chair, NASFAA Leadership Expo chair, as a commission director, and has presented numerous times at the NASFAA Leadership Conference. She has also held a three-year term as a Representative at Large on the NASFAA Board of Directors. She has a bachelor's degree in marketing and a master's degree in business administration from Pittsburgh State University in Kansas.
As she begins her tenure as 2017-18 National Chair, Billie Jo took some time to discuss with Today's News her goals for the next year and what inspires her as a financial aid professional.
TN: What do you think is the biggest issue facing the federal aid programs right now?
BJH: The hyper-partisanship that is prevalent in Washington makes it challenging to affect progress in improving the aid programs for students in a meaningful way and as a result, the budget process will continue to drive policy.
TN: What are your top three goals for your tenure as National Chair of NASFAA?
BJH: Build on the reputation we have gained in Washington as the "go-to" voice on financial aid issues, continue to expand and improve on the training products we offer our members, and encourage those newer to our profession who demonstrate a commitment to their students and their work to view financial aid as a career.
TN: Who has been the biggest professional influence for you over the years, and why?
BJH: There have been many, but I would say Marilyn Haverly, my first supervisor as a student worker, as she instilled in me a work ethic, and my first supervisor as a professional, Frances Cooper Marks, because she hired a 23-year-old as a director and mentored and guided me for 14 years, honing my skills for future success.
TN: What is the best professional advice you have been given?
BJH: It is not how well your office runs when you are at work that demonstrates you are a good manager. It is how well your office runs when you are out.
TN: You can have dinner with three celebrities, dead or alive. Who are they?
BHJ: Robin Williams, Oprah Winfrey, and Katherine Hepburn.
TN: If I were not working in financial aid, I'd...
BJH: Be operating my own clothing store. I love to shop and doing that for a living would be heaven!
TN: If you had a superpower, what would it be?
BJH: To teleport from place to place at will.
TN: Something I wish I knew my first year working in financial aid.
BJH: That my career path was set!
TN: How my colleagues would describe me:
BJH: Collaborative, open-minded, and a bit demanding!
TN: What NASFAA service/product is most helpful to you?
BJH: Today's News—hands down!
Leave your welcome messages, comments, and congratulations to Hamilton in the comments section below!
Publication Date: 8/7/2017
---