ED Data Shows Fewer Student Borrowers Defaulting On Loans
By Brittany Hackett, Communications Staff 
New data from the Department of Education (ED) shows a slight dip in the number of student loan borrowers who are defaulting on their federal student loans.
The fiscal year (FY) 2011 three-year cohort default rates, released Wednesday by ED, show a national default rate of 13.7 percent, down from 14.7 percent in FY 2010.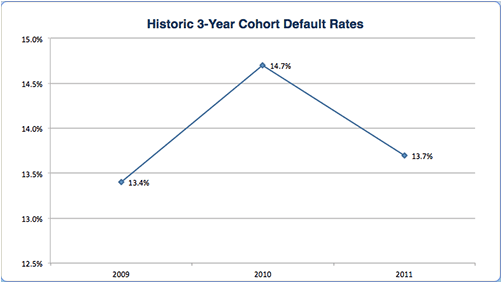 Default rates for a given fiscal year encompass the cohort of borrowers who entered repayment during that year. While cohort default rates were originally only calculated based on the number of those borrowers who defaulted before the end of the following fiscal year ("two-year rates"), the 2011 three-year rate marks the complete transition to only three-year rates.
When broken down by institution type, the data show decreases in the borrower default rate for all sectors. Public institutions had a cohort default rate (CDR) of 12.9 percent in FY 2011, compared with 13.0 percent in FY 2010, while private institutions saw a drop from 8.2 percent in FY 2010 to 7.2 percent in FY 2011. Proprietary schools dropped from 21.8 percent in FY 2010 to 19.1 percent in FY 2011.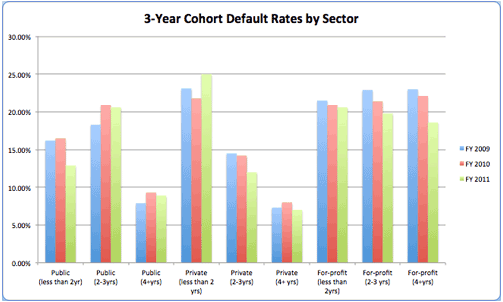 "Cohort default rates provide a critical glimpse into the struggles some students and institutions face when tackling debt," said Justin Draeger, president of the National Association of Student Financial Aid Administrators. "Targeted, consumer-tested information, giving schools additional authority to limit student debt, and more safeguards for borrowers, such as universal income-based repayment plans, will greatly help students to take on manageable debt and pay it back in a timely manner."
Earlier this week, ED released CDRs to schools via electronic message and issued an electronic announcement explaining how it has adjusted the CDR calculations for institutions that would have been subject to potential loss of Title IV eligibility due to high rates of default, and who have borrowers with split servicers. In the electronic announcement announcing the official 2011 rates, ED said that in some cases schools' CDRs "should be interpreted with caution" because some have fewer students entering repayment or a low number of borrowers.
Twenty-six institutions have been barred from receiving financial aid based on having CDRs of at least 30 percent for three consecutive years or at least 40 percent for the latest year. The schools, comprised of mostly for-profit beauty schools, can appeal the loss of their financial aid.
Historical two-year cohort default rate data can be found here.
Publication Date: 9/25/2014
---