Meet Laylaa: NASFAA's Summer 2014 Communications Intern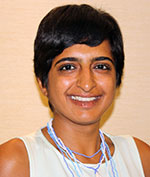 Laylaa Randera is a South African college student interning in NASFAA's Communications Department for eight weeks this summer as part of The Fund for American Studies' summer intern program. Here is the road she took to get here, in her own words. Please join the NASFAA staff in welcoming Laylaa by leaving a comment for her, below. 
My road to Washington began about three years ago, when I applied to attend a rather small HBCU in Charlotte, NC. I had read about the Carolinas, and—after countless emails to the admissions office—I received a letter of acceptance from Johnson C. Smith University along with a merit-based scholarship from the Duke Endowment. I would soon be the first female in my family to study abroad. 
Last December, I hopped onto a bus in Charlotte, destined for Washington, D.C. It only made sense that I visit the capital of the nation during my time in the United States. I had no idea I would end up falling in love with the city. I made a promise to myself during that week to come back and intern during summer 2014. 
Fast-forward to summer 2014. I am sitting in front of a computer at NASFAA excited to tell you all a bit about who I am. My name is Laylaa Randera, and I am senior at JCSU studying communication arts with a minor in philosophy. I am from Johannesburg, South Africa. I am the summer 2014 communications intern at NASFAA for The Fund for American Studies (#TFAS). 
Every summer an enthusiastic staff from TFAS welcomes a few hundred students to D.C. The program is called LIVE.LEARN.INTERN. and consists of four different institutes; I am a part of the Institute for Political Journalism.  We are exposed to leadership opportunities and real-world settings that foster professional growth. We meet new people every day, and attend events and cultural outings throughout the summer. As the communications intern at NASFAA I will be writing articles for Today's News, taking photographs—one of my passions—for social media platforms, and serving on other communications projects. 
The common factor that underlies the most enriching experiences in my life is education. It has opened my mind to a universe of ideas and people. I was born into a politically and socially active family, especially during South Africa's transition from apartheid to democracy. My father is involved in the residence program at Wits University in Johannesburg, so I have been surrounded by students and academics for a large portion of my life. Waiting around for my dad to get off for the day, I would often overhear student government association members talking to fellow students about financial aid issues. 
I grew up in a country in which a higher education makes the world of a difference to many people. At the HBCU I attend now, the same is true. A common struggle faced by students is navigating the available funding options and finding out what is most feasible in the long run. I no doubt have a lot to learn about how it all works. But what I do know is that access to a quality higher education is a privilege that should be attainable by all. As the great Nelson Mandela said, "Education is the most powerful weapon which you can use to change the world." 
Thank you for allowing me to introduce myself. Please feel free to leave a comment below or email me at randeral@nasfaa.org. I am always open to a conversation.     
Publication Date: 6/18/2014
---