The NASFAA National Conference 2012! (Part 2)
Who knew being back in Washington D.C. would feel like a vacation compared to the conference in Chicago?! I definitely enjoyed my time at the conference and learned a lot. The sessions felt oddly similar to the college lectures I will soon be returning to.  Here are a few conference highlights:
1. Senator Durbin's speech at breakfast on Monday morning was very encouraging. He spoke about students whose lives changed due to the availability of financial aid and the help of financial aid administrators. Hearing personal like those stories helped put into perspective the hard work that administrators do.  
2. Megan McClean and Craig Munier's session on the U.S. Presidents and their impact on financial aid programs was extremely fascinating. I'm a huge history nerd, so looking back in time at the development of the financial aid programs was really cool. It is interesting to think of financial aid as a defense mechanism and a way to keep our country more advanced than our other global competitors.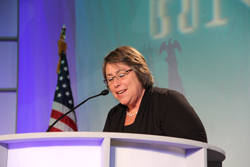 3. Martha Kanter's presentation at lunch on Tuesday was informative. She is a very motivated individual, and passionate about her work. We appreciate her efforts with financial aid!   
4. Youlonda Copeland-Morgan of UCLA and Zina Haywood of Gateway Technical College presented a very entertaining and instructive session titled "Habits of Effective Financial Aid Professionals." I always enjoy learning about what I can do to improve my professional skills. Their session provided some great suggestions, including the necessity of having a mentor. 
5. The National Chairs reception was a lot of fun! Line dances have always been a favorite of mine and dancing to Call Me Maybe with Christian Alberto wasn't a bad time either. My only regret is all the Cheesecake I ate!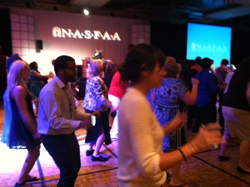 In addition, I also enjoyed seeing Millennium Park and the Navy Pier, having dinner at Quartino's with Patricia Goldsmith (Dean of Admissions and Financial Aid at St. Mary's College of Maryland), and being able to meet all sorts of people and hand out our super-duper water bottles at the NASFAA booth. 
I enjoyed Chicago, and feel extremely fortunate to have been able to participate in the conference. I am happy though to be back in the land of Capitol Hill and the White House. Meetings and copyediting are on the agenda for the week, so I'm ready to get back to work!
Publication Date: 7/30/2012
---