MEDIA AVAILABILITY: NASFAA Offers Financial Aid Experts to Speak on Student Loan Default Rates
FOR IMMEDIATE RELEASE
Contact: Haley Chitty
Director of Communications
(202) 785-6959
chittyh@nasfaa.org
Dept. of Education Set to Unveil Two-Year Cohort Default Rates on Monday
Sept. 14, 2012 - The U.S. Department of Education has said it will release the FY 2010 two-year cohort default rates (CDRs) on Sept. 17 and the FY 2009 three-year CDRs on Sept. 24 to schools, guaranty agencies and lenders. After the Sept. 24 release, the Department will publicly post both the two-year and three-year CDRs online. Under current rules, all schools with two-year default rates of 25 percent or greater for three consecutive years face loss of eligibility in the Direct Loan and Federal Pell Grant programs—a devastating outcome for any school or student body.
Last year, the percentage of borrowers defaulting on their student loans within two years of entering repayment reached the highest level in 12 years, according to the default numbers issued by the U.S. Department of Education.
The national fiscal year (FY) 2009 two-year Cohort Default Rate (CDR) climbed to 8.8 percent, a 25 percent increase over the FY 2008 rate of 7 percent. The CDR has been creeping up from the historic low of 4.5 percent for the 2003 cohort.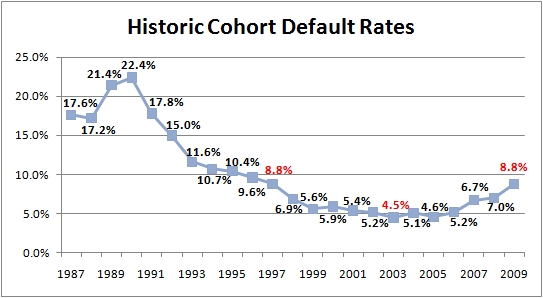 The FY 2009 CDR -- the most recent data available -- is a snapshot of the cohort of borrowers whose first loan repayments came due between Oct. 1, 2008 and Sept. 30, 2009, and who defaulted before Sept. 30, 2010. During that time, more than 3.6 million borrowers from 5,900 schools entered repayment and more than 320,000 defaulted.
Last year the CDR increased for every sector of higher education:
Public institutions increased from 6 percent to 7.2 percent
Private institutions increased from 4 percent to 4.6 percent
For-profit institutions increased from 11.6 to 15 percent
The FY 2009 cohort was the first cohort also monitored for the new three-year CDR required by the Higher Education and Opportunity Act (HEOA) of 2008. This new measure follows borrowers whose first loan repayments came due between Oct. 1, 2008 and Sept. 30, 2009, and who defaulted before Sept. 30, 2011.
The HEOA stipulates that any sanctions that would result from the new three-year CDRs are not effective until there are three sets of official three-year rates, which will occur in 2014 when the FY 2011 3-year rate becomes available. The Department will continue to calculate and publish official two-year CDRs until three sets of three-year rates are published. The last two-year rate calculation will be for the FY 2011 cohort and will be released in 2013. Beginning in 2014, only three-year rates will be published.
Justin Draeger, president of the National Association of Student Financial Aid Administrators (NASFAA), is available to speak to reporters about these and other topics:
The impact of student loan default on students and institutions
What schools are doing to help better counsel students on the risks of borrowing
A newly created NASFAA Task Force on Student Loan Indebtedness to provide recommendations on curbing student loan default through changes to federal and institutional policies
Factors that influence whether a borrower will default, including family income, academic preparedness in high school, academic success in college, in-school counseling, loan debt levels, and post-college income
The impact of the switch from two-year to three-years cohort default rate calculations
Recent steps by the Department of Education to limit student loan default by strengthening the Income-Based Repayment (IBR) program, implementing new program integrity regulations, and creating a College Affordability and Transparency Center.
Ways to avoid incurring unnecessary educational debt, including grants, scholarships and work study
Responsible borrowing and using student-friendly loan products
How students and families can manage repayment and avoid default
How financial aid administrators on college and university campuses can assist with making budget-conscious decisions
About NASFAA
The National Association of Student Financial Aid Administrators (NASFAA) is a nonprofit membership organization that represents nearly 20,000 financial aid professionals at 2,800 colleges, universities, and career schools across the country. Each year, financial aid professionals help more than 16 million students receive funding for post secondary education. Based in Washington, D.C., NASFAA is the only national association with a primary focus on student aid legislation, regulatory analysis, and training for financial aid administrators. For more information, visit www.nasfaa.org.
Publication Date: 9/14/2012