Conference Attendees Weigh The Impact of Student Loan Debt In Key Day Two Event

The 2015 NASFAA National Conference continued on Monday, with events ranging from a debate on whether there is a student loan crisis to NASFAA President Justin Draeger's address to the membership. See below for summaries of selected sessions and follow along with conference happenings in real time on Facebook and Twitter using #NASFAA2015. Reminder: If you're looking for announcements and conference updates, our official Twitter account is @nasfaa.
The Great Debate: Perceptions of the Student Loan Crisis
In a first-of-its-kind session at the 2015 National Conference, attendees listened in on an "Oxford-style" debate between two teams on whether student debt has grown to such epic levels that it is now a crisis for students, the economy, and our national future.
The debate, which featured three rounds of arguments, was moderated by John Donvan of Intelligence Squared/ABC News. Arguing in favor of the statement that there is a student loan crisis were Kevin Fudge of American Student Assistance and Mark Huelsman of Demos. Arguing against the statement were Andrew Kelly of the American Enterprise Institute (AEI) and Elizabeth Akers of the Brookings Institution.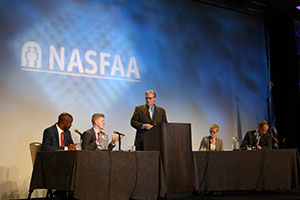 John Donvan moderates the Oxford-style debate
Prior to the start of the debate, audience members were able to text their position on the issue; 59 percent said there is a student loan crisis and 41 percent said there is not. At the end of the debate, the audience was polled again to see which side "won" the debate, but more on that later... first, we'll summarize the arguments.
Huelsman started the debate by telling the audience that while higher education continues to pay off for most students, there is a growing contingent of students whose student loans are manifesting into a "crisis of equity, a crisis of opportunity, and a crisis for the economy."
Student debt re-entrenches inequity in the U.S., particularly among low-income, first-generation students and students of color. The most important reason for this is that a degree is "far from guaranteed" for many students, Huelsman said, noting that four in 10 loan borrowers and four in 10 black borrowers drop out before completing, citing debt as the number one reason.
Countering Huelsman's arguments, Akers said that student debt is not a crisis and that research "tells us very conclusively" that in this economy, many people would be worse off if they did not have access to student loans to help pay for college.
According to Akers, the claim that there is a student debt crisis is based on a "logical mistake in the way we're thinking about student loan debt." It's important to compare the cost of education with the long-term benefits afforded by having a degree, she said, adding that the burden of student loans has declined significantly for low-income households over the last couple of decades.
The debate was kicked back to the "pro" side, with Fudge echoing several points of his teammate, Huelsman and adding the argument that student loan debt is impacting young adults' decisions to buy homes, start families, and create small businesses.
Often the balances of borrowers who default on their loans are low but they struggle regardless because they lacked awareness of how to manage their debt and repayment, Fudge said.
Kelly then cited a lack of empirical evidence that the crisis exists. "Anyone can find two trends and claim one causes the other," he said in response to Fudge's argument that student debt can hinder a person's future decisions, like home buying.
Rather, he continued, there are other factors that are in play, including the dramatically different group of people who are borrowing today. For example, the number of Pell Grant recipients doubled between 2000 and 2014 and the recession pushed a larger group of non-traditional students with already "shaky" finances to enroll in college, Kelly argued.
Regarding repayment struggles, Kelly said they have more to do with the person holding the debt than the debt itself and that if they are struggling with repayment, it is likely an information problem or a personal problem outside of the debt itself.
During the second round of the three-round debate, the debaters answered questions posed by the moderator and the audience and fleshed out their respective arguments.
Kelly said that one of the reasons that the current situation has been labeled a crisis is because the country has "broached some mythical number of $1 trillion in student loan debt," but what is not talked about is that it happened in the context of the economic recession and the subsequent surge in enrollment.
Akers added that even with the rise in the amount of debt, there continues to be a positive return on investment for most students. "Thirty-thousand dollars is not a lot of money [to borrow] when it's buying me something worth $1 million," she said.
However, Fudge and Huelsman countered that for low-income students and families, the burden of student loan debt can be exacerbated when it is placed on top of living expenses like housing and health care costs.
Fudge added that many borrowers who would benefit from income-based repayment are reluctant to enroll because they will face longer periods of repayment and, ultimately, pay more because of the length of repayment.
For the final round of debate, each debater was given 90 seconds to convince the audience that their position was the correct one.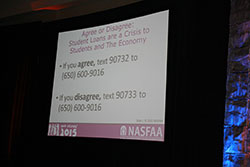 The audience participated by logging their
vote before and after arguments

Kelly left the audience with some "cautionary words" about describing student loan debt as a crisis, arguing that in doing so, we may be inadvertently dissuading those who would benefit the most from investing in higher education. The rhetoric also may lead policymakers to provide short-term solutions to the problem that can have a largely negative impact.
Fudge concluded his argument by saying that the first step in solving a problem is acknowledging you have a problem and urged the audience to "not wait another 10 years for data to show us what's happening right now."
In the end, 43 percent of the audience voted that there was a student loan crisis and 63 percent said there was not, providing Kelly and Akers with the win.
Ethics and Financial Aid: Right or Wrong
Albert Einstein said, "What is popular is not always right; what is right is not always popular." That is to say that often it is harder to stand up for what is right than to just go with the flow.
In a half-day workshop that began Monday morning, presenters Mary Sommers, director of financial aid at the University of Nebraska-Kearney, and Jim Swanson, director of financial aid at Colorado College, delved into this topic by first discussing what the word "ethics" truly means. According to the Merriam-Webster Dictionary, presenters told the audience, ethics are defined as a guiding philosophy and as the principles of conduct governing an individual or a group.
In order to get attendees thinking about their own ethical stances, presenters asked the audience to weigh in with their thoughts on a series of sample situations using a one to five scale, with one being "very ethical" and five being "not ethical at all."
Situations the presenters asked members to weigh in on included things like "On a scale of one to five, is it ethical to use your college's computer for personal use?" and "Is it ethical to embellish data to promote one's idea or agenda?," among several other questions.
"If you think of other professionals, it is not uncommon for them to have certain ethical standards that they comply with as they do their work and, in fact, to work really hard to police themselves in many situations," Sommers said. "We're a young profession and we've come to the point, I think, in our growth where we're ready to take some steps [to do the same]," she added.
Sommers offered workshop participants some historical perspective explaining that in April 1999 NASFAA's Board adopted a 12-point Statement of Ethical Principles, to serve as a common foundation for the profession. Then, following investigations by the New York Attorney General, the NASFAA Board in May 2007 adopted a more prescriptive Code of Conduct to outline specific standards/expectations for financial aid administrators.
As new issues, challenges, and dynamics in higher education came to light, the NASFAA Board in 2013-2014 determined it was necessary to re-examine NASFAA's Core Advocacy Principles and Code of Conduct and appointed a task force on Ethical Standards to do just that, Sommers told participants. These revised documents were reviewed by the Board in March of 2014 and approved.
While the Statement of Ethical Principles is not something NASFAA member institutions are required to adhere to, "there is now an enforcement procedure in place for the Code of Conduct," Sommers told the group. The new enforcement procedures went into effect July 1, 2015.
When we were working on the Code of Conduct Task Force, "we asked ourselves this question: 'To whom does the financial aid administrator's loyalty lie?" Sommers said. She explained that before she chaired the Task Force and the commission, she went to her campus' CEO and asked him that same question. He responded that it was to the institution, "but think about how answering that question impacts how you might handle an ethical circumstance on campus... because I would say my loyalties lie with access and opportunity for my students," Sommers said, urging participants to think about it critically.
After a thorough review of the Statement of Ethical Principles and the Code of Conduct, the presenters broke attendees into small groups so they could engage in discussions about some specific ethical scenarios and case studies.
New Research and College-Level Policies to Help Students Borrow Responsibly
Helping students make better decisions about student loan borrowing is a growing area of interest for many institutions. Attendees at the morning session titled "New Research and College-Level Policies to Help Students Borrow Responsibly" heard from two aid administrators who have successfully addressed responsible borrowing behaviors at their schools.
James Kennedy from Indiana University's university student services and systems said that his school was growing increasingly concerned about the amount of debt its students were taking on and began to discuss "some of the solutions we feel we can do as financial aid administrators."
Their approach to the issue was based on three prongs:
Increasing financial literacy among students through focus groups, podcasts, interactive online materials, and peer-to-peer counseling;
Improving the financial aid process through things like producing an annual student loan debt letter for students, collaborating with academic advisors to increase satisfactory academic progress (SAP) and completion, and better targeting institutional aid; and
Implementing retention and completion initiatives like a program to encourage students to take 15 credit hours per semester and early notification systems for SAP.
According to Kennedy, Indiana University has seen a 16 percent reduction in undergraduate borrowing in the last two years, as well as a 32 percent increase in the number of students taking at least 15 credits per semester.
Kevin Jensen of the College of Western Idaho also shared his school's experiences, telling the audience that they "took some time to try and understand and try to find the problem" with their students' borrowing behavior. Their goal was to "impact outcomes without taking student choice away," he said, adding that they achieved this by improving the quality of borrowing information they provided to students and engaging students in a conversation about borrowing, rather than just denying them loans.
The result outcomes were positive, Jensen said, noting that in 2013-2014 the school's direct loan volume dropped 36.8 percent. The volume dropped again in 2014-2015, going down by 29.8 percent and totaling a decline of 55.7 percent over the two-year period.
The Future of PSLF: Recommendations, Reauthorization, and Beyond
NASFAA staff and task force leaders hosted a discussion Monday detailing a series of recommendations to improve and strengthen the Public Service Loan Forgiveness program.
Candi Frazier, associate director of financial aid at West Virginia University, said the task force was convened to examine several different aspects of the program that could be strengthened for long-term viability. Identifying data elements to access the program, Frazier said, was a challenge for the group.
"That was one of the biggest things we struggled with," Frazier said. "There was just a lot of guessing out there."
The task force made several recommendations to adjust the PSLF program, including instituting limits on the amounts of loan forgiveness and making the program data public and increasing communication. Frazier said concerns about the program have grown as some graduate students in professional programs over-borrow, expecting the loan amount to be eventually forgiven by the federal government.
As a way to address those issues, the task force suggested limiting forgiveness to 100 percent of the balance of the aggregate undergraduate Direct Loan limit ($57,700) and up to 50 percent of any remaining balance not exceeding the total amount of the graduate aggregate Direct Loan limit ($138,500).
"We wanted to make sure that our voice was being heard," Frazier said. "Our voice would not be heard if we just said, 'Leave it alone.'"
Karen McCarthy, a NASFAA senior policy analyst, said currently, unlimited forgiveness and unlimited Grad PLUS loan borrowing can be problematic.
"Because of those two things coming together, there's a lot of talk on how that creates perverse incentives … for everybody, and how that needs to be changed," McCarthy said. "If we had grad plus loan limits, we wouldn't need to limit the forgiveness quite so much."
Lisa Ciritella of the Pennsylvania Higher Education Assistance Agency said the top issues and concerns from borrowers centered around PSLF eligibility, payments, entering into a repayment plan schedule during PSLF, the status under PSLF, and the transfer of loans to FedLoan servicing. One issue that was not in the top five, "but probably should be," Ciritella said, is consolidation of loans.
Consumer Information Requirements
Officials from the Department of Education's (ED) Office of Federal Student Aid (FSA) on Monday morning gave a presentation updating conference attendees on consumer information tools available through the federal government, and what data is necessary for colleges and universities to report.
Ashley Higgins, of FSA, told attendees that there is an overlap between the information schools disclose to the public and the information they report to ED, and the information reported to ED is used to create consumer tools.
Higgins gave an overview of ED's tools for students and families, including the College Navigator, communications through StudentAid.gov, and the Financial Aid Shopping Sheet, which she said has been adopted by more than 3,000 institutions.
Higgins also walked attendees through some changes with data reporting. ED, for example, will not collect data on incidents of domestic violence, dating violence, sexual assault and stalking – as required under the Clery Act – for the 2013 calendar year, she said.
David Bartnicki, a training officer with FSA, reiterated that institutions with any first-time, full-time students are required to have a Net Price Calculator that is easily searchable for students. Bartnicki also reminded attendees that they are required to inform all students of their FERPA rights each year.
Additionally, Bartnicki emphasized the importance of using accurate job placement rates. The data, he said, must include the most recent available data for employment and graduation statistics, relevant state licensing requirements "for any job for which the course of instruction is designed to prepare students," and other information "necessary to substantiate the truthfulness of the advertisements."
"If you provide job placement rates as a recruitment tool, they better be correct," he said.
Educating the Department of Education and Congress About Graduate Education
In a morning session featuring NASFAA's Megan McClean and Michael Goodman of Tulane University, attendees received information about how to educate and advocate for graduate and professional education with lawmakers. McClean started with a high-level discussion on what advocacy is and how it can apply to the graduate school community. She offered tips for how to avoid potential pitfalls when arguing for graduate programs with policymakers.
"Why are we advocating on this particular issue? That is a question you really need to be able to answer," McClean explained as she advised attendees on how to prepare to advocate. She shared five "secrets" to effective advocacy: Keep it local by reaching out to your voting representatives; keep it personal with anecdotes and examples; understand your member's position on the particular issue; keep it factual by offering relevant data and statistics; and know your issue.
McClean also offered an overview of the current political climate, noting that recent trends in partisanship and brinksmanship continue. Policymakers continue to be motivated by deficit reduction, she said, and often allow budget policy to dictate larger policy talks.
In terms of pitfalls, McClean urged graduate and professional school advocates to avoid engaging in political or partisan discussions, avoid offering suggestions on cutting other programs to pay for student aid programs, and avoid answering questions you don't know the answer to.
The Redesigned SAT and Financial Aid
The College Board presented a session about the recent redesign of the SAT and how it may impact the financial aid office, which includes changes that bring the focus of the test to things that U.S. colleges said they would like to see more of, such as problem-solving and data analysis.
The changes to the test are based, in part, on feedback The College Board received from higher education institutions on what they would most like to know about their students' academic preparedness.
In preparation for the new test and scoring, the presenters gave attendees a few tips including making sure they review and update the information pertaining to SAT scores and how they are used on their campus and to review scholarships programs that will be affected by the change in scores. Other tips included reviewing and updating brochures, websites, and other communications that might mention the SAT, making sure the school's net price calculator is compatible with the new scoring methodology.
NASFAA President Justin Draeger Delivers Luncheon Address To Membership
Expertise is what counts when it comes to making a difference in the lives of students, and shaping the world of financial aid and higher education.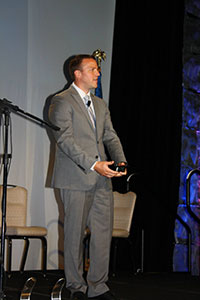 NASFAA President Justin Draeger
addresses the membership
That's the message NASFAA President Justin Draeger wants attendees to take away from the 2015 conference. Reflecting on the last five years during his tenure as president, Draeger said he feels "lucky and blessed," to work in financial aid. He also shared with the audience five concepts that have been reinforced over the last five years.
"When it comes to advocacy work, good ideas and expertise still matter," Draeger said. "There's no shortage of bad ideas that are floating around on student aid policy. … The fact remains that when the rubber meets the road, expertise counts."
Draeger recounted the details of a recent report NASFAA participated in developing – along with the American Council on Education, and several college and university presidents – to identify burdensome and duplicative regulations imposed upon colleges and universities. The group that developed the report came after Congress requested help in identifying the regulations that cause administrative burden, as lawmakers set out to reauthorize the Higher Education Act.
"There is no greater indication of success and advocacy than when Congress comes to you – to us – and says, 'We need you to tell us how to move forward.'"
Draeger also emphasized that reputation matters, saying members "know all too well what can happen when the actions of a few can mar the actions of many."
But it's always important to engage and participate in debates around complicated issues in financial aid, Draeger said, and NASFAA is fortunate to have a perspective from two different sides: academia and politics. Being willing to have a debate about student aid can help financial aid administrators "set students up for the best opportunity we can for success," he said.
Engaging in the debate and being willing to work collaboratively can lead to ideas that help influence financial aid policy, such as the push to use "prior-prior year" income data on the FAFSA, which Draeger said is the "one bipartisan student aid proposal."
Similarly, Draeger said it's important to the students that financial aid administrators serve to be engaged.
"I know your time is limited, but I'm also confident … there is a way for you to be involved, and we need you involved," Draeger said. "Your students need you involved."
Finally, Draeger said that by helping students, "we help ourselves," through serving students and speaking up for those who don't know how or are unable to advocate for themselves.
"Aid administrators should feel lucky to be in a line of work that is about helping people achieve their dreams," Draeger said.
The Many Hats and Faces of a Director
College and university financial aid directors don't just serve students. They also provide information to families, communities, politicians and other leaders within higher education.
Conference attendees on Monday afternoon gathered to hear more about the different roles financial aid directors play, and to discuss ways to effectively juggle different responsibilities.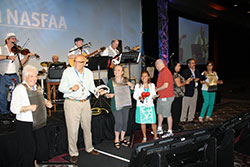 Members jam with the band
during the luncheon
Cheryl Storie, associate vice president of financial aid at the University of Maryland, University College, said financial aid directors need to be responsive to a variety of different groups, from college presidents to boards of trustees, lawmakers, students and journalists.
"Don't you feel like sometimes you don't know what's coming at you from whom?" Storie said. Financial aid directors, in addition to being counselors to students, she said, are also expected to at times serve as accountants and statisticians, visionaries, auditors and listeners.
In juggling the different responsibilities on what can sometimes be a moment's notice, Storie said it's common for fears of forgetting important information, freezing up or making mistakes to arise.
"Even though I am feeling every one of those things as well, I try to present myself as being very confident and knowledgeable," Storie said. "I know the stuff inside and out, but can I think quickly enough on my feet? Can I answer it in a way that gets to their point?"
But preparation for any presentation about financial aid is key, Storie and other attendees noted.
"You can't always anticipate where these things are going to go, Storie said. "The more you think as broadly as possible … the chances are your fears won't come to fruition."
Financial Literacy - Grad Students: Highly Intelligent v. Financially Savvy:
Graduate students present financial aid administrators with unique challenges when it comes to counseling them on financial literacy. Presenters from three graduate and professional schools at an afternoon session offered their tried-and-true practices for addressing graduate students.
Jennifer Markham Hulvey of the University of Virginia School of Law described her efforts over the last six years to help her students make more responsible budgeting choices and plan for their financial future. When she started her role, she "expected [her students] to be much more financially sophisticated than they are" and decided to build a financial literacy counseling program to help them.
The program is designed to work with students from the period of time before they enroll though their post-graduate experiences as alumni. Hulvey said that she utilizes tools like in-person counseling services, workshops on loan repayment and budgeting, group exit counseling, and financial counseling services for alumni.
Yale University Law School's Jill Stone also noticed that her students were making "poor decisions" about student loan repayment and felt that as an institution, the school had an obligation to help them. Her program addresses students from admittance through what she called the "alumni afterlife" and targets the initiatives to the concerns students have at various points in their education.
Stone told the audience that she uses two strategies to engage her students:
Deliver content in as many mediums as possible and
Employ aggressive, "out-of-the-box" marketing that uses social media, humor, and incentives.
"When you do a program like this, it's a lot of work … but it's good work and creative work and good for the student," Stone said.
Anthony Sozzo of New York Medical College said that students "want and need to be engaged" when you're delivering financial counseling and that establishing a relationship with them before, during, and after their education is the key to reaching them.
Sozzo said he used the "flipped classroom" model in which students are assigned homework or tasks to complete before attending an in-person session. Sozzo said the benefit of this approach is that students can learn the bulk of the information ahead of time and the counseling can focus on a few key points and answering their already-informed questions.
Two Loan Disbursements + Midterm Grades = Increase in Student Success!
In this informative session, Lorain County Community College (LCCC) Functional Analyst Valerie Fultz and Dean of Enrollment, Financial & Career Services Stephanie Sutton described for attendees the changes their institution underwent in order to increase student success rates.
Seventy percent of their students are enrolled half-time and LCCC administrators were becoming convinced that maybe their current processes weren't serving their student population to the best of their abilities. Ultimately, LCCC decided to move to two disbursements of student loans per term in an attempt support students while decreasing fraud and default.
In making the changes, the school's main goals included reducing the time and cost of degree completion, encouraging early connection to careers, strengthening student support and engagement, and launching personalized intervention.
This change required a campus-wide engagement process and the implementation of midterm grades, including a Failure Administrative Withdrawal (FAW), and the communication strategy implemented to notify students. LCCC employees began by reviewing the numbers to better understand how two loan and two grant disbursements would impact full- and part-time students.
Next, administrators looked at current processes to determine potential risks, both for students and for the institution, that might accompany changing the disbursement system. They determined the loan only students would receive less funding at the time of the initial disbursement and that some students may not receive the full amount of funding if not attending when later disbursements are ready. Risks for the school, the presenters explained, included potential issues with cash flow because of reduced funding levels at G5, students may choose not to attend or to return because of the new disbursement system, and there could be increased burden on staff because of the multiple disbursements.
"Some students might choose not to return, but really a part of our initial design in this is that we want the right students. We want students to attend our school who came to complete their degree... so we didn't worry so much about the enrollment impact," Sutton explained.
Sutton explained that their next step after assessing the risks and opportunities was to leverage existing forums on campus, such as faculty senate meetings, division meetings, completion core team meetings, student senate meetings, etc. to get everyone on the same page. "When we engaged the campus, our strategy really has been to take an evidence-based approach," she said.
After that, they moved forward with a clear and targeted communication plan to make students aware of the changes to the disbursement process. This included posting updated language in the college course catalogue and on their website to notify students about the two disbursement system. They also provided language to faculty to be added to syllabuses and came up with clear messaging to explain the role midterm grades would play in the disbursement process.
LCCC also used the midterm grade reporting as a communication strategy for students. "It's really important to tell students when they are doing something right" Sutton said "... so we made sure we had this broad communication plan that let students know how they were doing with their midterm grades, but we also pushed out positive emails to students who were doing well in their classes," to encourage them to keep up the good work, she added.
As a result of the new disbursement system, between the fall and spring semesters the total amount of student loans not released to students who weren't making the grade, so to speak, was $227,180. "What I personally think is pretty cool about that is that it reduces the loan debt to these students," Fultz said.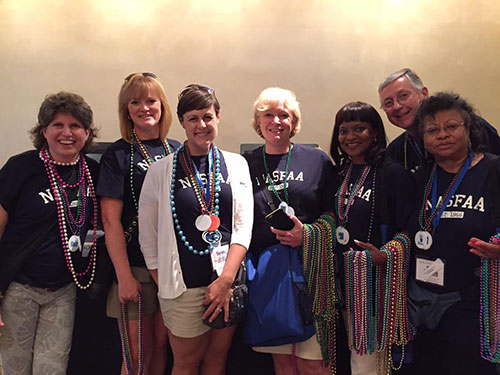 FAAs gear up to join the parade.
Publication Date: 7/21/2015
---