NASFAA Members Advocate For Student Aid On Capitol Hill
By Katy Hopkins, Communications Staff 
Attendees of the NASFAA Leadership and Legislative Conference and Expo got to put conference lessons into practice Tuesday, as they visited Capitol Hill to advocate for student aid.
"I felt really honored and privileged to be a part of the legislative process that most people aren't usually a part of," said Kristen Gibbs, director of financial assistance at Central Methodist University. "Most people never even visit Capitol Hill."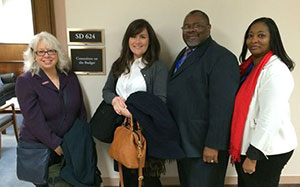 Conference attendees did more than take tours -- they met with members of Congress and their staffers to talk about the importance of reinstating the year-round Pell Grant Program, switching to prior-prior year (PPY) tax data, and ending loan origination fees. Many also talked about simplifying the FAFSA and repayment plans, and advocated for the authority for financial aid administrators to limit loans for broad categories of students.
Members said they were impressed to realize many policymakers are already knowledgeable on key financial aid issues. 
"I think what NASFAA is doing on the Hill obviously is getting to the people we need to hear it," said Kristi Welling, financial aid technician at Grand Rapids Community College. "The policy advisor [we met with] really reiterated what NASFAA is doing."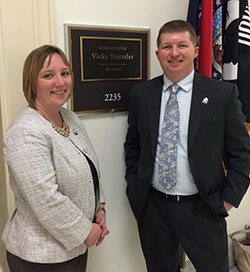 Though some policymakers cautioned that elementary and secondary education legislation may push back the timeline on Higher Education Act reauthorization, some still asked NASFAA members to keep them updated on student aid advocacy information. 
"I feel like they are on our side," said Richard Smelser, director of financial aid at Pellissippi State Community College, after meeting with Sen. Lamar Alexander (R-TN). 
The Hill visits capped off a few full days of leadership training and networking, which members NASFAA caught up with hailed as an exciting and worthwhile experience. 
When asked her advice for other financial aid administrators considering coming next year, Gibbs from Central Methodist University had just one recommendation:  "Without a doubt, come." 
Publication Date: 3/4/2015
---