Certified Financial Aid Administrator® Commission Chair-Elect Highlights Value From Certification Process
By Owen Daugherty, NASFAA Staff Reporter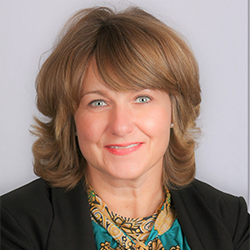 Shannon Crossland, FAAC®, was looking for a new way to brush up on her financial aid knowledge and for an opportunity to advance in her career when the Certified Financial Aid Administrator® program came along.

Now senior director of administration and compliance for student financial aid and scholarships at Texas Tech University, she was able to use the program to build her professional network and expand on her knowledge of Title IV aid administration. Her interest in the program arose from her role serving on the NASFAA Job Analysis Task Force in 2018, helping to identify core competencies for financial aid professionals. In 2019, she became one of the first financial aid administrators to earn this certification.

In July 2020, Crossland became chair-elect of the program commission, and will serve as the chair for fiscal year 2022. For Crossland, seeing colleagues and coworkers getting involved in the program and building on their knowledge is rewarding for her because above all, she knows students will benefit.

To prepare for the Knowledge Exam, Crossland used the exam content outline published in the Candidate Handbook, which covers 12 major content areas. She also went through each content area and took notes expanding on competencies performed and knowledge needed for Title IV administration, paying particular attention to the reference materials used, including the Federal Student Aid Handbook, the Code of Federal Regulations, the Higher Education Act, and more.

The certification program was created for financial aid professionals who are dedicated to advancing their careers, with the designation bringing a valuable benchmark to the financial aid community. The recertification component of the program emphasizes the importance of continued learning and professional growth.
Since passing the test and obtaining the certification, Crossland said it has allowed her to be a mentor to others and encourage leadership growth for future leaders within the profession.

"The one benefit that truly stands out from being certified is interest in the program from my coworkers and colleagues," she said. "Their interest allows me to share the knowledge gained from the certification as well as the benefits of continuous learning and involvement."

Crossland encourages anyone considering becoming certified to sign up, touting the benefits both she and her colleagues have already obtained.

"Student financial aid administrators truly benefit each day from the guidance, service, and assistance they provide students for access and success in higher education," she said. "Engagement strengthens innovation; and by utilizing an opportunity to promote professional awareness, support our colleagues, and enhance our profession, we all can better serve students."

Publication Date: 10/2/2020
---