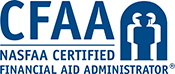 NASFAA Staff has compiled these frequently asked questions regarding the Certified Financial Aid Administrator® (CFAA) Program. If you have any additional questions that are not answered below, please let us know.

What are the steps for applying to become certified?
Review the Candidate Handbook to learn about the CFAA Program and review the eligibility requirements.
Check your eligibility using the CFAA Interactive Tool.
Update your resume, as it will be uploaded on the application.
Apply online when you are ready.
Upon approval of your application, you will receive an email notification with a link to pay for the exam and schedule your exam session. You will have one year from the date your application was approved to take the exam
When and where will the Knowledge Exam be available?
The Knowledge Exam will be available online through NASFAA's testing center. The exam will be proctored remotely, requiring candidates to meet basic technical requirements. Eligible candidates will be able to take the exam during established testing windows. Currently, the scheduled testing windows are:
Review the Candidate Handbook or exam webpage for more detailed information.

Is travel required in order to become certified?
Travel is not required to become certified. You can apply online and the exam is administered online using remote proctors. You will not need to travel to a testing center, but you must check in advance to make sure your testing room meets the physical and technical requirements outlined in the Candidate Handbook and on the Technical Requirements Webpage. To maintain the certified designation, you can earn recertification points by attending conferences and training events, but there are many ways to earn points that do not require travel.
Is study material available for the certification exam?
Yes, the Candidate Handbook includes two useful resources to aid in preparation for the certification exam:
The Exam Content Outline identifies the 12 major content areas—or "knowledge domains"—that guide the composition of the exam. A percentage range indicates the portion of the test devoted to each content area. The questions from each content area will be mixed throughout the exam. The entire set of questions will be presented in random order; questions will not be presented in content-area order.
The Core Resources List constitutes a collection of resources aligned with the Exam Content Outline. The list is reviewed periodically, and additional references may be added. The resources listed should not be interpreted as constituting the sole source of all exam questions, nor should the list be construed as required reading. Each candidate should develop their own personal reading list and study plan, based on their individual needs and knowledge. (NOTE: The listing of these references is intended for use as a study aid only; the CFAA Commission does not intend the list to imply endorsement of specific resources.)
The best preparation is your on-the-job experience, as well as the training opportunities you take advantage of that are offered through state and regional associations, or the U.S. Department of Education, or NASFAA, for example. The exam is designed to assess knowledge after approximately 5 years of experience as a financial aid administrator. Someone can have fewer years of experience, but they will need to have earned NASFAA Professional Credentials to be eligible.
You may choose to study on your own or you may decide to take a NASFAA U Online Course, review a NASFAA Self-Study Guide, or attend a training event at your state or region to gain a better understanding of one or more content areas. If you know other individuals in your area who are taking the test, you may want to form a study group.
NASFAA plans to develop additional study materials as the program matures.
How is the certification exam scored?
Your exam score is based on your total number of correct answers. You should answer all items, as there is no penalty for incorrect responses.
The passing score for the certification exam is set with input from a panel of experts who represent the profession. These experts review each test question, evaluate the difficulty of the question, and make a judgment as to how a financial aid professional with foundational competence would perform on the question. These judgments are evaluated statistically using psychometric analysis to determine the appropriate passing score, which is then approved by the CFAA Commission. The passing score is not shared publicly.
In general, every three out of four candidates pass the certification exam.
How are reasonable accommodations made?
The CFAA Commission will make reasonable efforts to accommodate eligible candidates who provide detailed documented evidence of their disability or need for reasonable accommodations for the certification exam. You must complete the Certification Exam Accommodation Request Form to provide a written explanation of the requested accommodations specific to the certification exam. You must include detailed supporting medical documentation from a qualified medical professional for this specific purpose, detailing the needed accommodation given the format and nature of the exam. Requests must be submitted at least eight weeks prior to an exam testing window.
The CFAA Program will endeavor to furnish the requested accommodations, provided that the request is made by the required deadline, and that the accommodation would not fundamentally alter the measurement of the skills or knowledge the examination is intended to test and would not result in an undue burden.
How much does it cost to become certified?
The 2019-20 CFAA Program fees are outlined on the CFAA Program Fees webpage. Group discounts are not available.
What is the added value of being certified?
The CFAA Program recognizes the integral role you play in an educational institution's overall success and provides credibility to help you get ahead. The CFAA Program offers a valuable benchmark to our community, providing the foundation for increased opportunity for career growth, validation of competencies essential to effective financial aid administration, and national recognition.
How can I get my institution's support?
Make sure your institution knows about the benefits of the CFAA Program. Ask for support from your supervisor and/or leadership using this customizable justification letter. Support can be provided in many ways, including dedicated preparation time and financial assistance.
Is there a public list of Certified Financial Aid Administrators®?
Yes, NASFAA publishes a Certified Registry. Note that certified individuals may have declined to be included on the Registry.
What is the recertification process?
Certified Financial Aid Administrators® must complete a minimum of 60 Recertification Points (RPs), representing financial aid-related continuing education, qualifying leadership, instruction, authorship, advocacy, and other activities contributing to the profession to maintain their certification. Certified individuals who earn more than 100 RPs during their three-year eligibility period will receive a special recognition. RPs must be tracked using the CFAA Dashboard. Review the Stay Certified webpage for more information.
Can I earn Recertification Points (RPs) for activities for which I receive financial compensation?
No. To avoid any conflicts of interest, paid work does not qualify for RPs. Examples of activities that are excluded from RPs include adjunct positions for NASFAA U Online Courses, and Standards of Excellence Program Reviewers. To see a full list of activities that qualify for RPs, review Appendix B of the Candidate Handbook.
What is the difference between NASFAA Professional Credentials and the CFAA Program?
NASFAA Professional Credentials and the CFAA Program are both excellent professional development opportunities for financial aid administrators. These programs complement each other, while offering unique benefits.
NASFAA offers 17 credentials that cover specialized areas of financial aid administration, such as verification and consumer information. These credentials are a great way to build a portfolio of demonstrated knowledge in specialized financial aid topics. NASFAA credentials are not renewable and do not expire; however, given the rapidly changing nature of this profession, continued training is strongly encouraged. Credentials serve as a starting place for new financial aid administrators, and also as great refreshers for more experienced professionals looking to strengthen their knowledge.
To earn a credential, the candidate must successfully complete the corresponding credential test. Four pathways enable candidates to access the credential tests:
Those who earn a credential are added to the NASFAA Credential Earners Honor Roll.
The CFAA Program is a certification in financial aid administration that covers the wide range of skills and knowledge required to perform competently in Title IV financial aid administration at any type of college or university across the country. Compared to the NASFAA Professional Credential tests, which are specific to certain subject areas, the certification exam assesses the broader knowledge required of a financial aid administrator across multiple subject areas. Credentials may serve as a pathway to certification, as well as a means of maintaining the Certified Financial Aid Administrator® designation.
The CFAA Program application verifies the candidate meets the criteria — that is, the education, experience, and commitment to ethical behavior — necessary to gain access to the certification exam. Once certified, the individual must recertify every three years, a process that will require an accumulation of points earned by completing various professional development activities. Those who earn and maintain the certification may display the certified designation (Certified Financial Aid Administrator®) after their names. They will also be added to the Certified Registry.

How can our state or regional association help financial aid administrators prepare for and earn the Certified Financial Aid Administrator® designation?
NASFAA and the CFAA Commission have developed a Candidate Handbook. In the handbook, you will find a list of reference materials in the Core Resources section. You also will find the Exam Content Outline describing the foundational knowledge that your peers determined a financial aid administrator with approximately five years of experience can reasonably be expected to know. NASFAA plans to create more in-depth study materials; in the meantime, the handbook will be the main resource for candidates and for those who are supporting them in their pursuit of the certified designation.
State associations will play a significant role by continuing to help their members learn about Title IV aid and their responsibilities as financial aid administrators. This will be especially important in during the three-year recertification period, which will require certified individuals to earn points through ongoing participation in various professional development and leadership activities. These activities include, but are not limited to, attendance at Title IV aid-related conferences, instruction or participation at an institute or Authorized Event workshop, and elected leadership experience at the state and regional level.
Your association can support your members who are interested in becoming certified in several crucially important ways: by continuing to provide excellent Title IV aid-related training, by welcoming and mentoring new members to the profession, and by helping to build awareness of this new opportunity for financial aid professionals to earn the recognition they deserve.