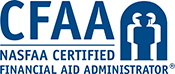 Congratulations to all of the Certified Financial Aid Administrators® (CFAAs)! The CFAA designation demonstrates each individual's commitment to the professional development and ethical behavior that are hallmarks of the financial aid profession. CFAAs are leading the way!
Join your peers on the CFAA Registry. Start by checking your eligibility.
Note: CFAAs may decline to be included on the CFAA Registry by emailing cfaa@nasfaa.org.