NASFAA Members Talk Pell, Aid Simplification to Lawmakers
By Jesse O'Connell, Policy and Federal Relations Staff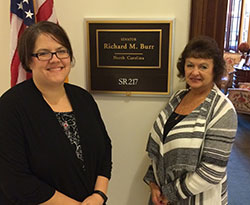 With Congressional appropriators eyeing the Pell surplus as a potential source of budgetary relief, three NASFAA members headed to Capitol Hill yesterday with a forceful message: protect and preserve Pell funding for needy students and families. Amy Berrier (University of North Carolina- Greensboro), Zita Barree (Hampden-Sydney College), and Rachel Cavanaugh (Cape Fear Community College) were in D.C. participating in the most recent Advocacy Pipeline event, where they joined NASFAA staff to meet with lawmakers and share perspective on the Pell Grant Program, aid simplification, the campus-based aid programs and institutional ability to limit loans. The group met with staffers in the offices of four members of Congress: Rep. Bobby Scott (D-VA), Rep. Virginia Foxx (R-NC), Sen. Tim Kaine (D-VA), and Sen. Richard Burr (R-NC). 
The message to protect Pell funding found a receptive audience in each of these offices. There was agreement that taking from the surplus would only hasten the approach to a Pell Grant funding cliff, creating even bigger problems that would need to be dealt with in the coming year. NASFAA members explained that when Pell funding is threatened, it creates uncertainty in students when they attempt to make plans for their higher education. In addition to sharing this perspective during these in-person visits, NASFAA also took action on this issue last week by signing onto two letters supporting Pell investment and communicating with the offices of leading members of the Appropriations Committees. 
Additionally, members advocated for the importance of a move to using prior-prior year (PPY) income on the FAFSA. "Prior-prior year will give us more accurate income information earlier and allow for more students to use the IRS Data Retrieval Tool," said Berrier. The discussion also touched on the frustrating burden of incremental changes to loan origination fees as a result of sequestration, and offered examples about the importance of the campus-based aid programs and a desire for information about the status of the Perkins Loan Program. By sharing stories about recipients of Federal Work-Study and Supplemental Educational Opportunity Grant funds on their campuses, NASFAA members provided important context for these programs beyond a line item on a budget spreadsheet. As we head into a new Congress in January, work will continue on the reauthorization of the Higher Education Act, and we remain dedicated to keeping our members' voices and our policy issues in the forefront of the conversation.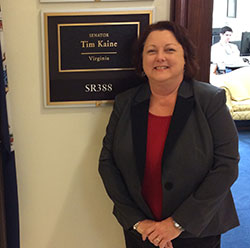 "I believe we have a responsibility as financial aid administrators to advocate on behalf of our students and their families. NASFAA's Advocacy Pipeline provided that opportunity for me and my colleagues today," said Barree. "Legislators and their staff need to hear directly from those who work most closely with our students about how changes to the financial aid programs and processes will affect them; we need to speak up to those that can help affect the changes our students need."
"It was a very rewarding experience," added Berrier. "I encourage everyone to get active in advocacy at the state, regional, and national level. The viability of our programs depend on it!"
The Hill visits were part of NASFAA's ongoing advocacy effort, the Advocacy Pipeline, designed to bring NASFAA's elected leaders and other members to D.C. to share on-the-ground perspectives with policymakers. In the coming months, additional NASFAA members will come to Washington in small groups to participate in direct advocacy with congressional offices. To learn how you can become involved please email policy@nasfaa.org and visit www.nasfaa.org/advocacy for more information on NASFAA policy and advocacy efforts.
Publication Date: 12/1/2014