A Week on the Hill
Hello, NASFAA members!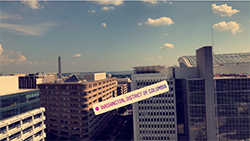 I am writing to you all from the rooftop of NASFAA's office building. I'm staying in the shade to avoid any further sunburn. The view from the rooftop provides a beautiful skyline image of the Washington Monument and Jefferson Memorial. Currently in Washington, D.C., we are experiencing full-blown heat and humidity that summers in July are known to bring. From hot days to hot topics — everything seems to be heating up!
Last week, I discussed the Department of Education's hearing on gainful employment. Later that week, I joined the policy team for the Committee for Education Funding (CEF) briefing, "Education Matters: Investing in America's Future." The event was held to announce the a release of their Fiscal Year 2018 Budget Analysis book. The report captures how potential budget cuts will affect all levels of education from early education to higher education to career and technical education.
Having the chance to listen to concerns and questions from other divisions of education provided additional background knowledge about how consequential education funding is. There was a panel with different representatives from a diverse group of communities, including former NASFAA board member, Heather Boutell. The panel answered an array of questions. One inquiry was about the potential outcome if the proposed budget is approved. Each panelist voiced their respective concerns. Heather responded with, "The neediest of students on my campus receive SEOG and work-study. These students are typically at or below the poverty line. If we are unable to offer these aid programs, our students will ultimately rely more on loans, or give up and not attend my college." Heather's response goes beyond her campus. This is true for a large majority of students across countless college campuses.
Before attending college, my grandfather advised me to look into Federal Work-Study (FWS). He told me stories about how he used his FWS funds while in college in the 1960s. FWS was a primary resource for him to remain enrolled in college. Today, in 2017, FWS is one of the financial resources that I depend on, too. FWS has opened up several doors for me, such as my position as a peer adviser in the University of Oregon's financial aid office, which led me to NASFAA's DME policy internship. Heather spoke for thousands of students when she stressed the vitality of FWS in a student's financial aid award package. Beyond FWS, need-based funding creates opportunity, promotes success, and increases access for students who would not have the financial ability to attend college otherwise.
Thomas Jefferson once said, "Educate and inform the whole mass of people. They are the only sure reliance for the preservation of liberty." While looking at the Thomas Jefferson Memorial, those words resonate heavily. Education is a right, not a privilege. Access is something that all eligible citizens deserve. The CEF briefing embodied the importance of the work done on all levels to preserve equitable access to education. From a student standpoint, it makes me very appreciative to have the ability to see the passion each organization has for students and participate in events like this. One day, I would like my future career to allow me to advocate for equitable education access, as I have been inspired from various professionals doing so now.
I hope you all are staying cool during the summer heat!
Publication Date: 7/21/2017
---