Hello to A New Adventure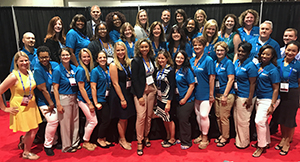 Hello, NASFAA members! Today, you all are reading the last blog that I am writing as the Dallas Martin Endowment Policy Intern. Despite it being difficult to leave such an amazing association and Washington, D.C., I am filled with gratitude and much appreciation for all I have experienced in the last nine weeks. Ernie Harwell, a renowned American sportscaster, best summed up my feelings toward this experience when he said, "It's time to say goodbye, but I think goodbyes are sad, and I'd much rather say hello. Hello to a new adventure."
To begin, I am beyond thankful for the University of Oregon's Office of Financial Aid and Scholarships. The University of Oregon financial aid office staff does a tremendous job giving their student workers the opportunity to explore and improve their professional development. The entire office was completely supportive throughout the application process for the DME internship. When this position was posted by NASFAA, the office passed along information to all the peer advisors right away. Looking at the criteria, it seemed like the policy internship would be a perfect match for me. Moreover, the application process came across as a developmental opportunity that would prepare me for prospective jobs. At the time, I had little knowledge about NASFAA as an association, and limited understanding about the culture of federal policy within financial aid. In less than a few minutes, I decided I wanted to give it a shot but I knew I could not do it alone. Others in the office helped me along the way, and their efforts contributed immensely to my successful application. Prior to this summer, I had never been away from home for longer than a few weeks. But my peers and supervisors in the aid office gave me a strengthened sense of confidence, and increased my motivation to take a risk and try something completely new. Although I may not be an expert in policy, my role as a peer advisor provided a strong foundation of financial aid procedures at the institutional level. From the hands-on experience, stepping into a new space barely felt like an adjustment.
Being a peer advisor has taught me how important it is to help students because everyone comes from different starting points. Every encounter of counseling is a learning moment, but it was clear that this internship would offer the possibility to improve how I advise students and their families. As a student worker, it is rare to experience firsthand the federal policies that occur behind the scenes in financial aid, but it was something that I wanted to explore. Being here has opened my eyes to the major influence that the federal government has on financial aid policy, and this experience has deepened my knowledge of issues in higher education accessibility. Correspondingly, I became aware of the need for advocacy after attending several discussions, meetings, and events. I was able to see new perspectives that shifted my approach to different topics and broadened my idea of what defines advocacy. Even though my time here was short, the encounters and opportunities will last throughout my life. This is not something that everyone has the chance to do, and I am excited to return to Oregon and implement what I have learned thus far. During this academic year, I will work to finish my undergraduate studies, and complete my first degree in the spring of 2018. I will also continue to serve within the student groups I participate with and work in the financial aid office.
Lastly, I want to thank all the kind professionals who have taken the time to meet with me and share their wisdom about navigating their careers in higher education, the NASFAA members who have been encouraging and kept up with my blog, and the NASFAA staff. At NASFAA, I have learned about more than policy. I have grown as a young professional and an individual. Having the chance to witness a large association operate cohesively with one another through communication and hard work inspires me to become a better leader. Thank you, all, for seeing potential in me, my goals, and interests. This time has been transformative and truly remarkable!
Publication Date: 8/11/2017
---