NASFAA Hosts Forum on the Impact of Higher Education Accountability on Access
By Jill Desjean, Policy and Federal Relations Team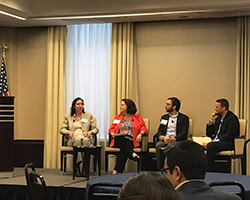 NASFAA hosted a presentation and panel discussion on Wednesday on efforts to make institutions of higher education more accountable for the outcomes of their students, with a focus on the impact of these efforts on access to higher education.
Megan Coval, NASFAA's vice president for policy and federal relations, introduced the event with a brief summary of the interest in setting more accountability standards for institutions of higher education. She cited examples of recent efforts at the federal policy level, including the PROSPER Act, a bill to reauthorize the Higher Education Act (HEA) introduced by House Republicans last December, which modifies the Return to Title IV Funds (R2T4) process to place the responsibility of returning funds solely on institutions, as well as proposals from the Senate that would require institutions to pay back a portion of their student loan defaults.
Nicholas Hillman, associate professor of educational leadership & policy analysis at the University of Wisconsin at Madison's School of Education and co-author of the recently-published book "Accountability and Opportunity in Higher Education: The Civil Rights Dimension," provided a keynote address. In his remarks, Hillman stressed the need to ensure that accountability standards do not reinforce existing inequalities. He cited as an example the College Scorecard, which set out to arm prospective college students with better information about outcomes by institution to help them make better decisions about which institution to attend. However, subsequent research has shown that most students attend college close to their parents' home and apply to an average of two schools; the students who don't follow that pattern tend to be higher-income and white, and are the ones who stand to benefit the most from a tool like the Scorecard, potentially even widening the college access gap.
From there, Hillman shared data on discrepancies by race in educational outcomes and on financial returns on education, making the point that broad accountability measures like completion rates, post-graduation earnings, and loan repayment rates fail to take into account gaps among racial groups. This failure could unfairly target institutions that serve higher proportions of historically underrepresented students.
Ultimately, Hillman proposed several ideas for creating accountability standards with an eye toward civil rights, including: clearly identifying the cause of the problem; accounting for baseline differences in resources, context, and mission; choosing metrics that colleges can control; prioritizing improvement conditional on differences; rewarding colleges for serving low-income and minority students; and building capacity to improve performance.
The second half of the event was dedicated to a panel discussion, moderated by NASFAA President Justin Draeger. The panel included Hillman; Zita Barree, director of financial aid at Hampden-Sydney College; and Anne-Marie Nunez, associate professor in the Department of Educational Studies, College of Education & Human Ecology, at The Ohio State University.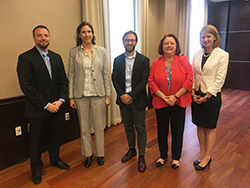 Nunez shared data from her research about minority-serving institutions (MSIs). While stressing that the diversity of mission, demographics, and selectivity among MSIs across the country makes it difficult to speak of them collectively, she did note that MSI students are more likely to come from low-income households, to have attended lower-resourced K-12 schools, and, generally, to face greater challenges to on-time college completion. Additionally, while underrepresented minority enrollment in higher education is growing, that growth is slower among selective institutions of higher education. She expressed concern that accountability measures that focus on completion, in light of these attendance patterns, could end up making rich institutions and consequently, their students, richer while making poor institutions and their students poorer, and stressed the need to disaggregate data by student body composition when assessing risk.
Barree, representing a four-year private institution, said that her institution would be likely to pass most accountability measures. However, she fears that risk-sharing proposals such as the R2T4 changes in the PROSPER Act would leave her institution with fewer dollars to spend on institutional financial aid for her students. She stressed that institutions like hers already have "skin in the game" because they provide students with scholarships and grants, much of which comes out of their annual operating budget. To Hillman's earlier point about choosing accountability metrics colleges can control, Barree noted that students often withdraw for reasons beyond a college's control, like medical reasons.
The panel concluded by tackling the question of how to create an accountability standard that isn't regressive but that still has "teeth," whether in the form of a penalty or an incentive for institutions to improve. Hillman suggested that there doesn't need to be a formula or a standard for there to be accountability, posing the idea of an innovation fund to which institutions could apply to use toward tackling problems they identify themselves. Nunez considered the scalability of such a model at the federal level but cautioned that inequalities exist even with respect to grant funding and that lower-resourced institutions can't devote the same amount of time to applying for grants as wealthier ones, potentially reinforcing existing inequalities.
Publication Date: 5/17/2018
---