Meanwhile From McCall: My First Week in the 'Real World' of Financial Aid
By McCall Hopkin, Dallas Martin Endowment Policy Intern
Dear NASFAA members,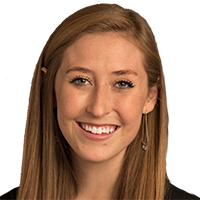 My dad taught me that when you meet people, you should look them in the eye and give them a strong handshake — since I can't technically follow his advice with all of you, hopefully this blog post will do the trick. Thank you first and foremost for your tireless work on behalf of students, and for hosting me for this wonderful summer opportunity. I am honored to be your 2018 Dallas Martin Endowment Policy Intern.
I'm coming to you as a public policy graduate student at The George Washington University. I moved to Washington, D.C. last summer and immediately fell in love with the city, its history, and its energy. I can't decide if my favorite part about living here is standing where Thomas Jefferson, Abraham Lincoln, and Martin Luther King Jr. once stood, or if it's petting the millions of cute dogs people bring to parks. The jury is still out on that.
I wanted to work at NASFAA because I believe in the power of a postsecondary education, and it matters to me that funding mechanisms are designed and delivered in an equitable and responsible way. I've never worked in a financial aid office and I don't have a background in student affairs — I have, however, received a bachelor's degree of my own and value it greatly. And the truth is, I wouldn't have it without federal student aid; I couldn't have finished my schooling without a Pell Grant and a subsidized Direct Loan.
Since graduating from Brigham Young University in 2015, I've tried to plug into organizations that help more students receive the crucial benefits of a higher education that I've enjoyed. I've worked on education policy projects at United Way of Salt Lake, Education Reform Now, and the Senate Committee on Health, Education, Labor, and Pensions to expand my understanding of the complex barriers students face, as well as experts' proposed solutions to those challenges.
In my graduate program, we learn a lot about policy tradeoffs through the lens of microeconomics, statistics, and data science. It can get very technical and insulated, which is why I like to supplement my classes with real world, on-the-ground exposure. And does it get more real world than NASFAA? Your work with students is uniquely intertwined with policy and I can't wait to learn more about how that intersection works in practice.
This past week I had the privilege to sit down with several of NASFAA's team leads. I got to ask a ton of questions about the work administrators do and how that interacts with federal policy — I nearly filled a notebook with everything I learned. Perhaps what struck me most, though, was how committed NASFAA's leaders are to their members (you!) and the students you serve.
This summer I'll be working with the policy team on a slew of exciting projects — updating the National Student Aid Profile, tracking legislation, supporting advocacy, and writing about student aid issues (to name a few). Also, I can't wait to meet many of you at the National Conference next month! I've never been to Austin, so for the next few weeks you'll probably find me Googling either "Austin's best enchiladas," or "Austin's best dog parks" in my free time.
Again, a huge thank you to the Dallas Martin Endowment for affording me this incredible opportunity. I hope to return the favor as best I can by magnifying my small role within your organization this summer.
Publication Date: 6/1/2018
---