Meanwhile From McCall: Back in the Beltway
By McCall Hopkin, Dallas Martin Endowment Policy Intern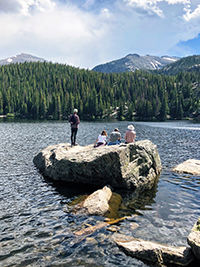 I'm back in the beltway after spending a week with my family in Grand Lake, CO. My grandpa was a self-proclaimed mountain man and built a cabin there in the 1970's (like, he built it with his own two hands). I was born in Denver and have gone back to visit grandpa's cabin every summer since — the Colorado mountains are my heaven on earth. We hiked in the national park, ate lots of ice cream, and left with 20+ mosquito bites each. I included a few photos so you can all start planning your next vacation to the Rockies.
Now I'm back in D.C., bug spray coursing through my veins, and ready to get back to work! As you all well know, the 2018 National Conference kicks off this weekend and the NASFAA office has been very busy getting ready. I was lucky to assist the policy team with presentation preparation this week. I summarized research on public opinion, put together some budget figures, and arranged a slide deck for Justin and Megan's Wednesday morning session. As is usual with these projects, I learned volumes along the way about the intricacies of financial aid policy and how NASFAA fits into the conversation. I hope you all have the chance to attend that final session — it will be a highly compelling way to wrap up the conference.
I'm also continuing to review and summarize legislation, draft language for policy projects, and sit in on meetings and briefs. Mostly, though, I've been gearing up for the conference and getting excited to learn from and spend time with NASFAA members. Plus, I have three very stylish NASFAA polo shirts on my desk that I can't wait to show off on the streets of Austin. See you in Texas!
Publication Date: 6/22/2018
---