Full Frontal Disclosure: A Financial Plan Families Can Bank On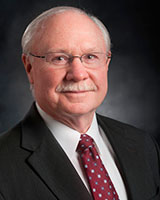 By Daniel Davenport
Would you spend $100,000 or more on a product without knowing how you could finance it?
We ask students and their families to do that every day. Imagine you're buying a house. Maybe your parents will help, maybe you have some savings, but you'll probably borrow money from the bank too. Now imagine that the loan officer says, "Yes, we'll lend you $200,000, but we can only promise you funds for the first year. After that, you'll have to come back and we'll decide if you get the loan again." Long after you've already moved in, the lender could say, "Sorry, we're not going to give you the loan again this year. Our money is tight and we have to cut somewhere, so we have decided to discontinue funding your loan." You probably wouldn't buy the house, right? But that's really how families buy the higher education product.
Annual shifts in federal, state, and institutional budgetary priorities, and the process of reassessing student eligibility each year, make long-range college financial planning nearly impossible. We tell families to save and plan for college but we give them a financing model that is incomplete and violates the principles of any good financing model. As higher education has become a high-priced, high-demand product that the majority of people finance, why do we promote a financing model that is one year at a time?
A full-disclosure financial plan would be a better approach. Under full disclosure, schools would outline the costs of the student's educational program all the way through repayment, define how the family would finance these costs, and offer families information on the long-term value of the education the student wishes to pursue. Then the family can make fully informed decisions. Families can ask themselves, "Is this something I want to invest in? Is the value I am getting at the end – my education – worth what I'm putting in to finance it?" Once the family has finalized their financial plan, the student can put aside many of their worries about financing college and focus on completing a degree.
Ideally, this approach would lock in prices on the cost side, and lock in institutional, state, and federal student aid on the payment side. A lock would not be essential, however. It is sometimes difficult to identify exact costs four years out, particularly for institutions that rely on annual public allocations. Disclosing maximum cost increases and minimum student aid award amounts through a full-disclosure financial plan would still allow for useful projections and informed decisions. What is important is to disclose to families the full product cost – that is, the full cost of the degree.
Under this model, schools would provide a college cost and financial plan, similar to an award letter, covering the student's entire education program. The information can be entered into a common-use tool, similar to the Financial Aid Shopping Sheet [http://www.consumerfinance.gov/paying-for-college/compare-financial-aid-and-college-cost/] concept, that allows families to compare schools and make informed plans. Loan repayment obligations would also be clearly presented in the financial plan. Combining this information with earning potential, social gains, and other degree values would provide families the data needed to make informed decisions rather than decisions based on emotions or misinformation.
The plan would be personalized and may require more counseling, but it doesn't have to be overly complicated. Eliminating constant regulatory changes and the need to process new annual applications and award notices each year can free up more time to counsel students and families. The financial plan could be made available on a secure website that students can continue to refer to as they progress. Adjustments for unusual changes in family resources could be made to the financial plan throughout the student's education and repayment period.
Institutions could also coordinate students' academic plans with their financial plans. Academic advisors and financial aid counselors could work together to create a combined academic and financial plan for each student. The current process unsuccessfully attempts to achieve this coordination through satisfactory academic progress, the six-year Federal Pell Grant limit, loan limits, and time limits on subsidized loans. This leaves students and academic advisors confused and can hamper successful degree completion. A coordinated financial and academic plan allows pertinent administrative areas of the institution to work together to keep the student on track to complete their academic program. When unexpected events occur, such as job loss or illness, coordinated adjustments can be made to both their financial and academic plans to keep them moving forward.
Recent student aid trends would support the full-cost disclosure approach. As federal cost-cutting chips away at the Federal Supplemental Educational Opportunity Grant, Perkins Loans, and Direct Subsidized Loans, federal student aid may be moving toward a "one grant, one loan" system. With the Federal Pell Grant serving as the only federal need-based grant program, remaining eligibility would be composed of Direct Unsubsidized Loans and state and institutional aid, making projections fairly straightforward. Shifting the Federal Pell Grant to a full entitlement program would allow for more accurate award estimates.
The concept of a prior-prior year need assessment would also support this approach. Prior-prior year need assessment recognizes that income does not tend to fluctuate significantly from year to year. The full-disclosure financial plan would extend the prior-prior year concept further, allowing schools to determine Federal Pell Grant eligibility for the student's entire education program, with the option of professional judgment adjustments to account for life changes.
Some may argue that full disclosure of all higher education and repayment costs up front would discourage or intimidate low-income and first-generation families. However, students are already intimidated by incomplete information about college costs and financial aid and how these tie into an academic plan. Currently, many students select college options that are not financially feasible for them, causing them to drop out. Presenting families with a comprehensive plan up front provides them with a blueprint for success.
The mortgage crisis occurred when homeowners entered into significant debt without fully understanding the associated costs and obligations. Some claim student loan debt is the next financial crisis, yet we continue to provide students and families inadequate financial planning information. It is time for a change.
Daniel Davenport, University of Idaho, Director of Student Financial Assistance.
What do you think of the concept of a full-disclosure, enrollment-through-repayment financial plan? Please join the discussion below.
Publication Date: 5/29/2013
---