Meet NASFAA's 2019 Dallas Martin Endowment Policy Intern: Maylene Rodriguez Scott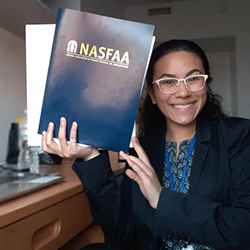 Hello NASFAA Community,
It brings me great joy to introduce myself as the 2019 Dallas Martin Endowment Intern! Before I delve into my first week at NASFAA and my interest in financial aid policy, I would like to extend a warm thank you to the endowment supporters who made this internship possible. Your ongoing support has provided wonderful opportunities for me, past interns, and future interns to learn more about federal student aid policy, participate in advocacy, and simply experience Washington, D.C.! Again, thank you very much.
Although it's only been a week, my mother and friends have politely (and frequently) repeated that while they were happy that I was clearly having a good time at NASFAA, they couldn't quite understand why I enjoyed learning about FAFSA simplification, award notifications, and entrance counseling.
In truth, my introduction to financial aid policy was by chance. Like many others, I first tangoed with financial aid as I tried to decipher my university's financial aid award letter. With a calculator in one hand and scrap paper in the other, I estimated my out-of-pocket costs and disappointedly told my mom that I couldn't afford to go even though I opted to live at home with no meal plan (spoiler alert: my estimate was about $3,000 too high).
My mother and her friends encouraged me to meet with a financial aid counselor and review my options. I took their advice and met with Suzanne, who reviewed my aid package and clarified that my unmet need was slightly different than an actual bill. Further, their office was looking to hire work-study students in their customer service unit. The rest was history. I've been working at the University of Massachusetts Amherst financial aid office for three years.
My job as a financial aid peer advisor has provided insight into issues such as the policy implementation gap between policymakers and administrators, the challenges of navigating complicated financial aid systems, and the influence of aid on college affordability. My time in the financial aid office is meaningful to me because I am able to support students whose experiences mirror my own. Additionally, my coworkers and supervisors at UMass are a wonderful group of people, and although I am very happy to be here in D.C., a part of me is sad that I cannot work with them this summer. I am, however, wishing them the best of luck as the summer ramps up with the release of aid packages and bills!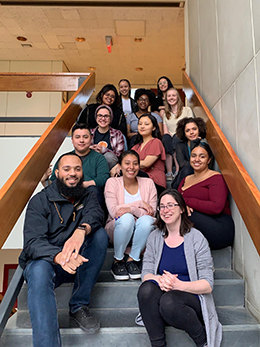 The job experience complements my studies nicely, as I am majoring in sociology and education policy. With this mixture of topics, I contextualize educational disparities that occur due to social inequalities, as well as how federal, state, and local policies can combat or reinforce these educational differences. Given my ongoing interest in financial aid policy in particular, I have completed projects on topics such as the reinstatement of Pell eligibility for incarcerated students, how financial aid administrators navigate aid policies when counseling DACA and undocumented students, and the importance of supplemental state aid programs for transfer students who have pursued their bachelor's degree through state transfer articulation agreements. For each of these projects I was able to explore my interest in education accessibility by examining the results of different funding processes on educational attainment for underrepresented students.
As you probably have gathered by now, I really enjoy learning about financial aid policy and so NASFAA is a fantastic fit for my interests. Although I've only been in D.C. for a week, my time here has been eventful. I have met with many of the staff within NASFAA and have learned of the importance of each of their positions in the organization as a whole.
I sat in on a NASFAA policy update webinar with Margot, Karen, Megan, and Justin focusing primarily on the newly finalized Gainful Employment (GE) regulations, with disclosures set to be distributed to students by July 1, 2019. The following day I participated in NASFAA's "Off The Cuff" podcast with Allie, Megan, and Justin. Although there were many interesting topics discussed that day, the piece of news that excited me the most was the announcement that signed tax returns and statements of non-filing would continue to be accepted for 2020-21 FAFSA verification (whoo!).
This past Monday, I attended a Higher Education Loan Coalition (HELC) policy meeting on the topic of loan counseling and Higher Education Act (HEA) reauthorization recommendations for Congress. It was great to participate in this meeting as I was able to meet various financial aid administrators and directors, as well as other experts who research students' experiences with loan debt and financial education. By connecting with other administrators, I was able to affirm my loan counseling concerns as many of them shared similar ideas and beliefs even though they came from varying backgrounds and positions in financial aid.
Finally, to convince you all that I do in fact, have interests other than financial aid policy, I will tell you a bit about my down time while in D.C.
My first observation: I've seen a lot of people on electric scooters and segways. I would be a liar if I said I didn't want to try the scooters at least once.
Second observation: I walk very slowly through museums. I have visited two Smithsonian Museums: The Freer Gallery & Sackler gallery of Asian art, and the American Art Museum which houses the Presidential Portrait Gallery. It was a nice change of pace to walk around these museums (not to mention the blissful air conditioning). I was pleasantly surprised to find that the 18th Street Singers, a fifty-voice ensemble of young D.C.-based professionals, were giving a performance in the Freer Gallery and so I had live choir music to listen to as I looked at the exhibits. Needless to say, that experience felt very grandiose, and I bought tickets to see them perform this upcoming weekend.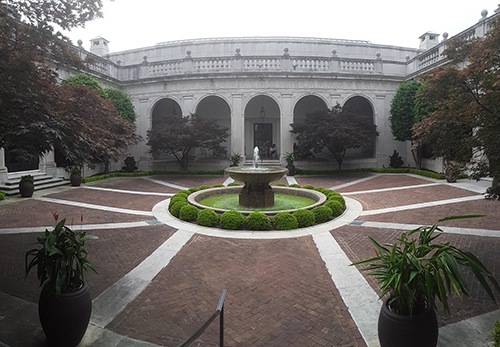 Third: D.C. has a vast amount of greenery for a bustling city. I expected the city to be an overwhelming hub of metal, glass, and concrete, but I discovered that my daily walk to work brings me through a small park and that even in the busy parts of the city, there are still a wide variety of trees and shrubs. Just the other day I was exploring and ended up in the Dupont Circle Historic District. There were so many well-pruned plants and flowers; it was absolutely beautiful! I grew up in Western Massachusetts where there's plenty of farmlands and trees, so I was happy to see that I could still enjoy greenery while in a powerhouse city. Now all that's left to do is buy a plant that I can put on my office desk.
Thank you for reading my introduction article! Please stay tuned to Today's News as I'll be providing periodic updates and writing articles throughout the summer, and make sure to follow NASFAA's Instagram account where I'll be sharing my experiences and pictures with you all! Feel free to contact me with any questions or comments at rodriguezscottm@nasfaa.org.
Publication Date: 6/7/2019
---